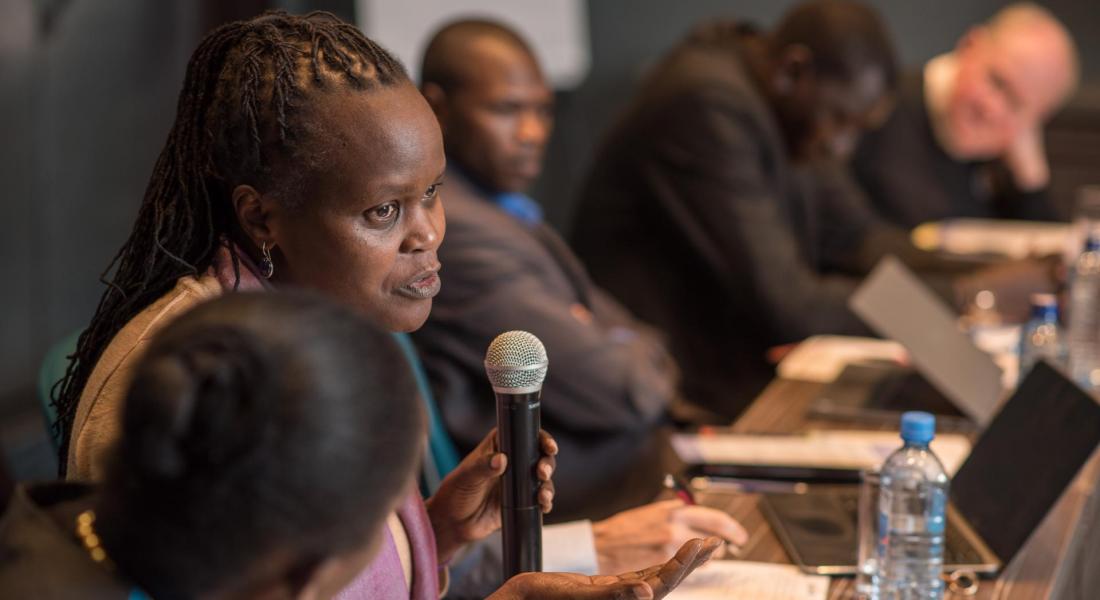 Why do parents in Africa send their children to Catholic schools?  Are their expectations being met?
And, what exactly defines a Catholic school in countries like Uganda and Kenya, where some religious schools have close ties to local parishes or religious orders while others simply may be named after a saint?
Those were among the questions generated by nearly two dozen educators and researchers at the recent Catholic Education Research Workshop in Nairobi, the first of several events last month highlighting the work of the Kellogg Institute for International Studies on the continent.
The June 8-9 conference, cosponsored by Kellogg and the Institute for Educational Initiatives (IEI), was the first of several planned regional workshops held following a larger conference on global Catholic education and human development in Rome two months earlier. The Rome conference was the first major initiative of Kellogg's research cluster on international education, and drew practitioners and scholars from East Africa, South Asia, Australia, Latin America, Europe, and the US.
The Nairobi workshop aimed to identify the most pressing research questions on Catholic primary and secondary education in Kenya and Uganda and set a timeline for proposal development, fieldwork, and data collection.
"We need to focus on research that is feasible and for which we have the passion, capacity, and expertise," said workshop organizer Robert Dowd, CSC, director of the Kellogg Institute's Ford Family Program in Human Development Studies and Solidarity. "However, we think it important that our focus be informed by the experiences of those very familiar with country contexts."
He noted that "another very important objective of our workshop is to build a sense of community among ourselves that will enhance the quality and impact of our work."
Workshop attendees from East Africa included Augusta Muthigani, national executive secretary of the Kenya Conference of Catholic Bishops; Sr. Jacinta Adhiambo, dean of the Faculty of Education at the Catholic University of Eastern Africa (CUEA); Fr. Ronald Okello, chair of the Uganda Episcopal Conference's Education Commission; Magdalene Dimba, research director, School of Humanities and Social Sciences, Strathmore University; and Kerubo Okiogo of Porticus Africa.
Kellogg Institute participants included faculty fellows Jaimie Bleck (political science), the Ford Program's senior research advisor; IEI director Fr. Tim Scully, CSC; and Ray Offenheiser, director of the Keough School's Initiative for Global Development.
Scully said presenters talked about the freedom government actors have in determining important policies affecting Catholic schools. That highlighted the need for local research and advocacy to help those schools shape their governance, admissions, hiring, and curriculum.
"It was striking how influential governmental policy in the East African context can be in affecting the curriculum of Catholic schools," he said.
Following the workshop, a number of Kellogg representatives and top University of Notre Dame officials took part in a two-week trip through Kenya and Uganda to visit Ford Program partners and research sites. Among them were Provost Tom Burish, Michael Pippinger, vice president and associate provost for internationalization, Sarah Mustillo, incoming dean of the College of Arts and Letters, and University Trustee Emeritus Doug Ford and his wife Kathy, whose generosity helped establish the Ford Program.
In Nairobi, the group met with officials from Strathmore University, a private university with a Catholic heritage that has partnered with the Ford Program to study the best ways to support female entrepreneurs in the impoverished area of Dandora.  They also visited Holy Cross Parish and the Brother Andre Medical Centre in Dandora where Faculty Fellow Terry Johnson, the Joe and Deborah Loughery Assistant Professor in Economics and Human Development College Chair, spoke about his research on access to maternal care in Dandora and the surrounding area.
During their visit to the Institute for Economic Affairs, which is hosting students from the Keough School's Master of Global Affairs program as part of their Integration Lab, or i-Lab, experience, the group heard from Kellogg Faculty Fellow Ann Mische (sociology and peace studies) about the research she is doing in collaboration with IEA on youth and citizenship in Kenya.
The group also visited CUEA and IBM Research|Africa, hosted a dinner and panel discussion with Notre Dame alumni, and met with representatives from the Ford Foundation and Oxfam, as well as senior US embassy staff.
Some members of the delegation continued on to Uganda, where they visited Congregation of Holy Cross sites in Jinja, Meeting Point International, Uganda Martyrs University, and members of Small Internal Lending Communities and the Social Enterprise Project established with Ford Program support.
Dowd said the trip provided participants with an opportunity to reflect on Notre Dame's presence in Kenya, and East Africa more generally, and to consider together how the University might build on its deep association with the Congregation of Holy Cross, along with existing partnerships with universities and other organizations, to conduct impactful research and provide transformative educational opportunities for students.