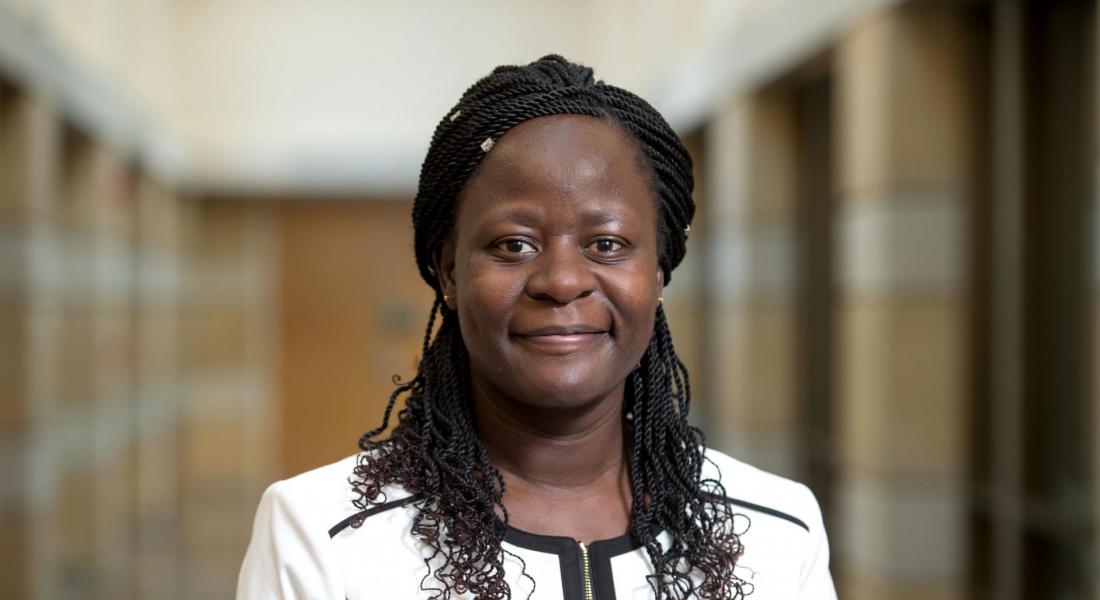 Oluoch-Aridi Helps Build Ford Research Profile in East Africa 
In recent years, the Ford Program in Human Development Studies and Solidarity has made major strides towards its goal of high-quality, community-based research in the developing world. In that endeavor, Regional Research Programs Manager for East Africa Jackline Oluoch-Aridi, who opened the program's first field office in Nairobi five years ago, plays a key role.
"Jackie has been crucial to our efforts to expand and deepen our research profile in East Africa," says Ford Program Director Rev. Robert Dowd, CSC. "She has done a wonderful job of working with our faculty and students, connecting them to communities at the grassroots, to faculty and students at local universities, and to other organizations so that their research may be informed and impactful."
"Our work is bearing results—we are doing rigorous, evidence-based research while transforming the community at the same time," Oluoch-Aridi affirms. "I'm really proud that we are able to do those hand in hand."
She currently works with eight Notre Dame faculty members as well as students and other researchers to implement and manage research projects in Kenya and Uganda. Her focus is helping faculty who have received Ford research funding "tothink through a project and work through the steps—the many, many steps—to implement it in country." 
Among those who have recently undertaken Ford projects in Kenya are Faculty Fellows Wyatt Brooks and Terence Johnson (economics), Ann Mische( sociology), Vania Smith-Oka (anthropology), and Jaimie Bleck and Dowd (political science). [link to profiles] Most of the fieldwork has centered on Dandora, a poor, sprawling section of Nairobi dominated by a massive garbage dump.
Implementing field research in Dandora
Implementing complex research protocols in an unfamiliar area notorious for crime and violence—and halfway around the world from the principal investigators—is no easy matter.
Brooks and Johnson both say that Oluoch-Aridi's participation in several randomized controlled trials they have conducted in Dandora has been critical. 
"Jackie was invaluable in solving the day-to-day issues that arise in field projects that are just impossible to fix from afar," said Brooks. "Having someone that we trust available to do those things is crucial."
"Jackie is indispensible," Johnson agrees. "Running these projects is very complicated. She serves as the bridge between the Notre Dame researchers, partner institutions, and our surveyors and community mobilizers."
Oluoch-Aridi consults on research design, obtains the ethical review and research permits needed by foreign researchers, coordinates the local field teams, connects with local partners Strathmore Universityand Catholic University of Eastern Africa(CUEA), arranges for local dissemination of research—and solves problems on the fly.
"Whether it's ensuring the finances line up, managing key relationships with partners and government officials, translating surveys, or figuring out how to keep things on schedule when a surveyor just shattered a project phone's touch screen, Jackie is the one making the research plans a reality," explains Johnson.
Building and supervising research teams is central to Oluoch-Aridi's work. She selects and trains both local university graduates and Dandora residents as field enumerators, including a modified human subjects research training that covers issues of confidentiality and respect for the community. The teams collect qualitative and quantitative data through door-to-door surveys, focus groups, and interviews.
"People trust them," says Oluoch-Aridi. "The surveyors are conscientious and build rapport with people." In an area where frequent market research scams have conditioned community members to be suspicious, she points out, trust facilitates high-quality data collection.
"Our teams can navigate research in a responsible way, explain the benefit to respondents, and tie it back to the community engagement that we have invested in with Holy Cross Parish," says Oluoch-Aridi.
Vital Holy Cross role
In the chaotic informal settlement of Dandora, the Ford Program connection with the local Holy Cross Parish is vital. 
"The parish allows us to do research not many people can do," says Oluoch-Aridi. Residents trust the parish, known for its inclusive welcome and array of programs and services, and extend that trust to Ford researchers. 
"Our affiliation with the parish is special," Oluoch-Aridi reflects. 
"Our engagement with the community through our 2011 listening project was key in enabling us to do research in the parish. And we work hard to maintain the connection. Having enumerators from the community and the feedback our senior community mobilizer provides makes a big difference." 
Passionate about development and research
Oluoch-Aridi came to the Ford Program through her interest in health care in the developing world. After earning a master's in public administration with a specialization in international health policy and management from New York University, she worked with the Earth Institute's Millennium Development Goal (MDG) Center in New York. She then returned to her native Kenya as an MDG policy officer, overseeing community health worker program sites in six countries.
"I was able to see how development works," she recalls. She was further drawn into fieldwork when she learned about the Ford Program's community engagement efforts.
"The Ford approach was interesting because of the upfront attempt to listen to the voices of the people we were working with, to see what their solutions were for problems, and to infuse research to answer these challenges," she explains.
Now, in addition to her full-time job with the Ford Program, Oluoch-Aridi is working toward a PhD on a part-time basis at Strathmore University. After almost a decade in research management, she wanted to answer her own health policy questions.
An opportunity presented itself in the Ford maternal health project in Dandora, where Oluoch-Aridi worked with Johnson to set up policy questions related to the implementation of Kenya's free maternal health services. Jumping off from Johnson's research, her dissertation compares what women look for when choosing maternal delivery facilities in an urban informal settlement—Dandora—and in the rural setting of Naivasha.
"It gives me great joy to collect data on an important policy issue—how women make decisions on where to deliver their babies," Oluoch-Aridi says. She hopes the study will inform resource allocation in Kenyan health policy at both the county and national level. 
Johnson says her unique combination of experiences is a big plus for Ford Program researchers.
"Jackie sees the world both from the perspective of the communities we're working with as well as from a research perspective, and can address the concerns and objectives of both without losing sight of what matters for either. This makes it possible to do complicated and ambitious projects—and meet people's needs."
Moving forward
Oluoch-Aridi is proud of the evolution of the Ford Program's East Africa research efforts and of the many scholars now involved.
"We have modeled community-based projects and found faculty who can do research that is meaningful to them and to the community," she says. "It is wonderful to get that balance that meets people's needs—not just research for the sake of research."
She envisions a continued expansion of Ford research, with a focus on projects that answer policy questions around environmental justice and climate change issues.
"The world has become a global village, and things that affect people in sub-Saharan Africa affect people in the US," she says. "I would like to see Ford continuing to use field research as a tool to meet global challenges—and to transform communities in a sustainable fashion at the same time."