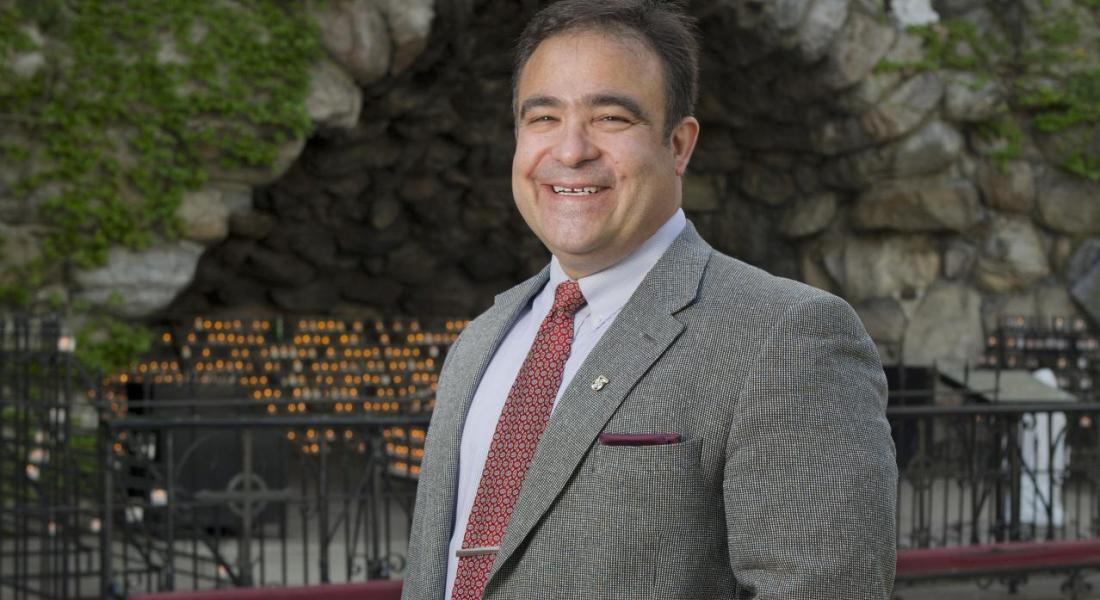 A longtime University of Notre Dame administrator has been named executive director of the Kellogg Institute for International Studies.
Donald Stelluto, the associate director of the Notre Dame Institute for Advanced Study, will begin serving in his new role on March 16. He will replace current Managing Director Sharon Schierling, who is retiring at the end of the spring semester after 21 years with the Institute. Kellogg has updated the formal title of the position to make it comparable to similar positions in the Keough School of Global Affairs. 
Stelluto said he was drawn to Kellogg's vision and its interdisciplinary focus on democracy and integral human development.
"The Kellogg Institute is a vibrant community, a place where people and ideas come together with truly remarkable results," he said.  "Kellogg's scholars have a holistic understanding of the human person. As a result, they ask powerful questions and seek meaningful answers that can foster policy development and change. This is a special place."
Director Paolo Carozza said Stelluto was chosen after a months-long search because of the depth of his administrative experience at Notre Dame and his commitment to furthering Kellogg's unique interdisciplinary culture.
"He has shown in his time at NDIAS a real appreciation for and capacity to foster genuine intellectual depth and breath, working with faculty and visiting fellows each year across a different range of subjects and creating a genuine intellectual community," Carozza said. "He combines a deep knowledge of academia and Notre Dame, coupled with a fresh perspective with a certain institutional realism about our fit within the Keough School."
Stelluto taught with the Phoenix Institute Summer Session Program for nine years before coming to Notre Dame full-time in 2006 as executive assistant to the dean in the College of Arts and Letters. He was awarded Notre Dame's Presidential Leadership Award in 2013.
He previously worked for eight years in administrative roles at California State University, Fullerton, in the academic, finance, and administrative divisions, including on the staff of the provost, simultaneous with his duties teaching history. He also has served in various capacities in statewide higher education in California, addressing state university system governance, graduate education, and institutional equity.
Stelluto holds a master's degree in American legal history from California State University, Fullerton, and a PhD in US Constitutional history from the University of Maryland. He is currently completing a book manuscript on 19th century southern constitutionalism. He also holds several degrees in music, including a degree in jazz performance.
Stelluto said Kellogg's work addresses fundamental questions and engages its faculty and students "in a manner that demonstrates the increasing importance and relevance to the world of Notre Dame's distinctive mission."
"Two of my goals at Kellogg are to help tell the compelling story of Kellogg's unique mission and research, and to help advance collaboration on campus and beyond," he added. "There are scholars and organizations outside Notre Dame that would benefit significantly from the models and the research being produced at Kellogg and across the Keough School. I want to contribute to that dialogue."
NDIAS promotes interdisciplinary, issue-engaged research on major questions, and convenes a diverse group of faculty fellows, graduate students, and undergraduates to participate in a residential research community with topics organized around an annual theme. It also organizes academic programming, including research seminars and public lectures, centered on that theme.
Stelluto oversaw all aspects of operations and programming at NDIAS, from human resources and research collaboration to finances, fundraising, and engagement with the University community. During his tenure, NDIAS was awarded a $1.58 million grant from the John Templeton Foundation, established a growing international profile, and saw a marked rise in the number and disciplines of annual fellowship applicants. He also created the NDIAS undergraduate research assistantship program.
Carozza noted that Stelluto was successful at NDIAS in working with faculty and visiting fellows, "always with the goal of helping them realize their research and scholarly goals."
"He's passionate about what he does," Carozza added. "He seems to approach everything he does with a great amount of warmth and joyful good humor that I hope is infectious for us."