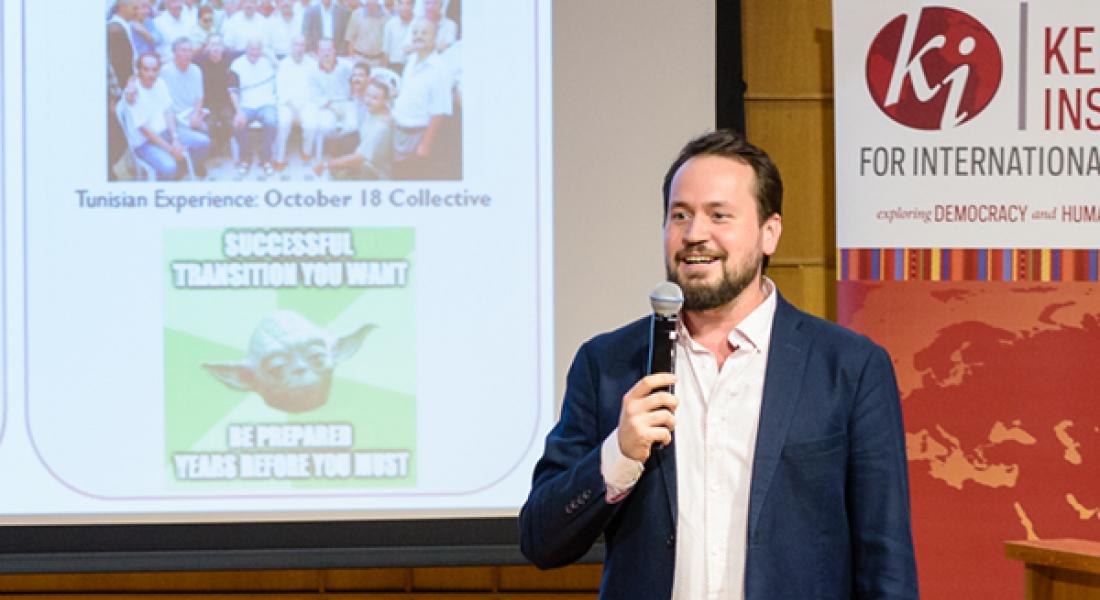 A former dissertation year fellow who studies democratization in the Middle East and North Africa will receive the inaugural Kellogg Institute Award for Distinguished Dissertation on Democracy and Human Development.
Tahir Kilavuz earned his PhD in political science earlier this year and is now a postdoctoral research fellow at Harvard University. His dissertation, entitled "Authoritarian Persistence and Regime Change in the Middle East and North Africa: Autocrats, Opposition, and Coalitions," offers a comprehensive explanation of regime change in the region, distinguishing between the triggers of authoritarian breakdowns and the reasons behind democratic transitions.
Kellogg Institute Director Paolo Carozza said the award was created to highlight research conducted by doctoral students in the Institute's core thematic areas of democracy and human development with the potential to make substantial contributions to scholarship and policy.
"Tahir's findings contribute to the study of authoritarianism and regimes in the least democratic region in the world, but his research is also relevant to the study of democracy throughout the world," Carozza said. "His dissertation is innovative and exemplifies the high caliber of scholarly work we aspire to produce at Kellogg."
Kilavuz' advisors noted the relevance and originality of his research, which drew on a variety of methods: rigorous fieldwork, advanced statistical methods, innovative experiments, and a large number of interviews with political leaders.
"His dissertation tackles one of the timeliest questions in public affairs: the failure of democracy in the Middle East and North Africa," said Faculty Fellow Michael Coppedge, his dissertation director. He described Kilavuz as a talented researcher and a "dogged networker" who was able to secure critical interviews with key actors from Tunisia, Algeria, and Egypt despite challenges unique to the region. For instance, Kilavuz had to interview Egyptian leaders in Turkey because of the dangers of conducting field research on a politically sensitive topic within the country.
Kilavuz, who plans to expand his dissertation into a book, described his work to Kellogg in a Q&A feature last year, including the difficulties of conducting research in the relatively understudied country of Algeria, where only a few foreign researchers were present.
The lack of established research networks offered some crucial, and unexpected, advantages. 
"For some politicians I met, I was probably the only foreign researcher to interview them in the last three to five years," Kilavuz said. "Therefore, they were very happy to meet with me and were genuinely willing to talk in detail once we established rapport."
Another advisor, Faculty Fellow Michael Hoffman, said Kilavuz' work is particularly relevant to public policy, and "policymakers in the Middle East and elsewhere would do well to take careful consideration of his findings."
Kilavuz' overall project, and his conclusion that institutions are the most important determinant of regime survival, represents an "extraordinary contribution" to the study of regimes, Hoffman added: "His emphasis on institutions contributes a much-needed clarity to the area of democracy promotion in an extraordinarily challenging region."
The award, which carries a $1,000 prize, will be presented at the Kellogg Advisory Board meeting in November.