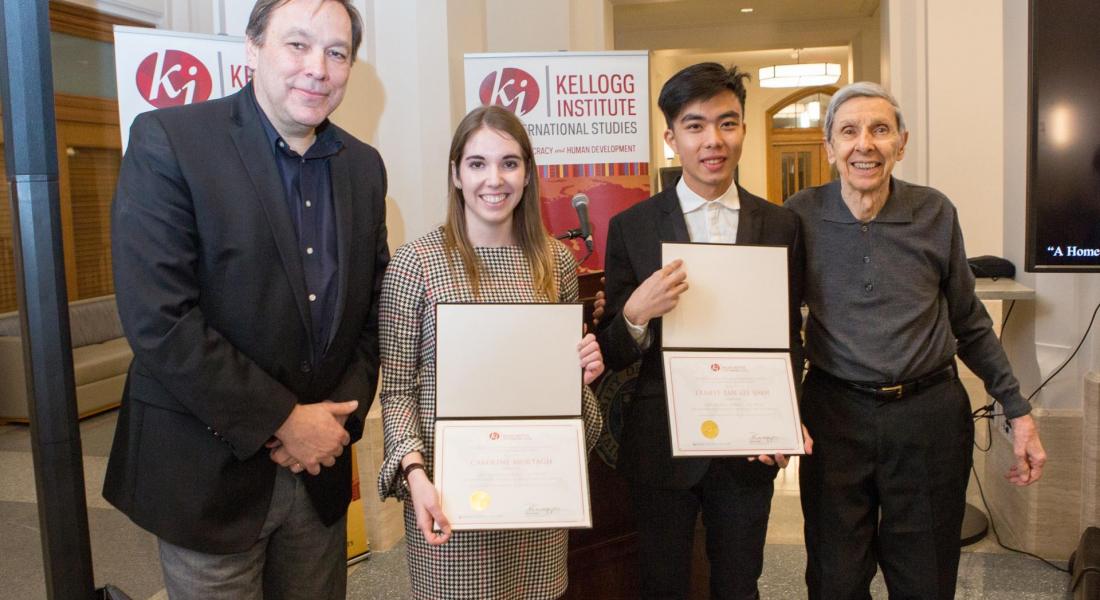 Two students – one studying blood donation in Uganda and another studying sand mining in Kenya – are the recipients of an inaugural prize that recognizes outstanding undergraduate research on poverty and development.
The University of Notre Dame's Caroline Murtagh '19 and Ernest Tan '19 from Yale-NUS College in Singapore were awarded the  Fr. Ernest J. Bartell, CSC, Prize for Undergraduate Research on Poverty and Development on February 22 at the Kellogg Institute for International Studies' Human Development Conference (HDC). 
The prize carries a $1,000 award for each recipient. Two awards will be given each year to undergrads who present their research at the conference – one to a Notre Dame student and a second to a student from another university.  
The Bartell Prize was named in honor of Fr. Ernest Bartell, Kellogg's founding executive director and emeritus professor of economics at Notre Dame. The Institute's research focuses on issues related to democracy and human development. 
Murtagh is an International Development Studies minor whose capstone project, "Perceptions and Behaviors Toward Blood Donation in Kampala, Uganda,"addresses factors that contribute the country's blood shortages and prevent patients from receiving life-saving transfusions. She also co-chaired the 2019 HDC, a student-run event cosponsored by the School for International Training (SIT) and Notre Dame's Center for Social Concerns (CSC) whose theme this year was "Engaging with Empathy: A Preferential Option for the Poor." 
She said the award was the culmination of not only her own work, but the support she received from her research partners in Uganda and advisors and staff at Kellogg. 
"I view this award as a testament to values such as collaboration, transparency, and empathy that I believe define research in human development," the biological sciences major said. 
Tan's winning project is "Living Off the Land: Sand Mining, Property Rights, and the Preferential Option for the Poor in Kenya." His research and conference travel was funded by SIT Kenya and Yale-NUS College.   
The Bartell Prize was established with a donation from Quentin Wodon, a Distinguished Research Affiliate of the Kellogg Institute and a lead economist at the World Bank's Education Global Practice, along with an additional donation from the Institute. 
Wodon, who attended an HDC dinner with dignitaries, said he always wanted to encourage undergraduate research on poverty,and his affiliation with the Institute provided an opportunity to do so.Hesaid it was fitting that the award is named after Bartell, a scholar of development economics who concentrated his work on the relationship of Catholic social thought to economics and the economics of education. 
"It was really moving to be able to meet Fr. Bartell and hear how much the Institute has meant to him," Wodon said. 
Wodon met with finalists for the prize over coffee during his visit to Notre Dame, and said it was critical that they had been able to do original research abroad on important development questions. 
"It's a wonderful start to try to make a difference, to have that kind of exposure" to development, he said. 
During his conversation with the finalists, Wodon encouraged them to hone their skills in using quantitative data as a way to support their future research findings and make them more applicable to addressing development challenges. 
"His pragmatic approach is echoed in the 'call to action' that was stressed during the conference," said Tan, an urban studies major. "From our conversation, I am inspired to pursue research that truly contributes to more effective decision-making and socially-useful action."