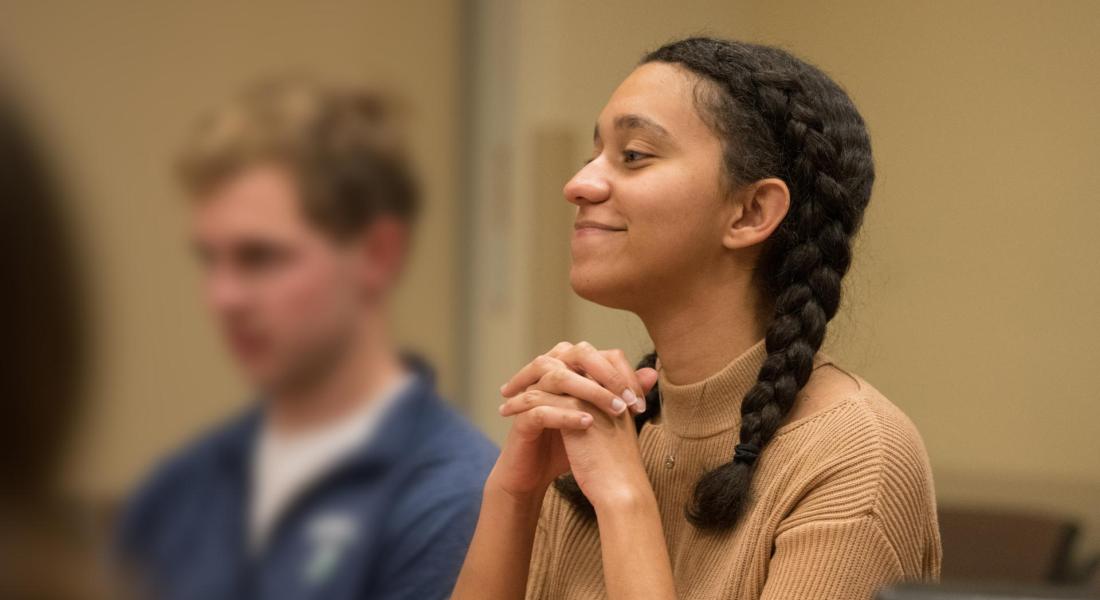 Building on the array of student programs at the Kellogg Institute, this fall the institute launched its first new undergraduate program in ten years, the Kellogg Developing Researchers (KDR) program. KDR allows students at every level the opportunity to engage with the Institute. 
Notre Dame junior Juliana Dantas '24 joined the pilot last spring and found she gained skills she was able to use immediately.
The pilot program started with a purposefully small number of seven students. That grew to 39 this fall, and as spring begins, 60 undergraduate students are now part of the KDR program.
With good reason: KDR offers Notre Dame undergraduates an opportunity to learn research skills at their own pace, as well as the possibility of working on short-term research projects with Kellogg faculty fellows.
"KDR is unlike any program Kellogg has had in the past in that students can get involved in any semester – even a second-semester senior could join," says Institute Associate Director Holly Rivers, contrasting the program with other undergraduate opportunities at the Institute, which can require longer-term commitments and often start in the early years of a student's time at Notre Dame. 
Dantas had already been working in a research assistant position on campus and was interested in learning more research skills, especially in data analysis software. She also plans to do a senior thesis and knows the new skills she's honing will help her in both that and an internship she will do next year conducting research for a private equity firm.
"Coding and data analysis are needed more and more in jobs today. You simply have to understand data," she explains, sharing that she hopes to secure a job that involves data analytics after graduation.
"With my majors in political science and economics, there's really not much opportunity to dive deeply into software like Stata or R in regular classes, so this was the perfect opportunity,"  she says.
The KDR program requires students to attend a "What is Research?" talk in their first semester, given by high ranking professors, which have included Kellogg faculty fellows Paolo Carozza (law), Aníbal Pérez-Liñán (political science), and Ted Beatty (history) so far.
"Students often hear the word 'research' but don't necessarily know what it means or what it entails," states Rivers, explaining the introductory session.
KDR students also take a minimum of three training sessions in research skills per semester. Kellogg provides a support network and resources for students to find such opportunities on campus, which take various forms, including live or recorded workshops, video series, and online courses. 
Dantas has done workshops in Stata and R Suite, as well as on data organization in Excel and a distance reader software that she's found helpful for reading large numbers of pages for both her research position and classes.
"Much of the resources we provide is simply knowledge of and easy access to existing training opportunities on campus," says Rivers, sharing that Julie Vecchio, co-interim director of the Navari Family Center for Digital Scholarship, has been instrumental in setting up a webpage of opportunities through the center and helping students find opportunities that meet their individual training needs. Vecchio also assists in the KDR orientation and leads several of the Center's training sessions.
"Another incredibly important aspect of the KDR program is that it offers interdisciplinary research skill-building opportunities to students who are exploring or planning to enter interdisciplinary fields and topics," shares Vecchio. "This interdisciplinary element is a great match for the Navari Family Center and the type of teaching, learning, and research partnerships we provide, as we work with researchers and students at every level and across all disciplines."
Other resources are available through the Lucy Family Institute for Data and Society and the Global Center for the Development of the Whole Child.
In addition to training, Dantas appreciates the peer-leadership format that the program has taken this year. She leads a group of several undergraduate students new to KDR, meeting regularly for support and idea sharing, and to get questions answered and receive help in navigating opportunities.
'It's been a great networking opportunity – I've met students from other disciplines and even other schools on campus, which I never would have had the opportunity to do," says Dantas. 
"I can't recommend the program highly enough for any undergraduates interested in the many opportunities KDR provides," she concludes.
More information on the Kellogg Developing Researchers program can be found online at the Kellogg website.