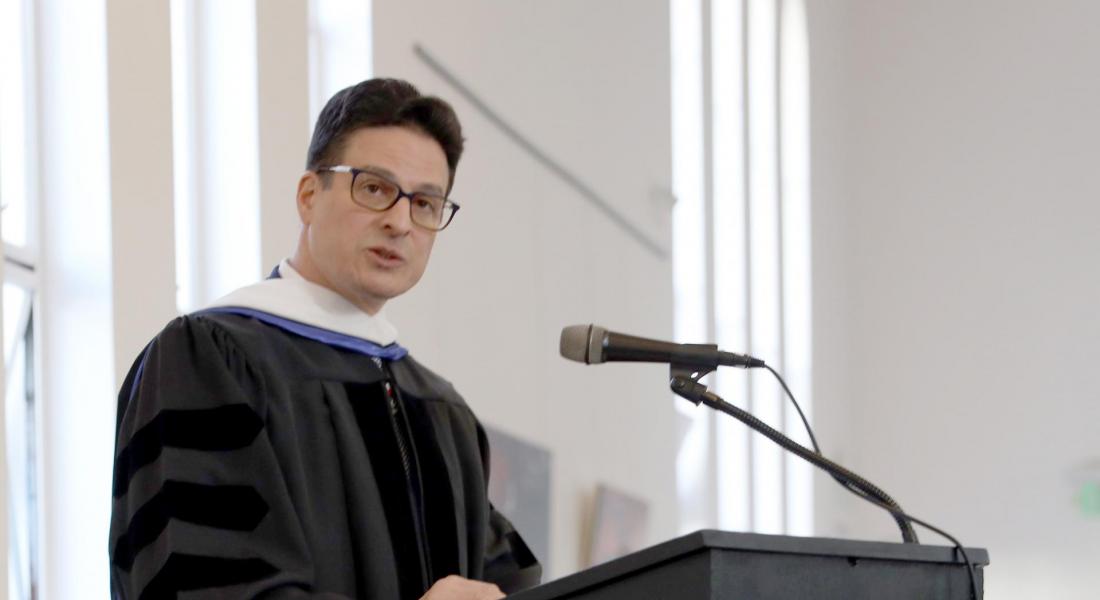 Kellogg Institute Director Paolo Carozza was awarded an honorary doctorate and inducted into the College of Fellows of the Dominican School of Philosophy and Theology (DSPT) on Saturday at the school's annual convocation in Berkeley, California, on Feb. 1.
The College of Fellows consists of distinguished lay Catholic men and women who offer insights and suggest questions that must be asked to meet the challenges and opportunities facing the Catholic Church and society today. The fellows represent a wide variety of fields, which enables them to engage from many perspectives through the lens of their Catholic faith.
"I am deeply honored to have been welcomed into the vibrant intellectual community of the DSPT, and look forward to participating in the unique and valuable work of the College of Fellows there," Carozza said.
Carozza spoke at the Dominican School's 2019 convocation on the topic of Catholic lay movements in the United States and abroad.
DSPT President Rev. Peter Rogers, OP, said, "Paolo Carozza has already contributed greatly to the conversation taking place here at the Dominican School of Philosophy and Theology. Paolo has exemplified the significant relationship between theory and praxis in his work with diplomatic, pontifical, and academic contributions. With his theoretical expertise in constitutional law, human rights, and the democratic process along with his commitment to grounding in praxis such discussions in a concern for the dignity of the person, Paolo will be a rich contributor to the Fellows and our academic community at DSPT in Berkeley."
Carozza has been Director of the Kellogg Institute for International Studies for more than seven years and has been a member of the Notre Dame Law School faculty since 1996. He previously directed Notre Dame's Center for Civil and Human Rights, now the Klau Center.
Beyond Notre Dame's campus, he has served in numerous appointed roles with organizations such as the Inter-American Commission on Human Rights and the Pontifical Academy of Social Sciences. In the past year, he was appointed to serve on the Venice Commission of the Council of Europe and the U.S. Department of State's Commission on Unalienable Rights.
The University of Notre Dame recognized Carozza's research and teaching on the foundational principles of international human rights law by honoring him with the 2019 Reinhold Niebuhr Award. The award is given annually to a Notre Dame faculty member or administrator whose body of academic work and life promote or exemplify social justice.
The photo above was provided courtesy of the Dominican School of Philosophy and Theology. This article originally appeared at law.nd.edu.