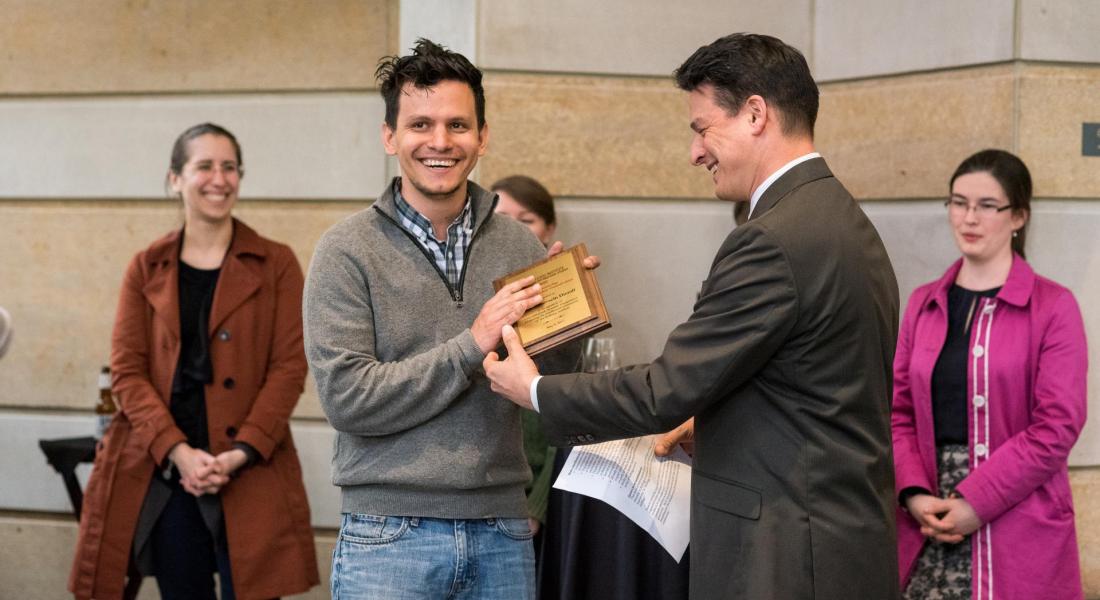 Kellogg PhD Fellow Juan Albarracín Dierolf has been named the winner of the inaugural Kellogg Institute Award for Outstanding Doctoral Student Contributions in recognition of his deep engagement across the Kellogg community of scholars.
"There is very little that Juan has not done at Kellogg," said Director Paolo Carozza in announcing the award at the Institute's year-end celebration on Tuesday. Albarracín's engagement combines exemplary scholarship and wide-ranging participation in an array of Institute events.
Presented for the first time this year, the annual award recognizes a doctoral student affiliate for outstanding contributions to the intellectual life of the Kellogg Institute. It carries a monetary prize of $500.
"Doctoral students have always been at the heart of the Kellogg Institute and we wanted to acknowledge that with this new award," Carozza said.
Scholarship
A PhD candidate in political science who has already published his work, Albarracín is analyzing the conditions under which politicians in Brazil engage in criminal violence and organized criminal groups in his dissertation, "Criminalized Electoral Politics: The Socio-Political Foundations of Electoral Violence in Democratic Brazil."
He has received a 2017–18 Dissertation Year Fellowship to support the completion of the dissertation, which is based on 17 months of fieldwork in Rio de Janeiro and São Paulo funded by an Inter-American Foundation grant. Codirected by Faculty Fellow Guillermo Trejo and former Kellogg Director Scott Mainwaring, his committee also includes Faculty Fellows Ann Mische and Sarah Zukerman Daly.
"Juan is an institutional builder who is deeply committed to the intellectual development of our Kellogg community," says Trejo. "In a dissertation workshop on organized crime and large scale criminal violence, the feedback he provides to his peers and to the members of the seminar displays a scholarly depth and remarkable intellectual generosity."
Albarracín's contributions to Kellogg include active engagement and intellectual collaboration across the Institute's interdisciplinary community.
He has organized events such as the visits of Colombian journalist and now senator Claudia Lopez and human rights expert Patrick Ball, and he played a leading role in the Kellogg/CIDE conference "Transitional Justice and the Struggle against Impunity" and took part in the "What's the Matter with Brazil" panel organized by Visiting Fellow Amy Erica Smith.
He received multiple nominations for the Doctoral Student Contributions Award from fellow students and scholars from several disciplines. In particular, the nominators mentioned his high level of engagement across disciplines and his intellectual curiosity, benefitting both his own work and the Kellogg community.
"Juan is a fantastic ambassador for Kellogg," wrote one scholar.
"This kind of active participation, and embrace of the scholarly diversity at Kellogg is unusual for a doctoral student," said another. "Juan really 'is' Kellogg, as much as he has contributed to Kellogg!"
A native of Cali, Colombia, Albarracín earned both a BA and an MA from the University of Tübingen in Germany, where he began his study of Brazil and added German and Portuguese to his English and Spanish. He arrived at Notre Dame in 2011 on a Fulbright scholarship.
The Kellogg Institute for International Studies, part of the University of Notre Dame's new Keough School of Global Affairs, is an interdisciplinary community of scholars and students from across the University and around the world that promotes research, provides educational opportunities, and builds linkages related to two topics critical to our world—democracy and human development.