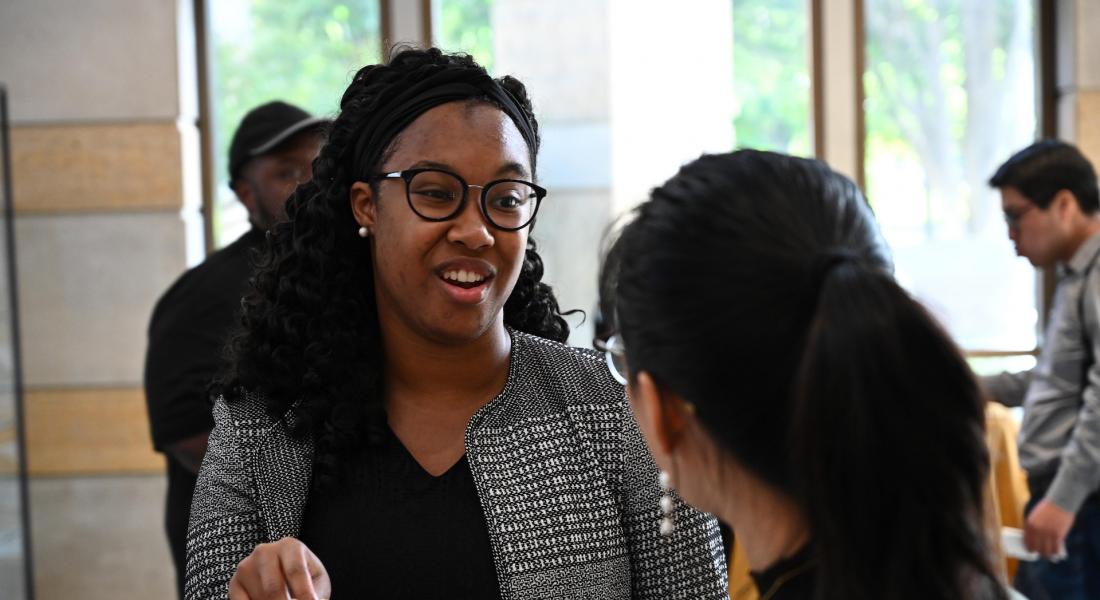 MacKenzie Isaac '20 remembers feeling grown-up and sophisticated on the day that, at age 10, she went through what was considered a rite of passage for girls her age: getting her hair relaxed for the first time.
More than a decade later, she also remembers how the chemicals used to straighten her wavy black hair burned her scalp. And even though it hurt, it was a feeling she quickly learned to endure.
The Indianapolis native kept her hair appointments unquestioningly every eight weeks for nearly a decade, until, in high school, she began to ask why. Why did everybody assume that she, as an African-American woman, would get her hair straightened?
"It unsettled me in a lot of ways," said Isaac, now a senior at the University of Notre Dame majoring in sociology and Latino studies and minoring in data science. She hopes to eventually earn a doctorate in public health.
Through the Kellogg International Scholars Program (ISP), Isaac has focused her undergraduate research on the issues of culture, identity, and race that first caught her attention as a teenager. Working for two years with Faculty Fellow Karen Richman, a cultural anthropologist at the Institute for Latino Studies and her ISP advisor, Isaac studied migration patterns of Afro Latinos from Haiti and other parts of the Francophone and Anglophone Caribbean.
She also assisted in Richman in her research on the myth of Haitian overpopulation and the family planning programs intended to lower the Caribbean nation's birthrate. Together, they presented their work at the Haitian Studies Association at the Latin American Studies Association in 2019.
Preparing for the conferences taught Isaac how to distill months of work into short, compelling arguments. And at the events, she received feedback from top scholars in the field of Caribbean studies, as well as introductions to Richman's peers at other universities.
"I knew that she was highly regarded, but I was overwhelmed by the support I received just by virtue of being her mentee," Isaac said.
A Chance to Pursue Research Interests through ISP
Isaac came to ISP because it gave her the chance to pursue research on a topic she had been interested in since she was a teenager: skin bleaching, or lightening.
The practice is generally considered taboo. But in some countries, having lighter skin is seen as a status marker, a way to better one's romantic prospects, and even land better jobs.
Isaac's senior thesis examines perceptions of skin bleaching among Caribbean and Caribbean American college students. It also examines the issue of colorism, or the preference for lighter skin tones among those of African heritage.
The widespread desire for lighter skin in nations like Haiti and the Dominican Republic, where Isaac has focused her research, ties directly to the region's history of European colonialism. Most residents there are persons of color, she said, but those believed to have European heritage are deemed to be of a higher class, even if they have little money.
Skin lightening can have serious health consequences. One common skin-bleaching agent, hydroquinone, has been linked to a number of serious medical problems including hyperpigmentation, renal failure, and melanoma. 
The chemical is banned either outright or in high concentrations in a number of predominantly black countries where skin bleaching is prevalent, including Ghana, Rwanda, Ivory Coast, and South Africa.
Tying It All Together
Isaac's research on skin bleaching connected her interests in race and public health – and she's extended that work beyond the classroom. As director of diversity and inclusion for the Notre Dame student government, she's organized events on race relations, identity, and mental health.
Isaac is working with the Office of Community Standards to develop a streamlined process for students to report and respond to discrimination on campus. She's also part of a group of student government members holding discussions with the Notre Dame Police Department about creating an action committee to improve its relations with minority students.
Isaac has also served as a summer research assistant at Harvard University's TH Chan School of Public Health and a community liaison for Indiana University's Diabetes Impact Program.
McKenna Pencak, associate director for scholar development with the Notre Dame Scholars' Program, noted that Isaac was selected as an Edward W. Devine Scholar for her leadership ability, outstanding academic achievement, and commitment to service.
"MacKenzie uses her passion for public health to make a difference both on campus and in the community," Pencak said.
After graduation, Isaac hopes to work in Indianapolis in community health research and advocacy, with a focus on the city's African-American and Latinx populations. She wants to use her experiences and observations there to eventually help craft policies that lead to social and behavioral change in both groups.
Isaac said ISP has taught her how to present research to other scholars and take both their criticism and praise.
It's also trained her how to produce high-quality academic work with impact.
"Even when editing chapters or coordinating literature reviews, I can see the bigger picture that we're working toward: a meaningful body of work that will validate marginalized experiences," she said.
She believes research will play a big role in her future in global health.
"Research is a huge, huge part of advocacy and allyship. That's what I hope for my research to do," she said.