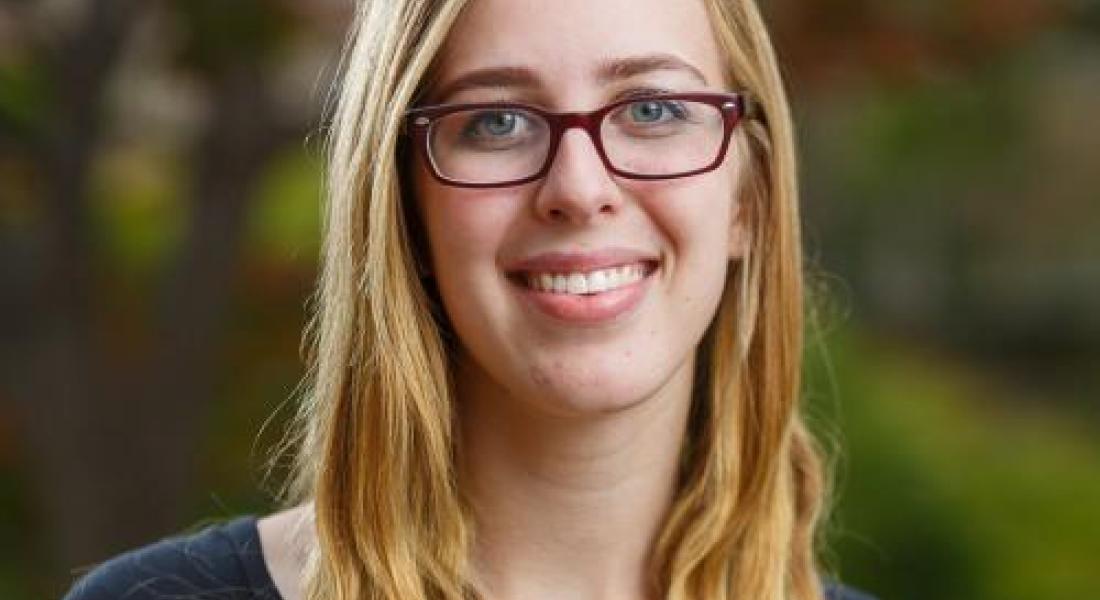 Kellogg International Scholar Christa Grace Watkins '17, a philosophy major and PPE minor known for her advocacy on issues of sexual violence and women's well-being, has been named a 2016 Truman Scholar.
Established in 1975 as a living memorial to President Harry S. Truman, the prestigious Truman scholarship includes $30,000 in graduate study funds, priority admission and supplemental financial aid at select institutions, leadership training, career and graduate school counseling, and internship opportunities within the federal government.
Just 54 college juniors have been selected as Truman Scholars this year, based on leadership potential, intellectual ability, and a commitment to public service.
"I am so happy to have been selected as a winner of the Truman Scholarship," Watkins says. "Applying for the Truman has helped me to evaluate what I care about and what I want to do in the future."
Watkins plans to enroll in a joint JD/PhD program and to specialize in public interest law. She has already made a measurable impact through her activism at Notre Dame, successfully campaigning for numerous policy revisions related to Title IX and mental and physical illness.
As a first-year student, she won Notre Dame's "First Year Challenge" for her policy proposal for the student-run microloan program Jubilee Initiative for Financial Inclusion (JIFFI) to increase resources available for women with disabilities. She is now chief operating officer and head of the legal department for the organization, whose goal is to reduce the prevalence of predatory payday lending in the South Bend community.
As a member of the International Scholars Program (ISP), Watkins has worked as Faculty Fellow Jaimie Bleck's research assistant since the summer after her freshman year—"a privilege," she says.
"Jaimie has taught me about the specifics of her work as well as essential research methodology—and she even introduced my to my thesis advisor," Watkins says. "I found her mentorship particularly useful during the Truman interview when I was asked to talk at length about my independent research projects."
Bleck is equally appreciative of their ISP relationship.
"I am thrilled that Grace won the Truman," she says. "She has been a truly outstanding RA, tackling diverse tasks with seriousness, maturity, and enthusiasm.  Grace is not only an incredible student, she is someone whom I admire. Grace puts her ideas and convictions into action—I cannot wait to see what she is going to achieve in the coming years."
More generally, Watkins notes the value of ISP programming. "I have become interested in researching topics that I would not have known about had they not been brought up in our scholars meetings," she says. "The Kellogg community has also allowed me to meet with visiting fellows and panelists that I otherwise would not have been able to access."
 
Working for change
An Indiana native, Watkins completed internships in summer 2014 and 2015 with the Children's Advocacy Institute, which seeks to improve the child protection and foster care systems. She serves as director of communications for Education Bridge, a nonprofit focused on rebuilding the Jonglei State in South Sudan through education.
At Notre Dame, she is editor-in-chief of Discourses, the Notre Dame undergraduate philosophy journal, and a CUSE Sorin Scholar. She is a member of the Sorin Scholars Steering Committee, the Committee on Sexual Assault Prevention, and copresident of College Democrats of Notre Dame.
"In an institution full of socially conscious undergraduates, Grace stands apart," says her thesis advisor, Candida Moss, a professor of theology who coauthored a Daily Beast article with Watkins. "She is well known on campus for her work on sexual violence and women's health, but she tackles injustice wherever she finds it, having quietly championed issues of disability and education access from behind the scenes."
Watkins hopes a graduate degree in law and philosophy will position her as a credible force for change and allow her to further study the "unexplored intersections" between philosophical topics like forgiveness and moral agency and Title IX reform.
"Without rigorous philosophical training, our policy prescriptions will be incomplete at best and harmful at worst," she said. "Bringing the rigors of high-level academic training to bear on policy questions is my best chance to effectively advocate for substantive reform."
The 54 Truman winners for 2016 were chosen from 775 candidates nominated by 305 colleges and universities nationwide—a record number of applications and institutions. Watkins is one of two Notre Dame Truman Scholars this year.
"For an institution to have one Truman Scholar in a given year is uncommon; to have two is rare," said Jeffrey Thibert, interim director and assistant director of national fellowships in Notre Dame's Center for Undergraduate Scholarly Engagement (CUSE), which assists undergraduate students and alumni with national fellowship applications.
"We hope that their stories and successes will inspire even more of our students to think about how they can build on classroom experiences to start making change in their communities today."
Six Notre Dame students have received the Truman Scholarship since 2010. Past winners include Kellogg International Scholar Alex Coccia '14, an Africana studies and peace studies major who was later named a Rhodes Scholar.
The Kellogg Institute for International Studies, part of the University of Notre Dame's new Keough School of Global Affairs, is an interdisciplinary community of scholars and students from across the University and around the world that promotes research, provides educational opportunities, and builds linkages related to two topics critical to our world—democracy and human development.