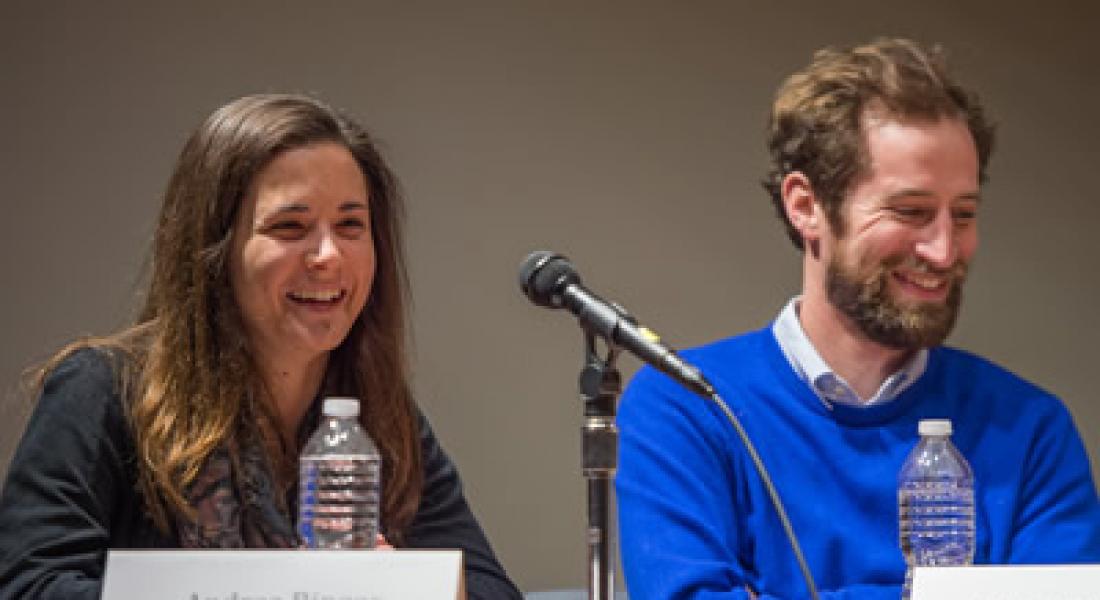 What can a student do when she is both moved and motivated to act by the stark economic disparity that exists in the world?
Kellogg International Scholar Andrea Ringer '17 asked herself that question as a first-year student and, through her involvement with the Kellogg Institute, has since forged a path that fuses rigorous academics with research that examines the impact of development projects on the lives of rural Nicaraguans.
"While it's admirable to want to do good, it is not always apparent what that good really looks like," Ringer says. "I'm fascinated by international development as a whole, but my real passion and interest is using economics to evaluate what works in the development field."
An international economics major with a concentration in Spanish and a minor in International Development Studies (IDS) who is also a Stamps Scholar, Ringer has worked with Faculty Fellow Kevin Donovan in the Kellogg International Scholars Program (Kellogg ISP) since her junior year.
What does "good" look like in the Nicaraguan countryside?
With Donovan and his team, she has spent much of her senior year analyzing the work in Nicaragua of the NGO Bridges to Prosperity, which builds footbridges over rivers that become impassable during the rainy season. Partially funded by Kellogg, the project is evaluating the impact of the bridges in such areas as food security, health, savings behavior, and crop selection.
The research for their analysis does not happen in the library. It is field research—which Ringer, with Kellogg ISP funding, took part in during Thanksgiving week 2016.
Intense and physical, the research involved a drop-off in the countryside with a fellow enumerator and a printout of GPS coordinates and hiking miles up and down mountains and across rivers—many without bridges—all the time dipping in and out of WiFi service, to accomplish the task of meeting village residents and recording their answers to survey questions on a tablet.
Ringer found it exhilarating, and Donovan found her participation invaluable—particularly because of her mastery of the tablets, which he calls both "finicky" and the "backbone" of the entire project.
Confident in her academic skills, he has allowed her to siphon off one area of study—the educational impact of the bridges—for her senior thesis.
"The bridges impact every margin of life in this area," Donovan says. "From a research standpoint, I don't have time to analyze each part. Andrea, though, is teched up enough as a senior with economics and econometrics skills to focus independently on the education aspect."
While Donovan is finding that income and farm investment increase in areas linked by the bridges, he and Ringer were fascinated to find that school attendance increases even in community schools on the "right" side of the rivers. Parents are more likely to send their children to school when they have more income and the certainty that it won't be affected when the river floods, the researchers surmise.
In the field, the already strong mentoring relationship between Donovan and Ringer has deepened.
While Donovan says, with a laugh, "I make a point of throwing my students to the wolves," Ringer knows that she not only survived the metaphorical wolves but learned an enormous amount and shared in the unique satisfaction of being part of a strong, cohesive team.
Finding a community of scholars and learning the many facets of "research"
As she completes her senior thesis and reflects back on her four years at Notre Dame, Ringer affirms the centrality of the Kellogg Institute to her education.
A huge benefit was the community of scholars she found at Kellogg.
"Having a place to talk with other students passionate about some aspect of the world—and learning about the world through them—was one of the best parts of being an International Scholar," she says.
And then there was the research experience itself.
"I learned as a scholar what research is and can be, as well as its many facets," Ringer explains.
"As exciting as my field research was, there is much to learn as well in more mundane tasks like literature reviews—as I did for Professor Donovan junior year. While admittedly not apparent to me at the time, analyzing research on a fertilizer subsidy program in Malawi was invaluable for helping me become familiar with the content and style of economic research papers."
Ringer also participated in two self-directed, Kellogg-funded opportunities wholly apart from the Kellogg ISP.
In summer 2015, she traveled to Masaya, Nicaragua through the Kellogg Summer Internship Program and at the microfinance organization Alternativa evaluated the organization's community-development division to discover successes as well as areas for improvement.
The following summer, consistent with her resolve to address global economic inequality, Ringer remained in Santiago, Chile, after her semester abroad to research how two worker cooperatives have succeeded when others have failed. Funded this time by a Kellogg/Kroc Undergraduate Research Grant, she used the results of that study as the basis for her IDS minor capstone essay.
A future at the cross section of economics, Latin America, and development
In addition to writing her senior thesis, Ringer is immersed this semester in the International Development in Practice course taught by Kellogg Executive Director Steve Reifenberg and Faculty Fellow Tracy Kijewski-Correa.
Ringer is currently exploring career options in the international development field—with her ideal position, she says, one at "the cross section of economics, Latin America, and development."