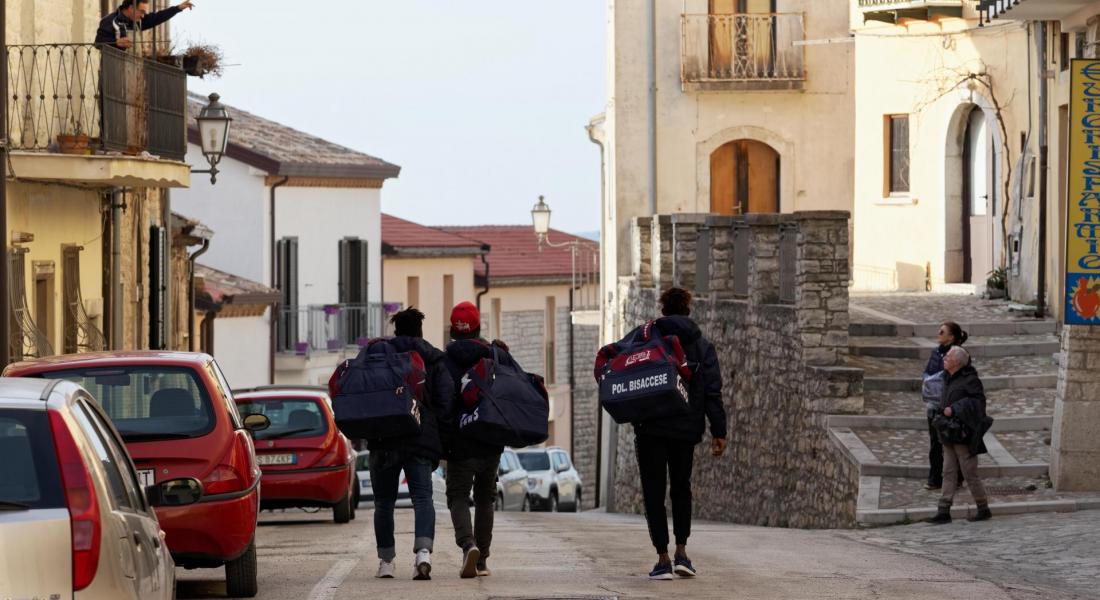 The tiny Italian town of Candela is dotted with for sale signs. Locals ask me if I came for the 2,000 euros gifted to new residents. I didn't – I'm here to research. Since graduating last year from the University of Notre Dame, where I majored in international economics and peace studies with a minor in International Development Studies, I've been living in 10 small Italian towns that host migrants, attempting to understand the complex challenges to integration.
My only neighbors are Richard and Amadi, migrants who came to Candela through its local System for the Protection of Asylum Seekers and Refugees (SPRAR), Italy's premier government-funded program aiming to integrate migrants in more than a thousand Italian towns. More than 200 migrants have passed through Candela's silent streets. Richard has degrees in mechanical and petroleum engineering. Amadi has only completed primary school. Richard is told he is too qualified to find a job. Amadi picks wild artichokes by hand. "I don't know what this kind of work will do for me... but here there's nothing else," he confides.
Ten minutes by car from Candela lies Bisaccia. Though homes here sell for only one euro, Bisaccia received millions after being affected by an earthquake. Both towns lie in a sea of wind turbines, but only in Bisaccia Abdou, a Senegalese migrant works to repair them. As he tells me with a glimmer in his eyes, "Standing on the turbines you can see for kilometers in all directions." Abdou splits the rent with Bori, a Gambian migrant who mans tractors and drives a Ford. Bori chuckles as he confides to me, "People here are hoping for the next earthquake."
Migrants can have drastically different experiences in their host nations, even in neighboring towns. I believe the compound questions of place and community are fundamental to integration. Opportunities I've had in the Ford Program – working on the Humanitarian Corridor project last summer and attending Ford's 2017 workshop in Rome – have helped shape that belief. My current research is a collaboration with the University of Milano-Bicocca and the SPRAR through a Fulbright Research Grant.
Francesco Tassi '18 was a Kellogg/Kroc Research Grant recipient and IDS minor.