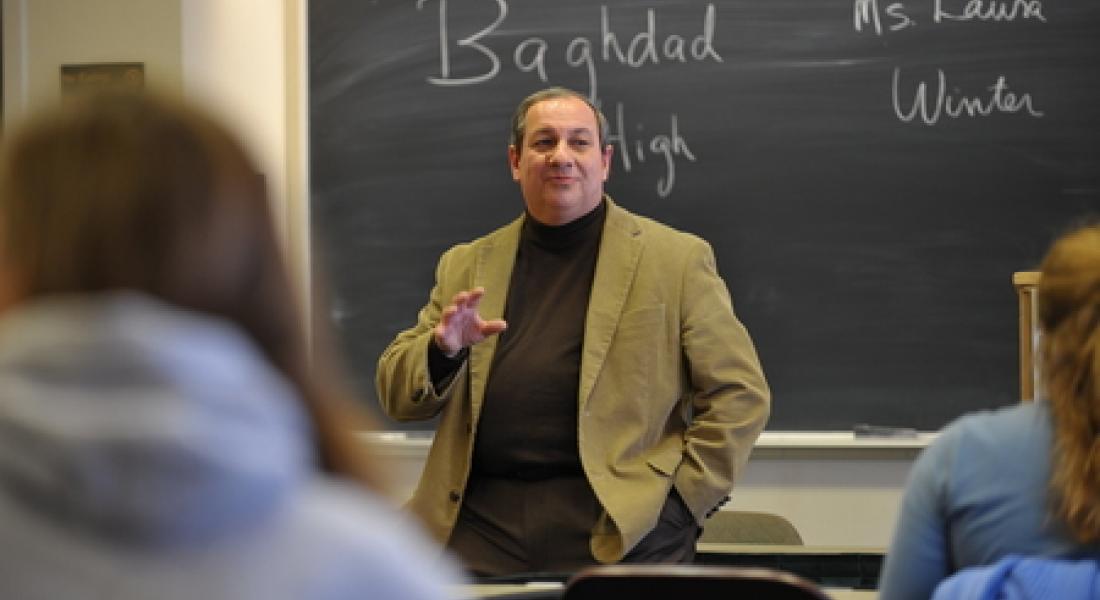 Faculty Fellow George A. Lopez has been named to serve as an evaluating judge for a newly launched competition that will award a $100 million grant to a single proposal designed to help solve a critical problem affecting people, places, or the planet.
The 100&Change competition, sponsored by the John D. and Catherine T. MacArthur Foundation, is open to organizations working in any field of endeavor anywhere. Applicants must identify both the problem they are trying to solve, as well as their proposed solution.
"I am honored to serve as a judge for this bold and significant competition announced by the MacArthur Foundation," said Lopez. "Their stringent requirement for proposals to address fully both the problem and its solution means big ideas with potential for maximum impact for the common good will be submitted."
A founding faculty member of the Kroc Institute for International Peace Studies, Lopez served on the United Nations Panel of Experts for monitoring and implementing UN sanctions on North Korea (2010–11) and as vice president of the Academy for International Conflict Management and Peacebuilding at the United States Institute of Peace (2013–15). For 2015–16 he is coleader of a United Nations University (Tokyo) research project assessing 25 years of UN economic sanctions.
"Professor Lopez's appointment as an evaluating judge in this new competition is a striking example of faculty expertise being applied in ways that are truly world changing," said Faculty Fellow Ruth Abbey, interim director of the Kroc Institute. "We're very pleased to see one of our own peace scholars be at the forefront of this exciting new venture."
As a judge for 100&Change, Lopez will evaluate valid proposals randomly assigned to him according to a strict set of criteria designed to favor proposals that maximize measurable impact in their chosen areas.  The competition will consider applications from both nonprofit and for-profit organizations from around the world. Competitive proposals will be meaningful, verifiable, durable, and feasible.
"Solving society's most pressing problems isn't easy, but we believe it can be done," said MacArthur President Julia Stasch. "Potential solutions may go unnoticed or under-resourced and are waiting to be brought to scale.
"Every three years, we plan to award $100 million to help make one of these solutions a reality. Through 100&Change, we want to inspire, encourage, and support other people's ideas, here in our hometown Chicago, across the nation, and around the world, about how to address major challenges and enable real progress toward a solution."
"We believe that 100&Change can have a ripple effect beyond what a single $100 million grant enables," said Cecilia Conrad, MacArthur's managing director leading the competition. "Setting audacious goals is inspiring. Clear evidence of impact can encourage other funders to invest in solvable problems more broadly, and applicants who do not receive the $100 million grant will still receive valuable feedback on and attention to their ideas."
The MacArthur Foundation supports creative people, effective institutions, and influential networks building a more just, verdant, and peaceful world. In addition to the MacArthur Fellows Program, the Foundation continues its commitments to the role of journalism in a responsible and responsive democracy; the strength and vitality of its headquarters city, Chicago; and generating new knowledge about critical issues.
The Kellogg Institute for International Studies, part of the University of Notre Dame's new Keough School of Global Affairs, is an interdisciplinary community of scholars and students from across the University and around the world that promotes research, provides educational opportunities, and builds linkages related to two topics critical to our world—democracy and human development.
First posted at news.nd.edu.