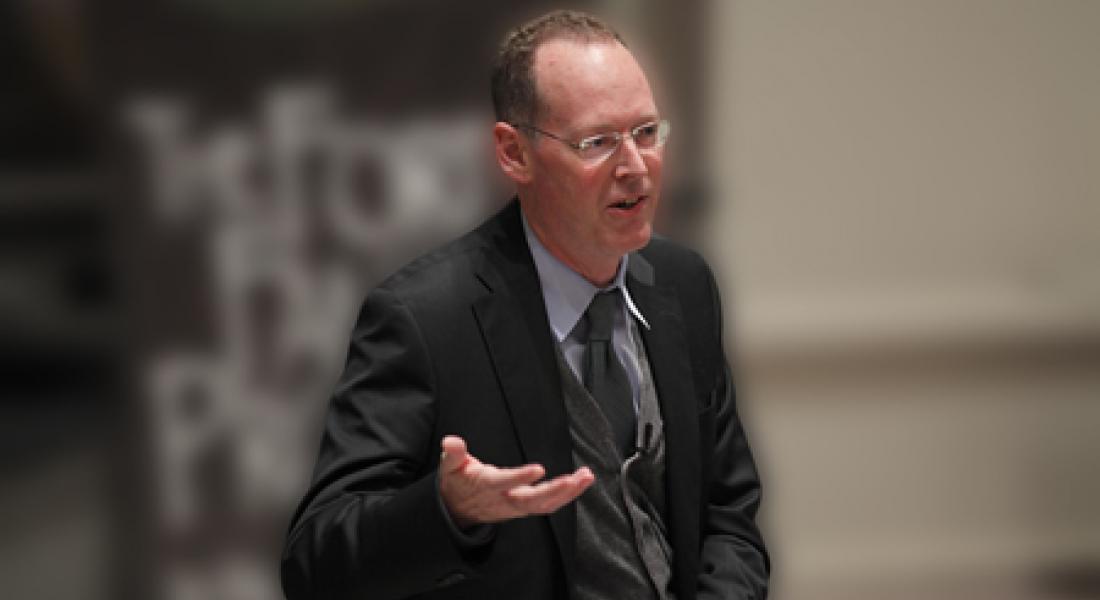 Renowned physician and anthropologist Dr. Paul Farmer, widely known for his pathbreaking work on global health, human rights, and the consequences of social inequality, will deliver the lecture "Taking up the Challenges of Poverty: Why Accompaniment Matters" on Tuesday, April 19 at 7 p.m.
Hosted by the Kellogg Institute for International Studies, the lecture is free and open to the public. It will be held in DeBartolo Hall, Room 101, with a reception to follow in the Hesburgh Center for International Studies Great Hall.
In his address, Farmer, the cofounder and chief strategist of Partners In Health (PIH), will describe his 30-year journey of innovation in global health. In particular, he will discuss "accompaniment," a model for international development that promotes sustainable partnerships and investment in local and national institutions.
"Accompaniment begins most simply with the idea of walking with those in need, with radical implications for individuals, the aid community, and the policy arena," says Kellogg Director Paolo Carozza.
"Introduced to him through the work of our own Fr. Gustavo Gutiérrez, OP, this notion of accompaniment has long inspired Paul Farmer and infuses the broader work of Partners In Health. We have a remarkable opportunity to learn from his inspirational work—and together collaborate in an ongoing dialogue and book project."
The public lecture is the culmination of "From Aid to Accompaniment," a three-day series of interrelated events hosted by the Kellogg Institute.
Convening innovators of the accompaniment approach, the series investigates the policy and practice of accompaniment as a transformative paradigm for foreign assistance.
A select group of scholars and practitioners will discuss a book manuscript that uses the concept of accompaniment to re-envision the delivery of foreign aid. Authored by Farmer and other practitioners, the volume is edited by Kellogg Executive Director Steve Reifenberg and Chief Adviser to Dr. Farmer Jennie Weiss Block.
"Putting accompaniment into practice is not easy," says Reifenberg. "It has been tremendously rewarding to partner with Paul Farmer, PIH, and other practitioners and scholars as we attempt to articulate what accompaniment means in the lives of practitioners and the people they serve. We think this will be an inspirational volume, which will help individuals and institutions to operationalize accompaniment in practice."
In 2011, Farmer accepted what is now known as the Ford Family Notre Dame Award for International Development and Solidarity on behalf of Partners In Health. Presented by the Kellogg Institute's Ford Program, the award honors individuals or organizations that stand in solidarity with those in deepest need. The ceremony allowed him to reconnect with Fr. Gustavo and led to an ongoing dialogue. The results include In the Company of the Poor: Conversations with Dr. Paul Farmer and Fr. Gustavo Gutiérrez (Orbis, 2013) as well as the current "From Aid to Accompaniment" project.
In addition to his work with PIH, Farmer is Kolokotrones University Professor and chair of the Department of Global Health and Social Medicine at Harvard Medical School, chief of the Division of Global Health Equity at Boston's Brigham and Women's Hospital, and UN Special Adviser to the Secretary-General on Community-Based Medicine and Lessons from Haiti. He earned his PhD and MD at Harvard University.
The Kellogg Institute for International Studies, part of the University of Notre Dame's new Keough School of Global Affairs, is an interdisciplinary community of scholars and students from across the University and around the world that promotes research, provides educational opportunities, and builds linkages related to two topics critical to our world—democracy and human development.
Contact: Beth Simpson Hlabse (574) 631-0663 or esimpso4@nd.edu