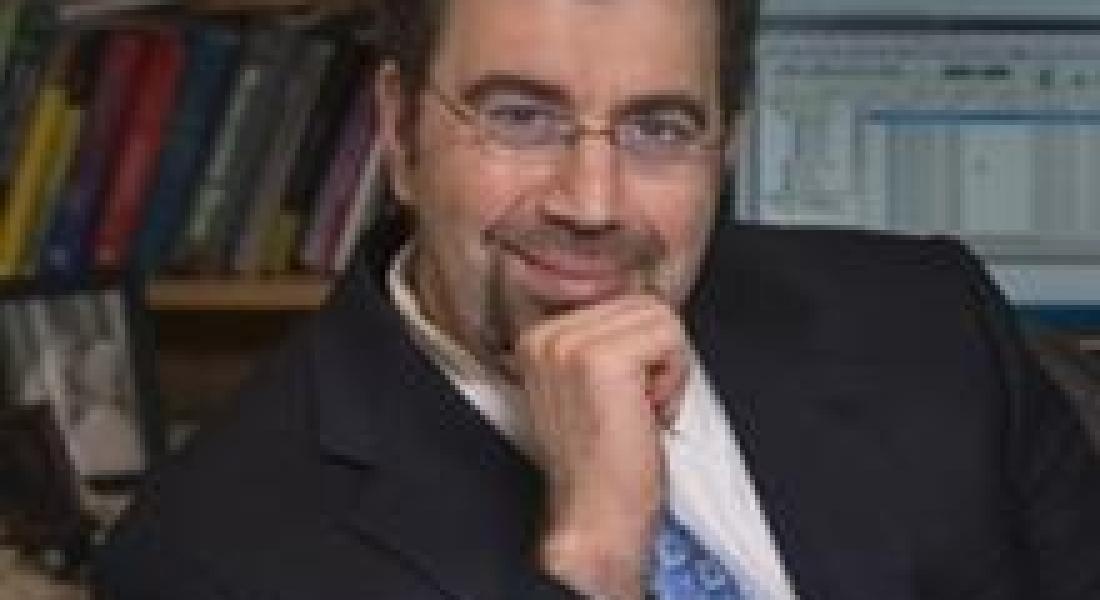 Renowned economist Daron Acemoğlu, whose acclaimed, far-reaching research addresses why some countries are rich and others poor, will deliver the second annual Guillermo O'Donnell Memorial Lecture on Wednesday, September 30, 2015 at 7:30 p.m. Hosted by the Kellogg Institute, the lecture is open to the public and will be held in the McCartan Courtroom of the Eck Hall of Law on the Notre Dame campus.
"Like the renowned social scientist Guillermo O'Donnell, whom this lecture honors, Acemoğlu is known for his creativity in bringing together issues of democracy and human development in new and innovative ways," said Kellogg Director Paolo Carozza.
"I am delighted that the Notre Dame community will have the opportunity to engage with such a stimulating thinker on these critical global themes, which lie at the heart of the Kellogg Institute's work."
The Elizabeth and James Killian Professor of Economics at MIT and one of the most cited economists in the world, Acemoğlu combines wide-ranging interests in political economy and macro and microeconomics.
"Daron is one of the most influential economists of our generation," said Faculty Fellow William Evans, the Keough-Hesburgh Professor of Economics. "He has made important contributions to many fields, most notably his work demonstrating how particular economic and political institutions foster economic development."
In 2005, Acemoğlu was the recipient of the prestigious John Bates Clark Medal, awarded for significant achievement by an American economist under 40 and often seen as a precursor to a Nobel Prize.
Acemoğlu's research has reached an audience far beyond academia in his best-selling book with Harvard political scientist James Robinson: Why Nations Fail: Origins of Power, Prosperity, and Poverty (2012). A native of Turkey, Acemoğlu holds a PhD from the London School of Economics.
The Guillermo O'Donnell Memorial Lecture series was established in 2013 in honor of Guillermo O'Donnell, the Institute's founding academic director. Former Chilean President Ricardo Lagos delivered the inaugural lecture in the series at the Latin American Studies Association (LASA) International Congress in August 2014.
The annual lecture, funded in part this year by the Johnson Family Endowment for Excellence, rotates between host institutions. It is designed to carry forward the enduring legacy of O'Donnell's scholarship by focusing attention on work furthering its core themes, the twin aspirations of political participation and human welfare.
Speakers for the series are chosen from among distinguished scholars, public intellectuals, and policy makers who have made major contributions to understanding or promoting democracy and human development around the world.
Two recent books by members of the Kellogg community also celebrate O'Donnell's enduring intellectual legacy.
Reflections on Uneven Democracies: The Legacy of Guillermo O'Donnell (Johns Hopkins University Press, 2014), coedited by Daniel Brinks, Marcelo Leiras, and Faculty Fellow Scott Mainwaring, all of whom worked closely with O'Donnell as Notre Dame PhD students and/or colleagues over many years. The volume grew out of a 2012 Kellogg conference in BuenosAires that focused on O'Donnell's many contributions to democratization studies and his active engagement in the real world of politics in Latin America.
Ciencia Politica de Guillermo O'Donnell (The Political Science of Guillermo O'Donnell) (EUDEBA/Editorial de la Universidad de Buenos Aires, 2015),edited by Notre Dame alumna and former Kellogg Visiting Fellow Gabriela Ippolito-O'Donnell and Martin D'Alessandro. This volume is a critical analysis by friends and colleagues of O'Donnell's vast scholarly work on democracy, state, and society.