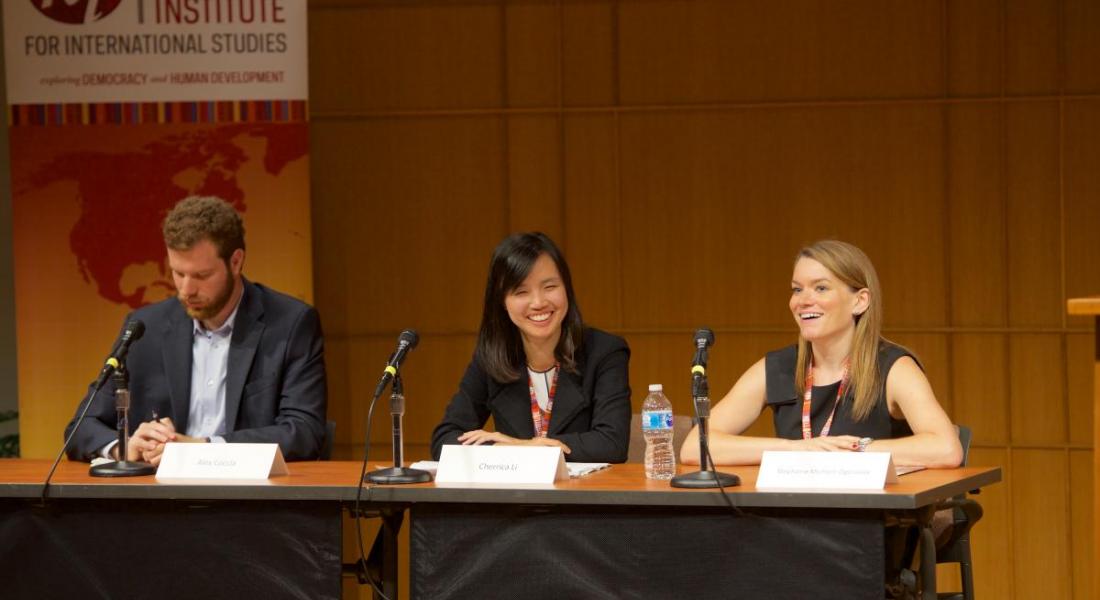 When the Kellogg International Scholars Program (Kellogg ISP) was created 15 years ago, the apprentice-like relationship of undergraduates to scholars that is the hallmark of the program was something new. Faculty members had to be talked into taking on students as research assistants, recalls Associate Director Holly Rivers.
"Now," she says, "faculty are competing to get ISP students." Then, the program began with just nine undergraduates.  Now, there are 66 International Scholars across three classes.
This past weekend, the Kellogg Institute celebrated 15 years of the International Scholars Program with a reunion attended by ISP alumni from a range of classes, faculty fellows who had served as their mentors and advisers, and current International Scholars.
There was plenty of time for reconnecting at social events, including a picnic and tailgate, but also some time for reflection about the value of the program.
On Friday, three ISP alumni took part in the panel, "From Campus to Career: Kellogg International Scholars Then and Now." Panelists included:
Alex Coccia '14, who is beginning doctoral studies at the University of Oxford after completing a master's on a Rhodes Scholarship;
Cherrica Li '11, an international economist at the US Department of the Treasury; and
Stephanie Mulhern Ogorzalek '11, who works in the Office of African Affairs in the Bureau of Democracy, Human Rights, and Labor at the US State Department.
The three outlined their paths from graduation to their current posts, emphasizing to current students that they were not linear journeys.
Li, who went to Taiwan on a Fulbright and then to the Fletcher School for Law and Diplomacy, used a sailing analogy to explain how she tacked from one career and learning experience to the next.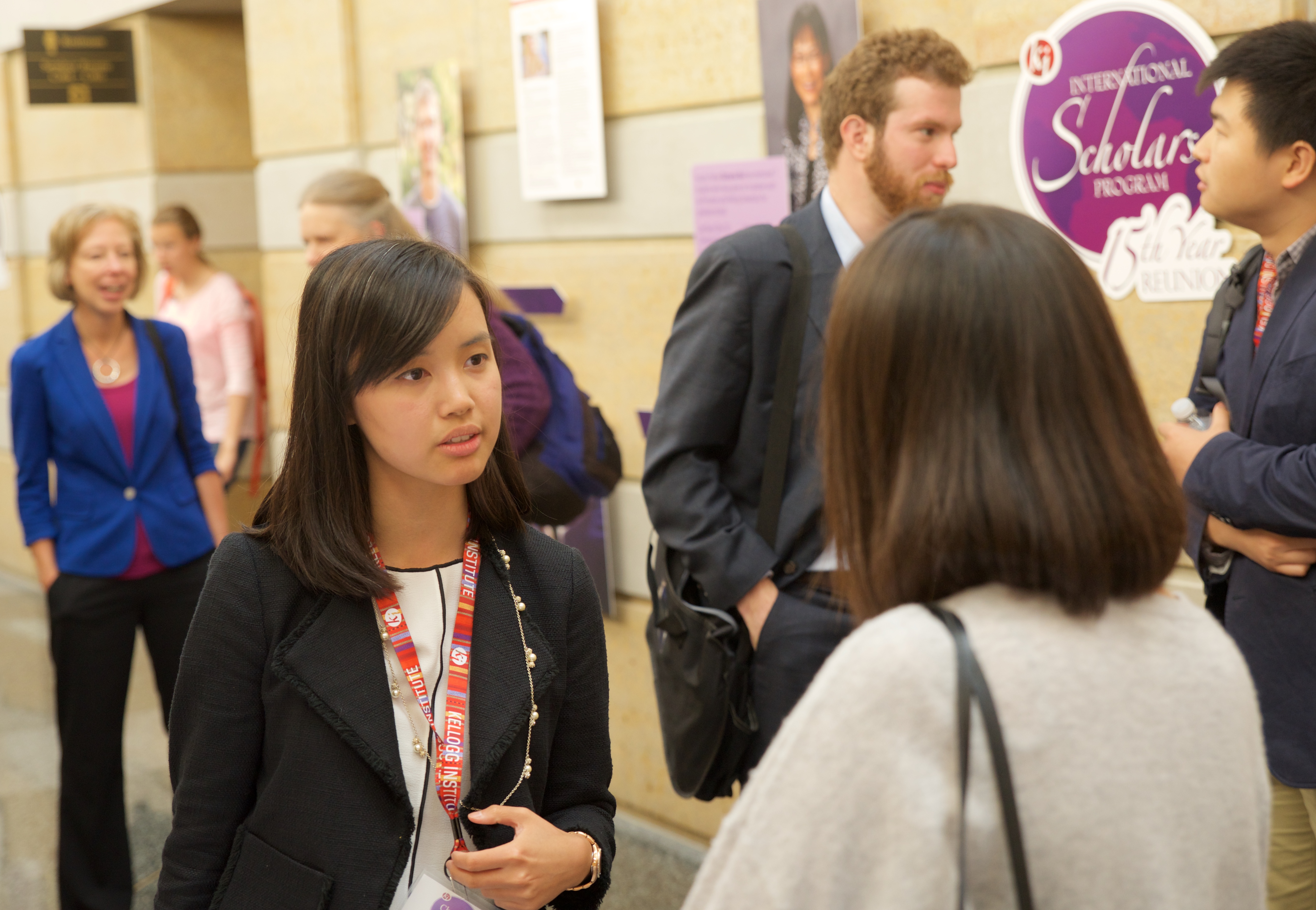 "No experiences are wasted experiences," she said. What had seemed haphazard at the time—work on China and trade, economics and law training—proved to be excellent preparation for a job she loves.
Their time as Kellogg International Scholars—and particularly their close relationships with the faculty with whom they worked—was a firm foundation for their international careers, each one of the alumni said. "It is more like something you might see in graduate school," Ogorzalek remarked.
Coccia agreed.  "It is unique not just to work with faculty on their research but to dive into your own research project," he said.
Faculty fellows who had served as advisers and mentors to International Scholars over the years were delighted to reconnect with alumni during reunion events.
"As a faculty member, it's great to hear about your experiences and I'm so proud of what you've done," said Faculty Fellow Jeffrey Bergstrand, who worked with Li and 13 other International Scholars over the years. "Under Holly's leadership, ISP has turned out to be a remarkable program that has changed many lives."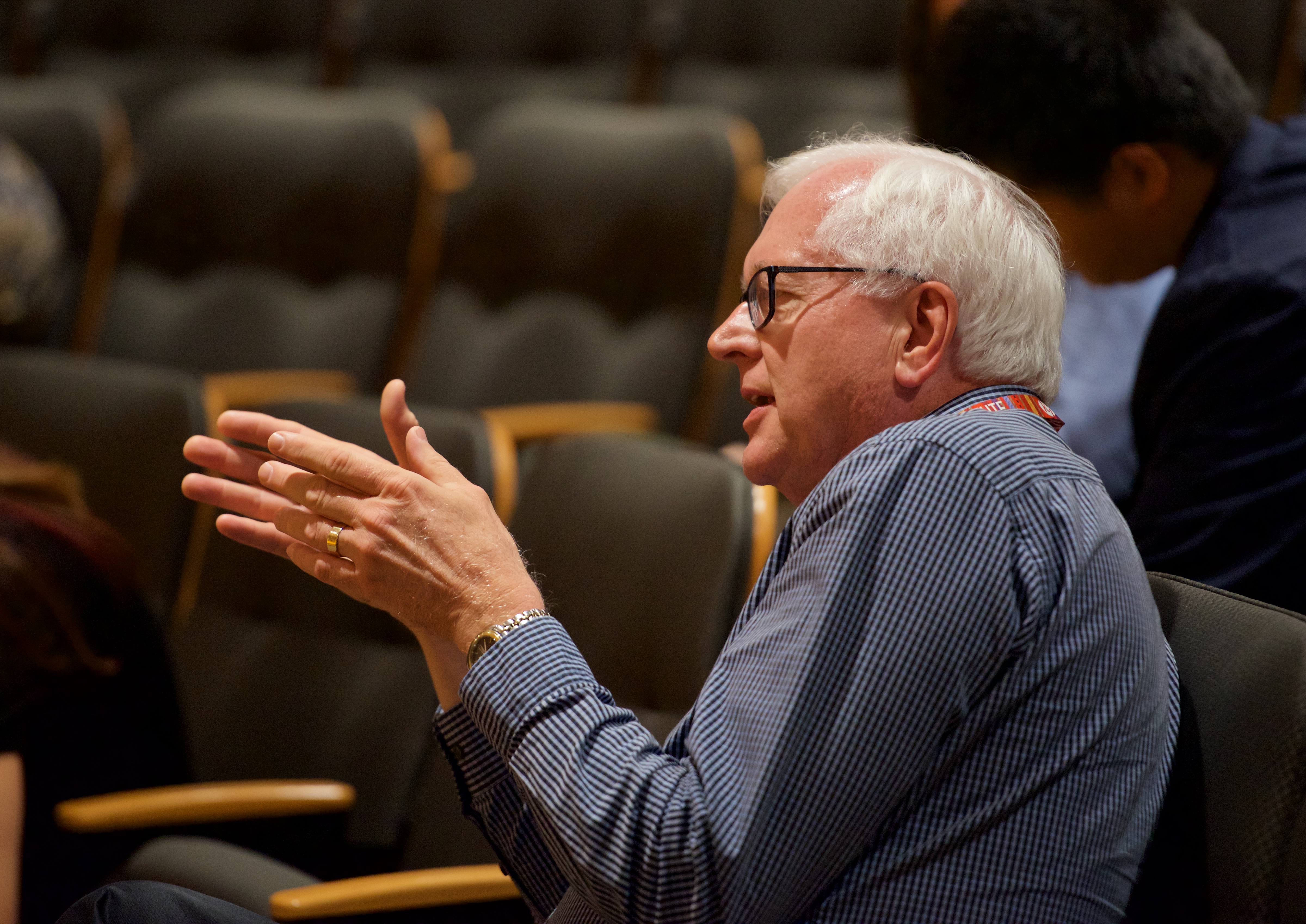 The brainchild of then Kellogg Director Frances Hagopian and then Vice President and Associate Provost Rev. John I. Jenkins, CSC, Kellogg ISP matches undergraduates selected for the program in their freshman year with faculty fellows as paid research assistants.
It is designed to bring intellectually motivated students interested in doing international research into the Kellogg community, where they learn research skills on the job, prepare for their own independent research projects, and have the beefit of interacting with a strong community of peers.  Over the past 14 years, more than 225 students have worked with more than 100 faculty advisers.
Kellogg International Scholars have twice been named Notre Dame valedictorian and have won numerous prestigious awards, including three Rhodes Scholarships, four Boren Scholarships, and ten Fulbrights. Last year, Mike Hoffman '10 was the first graduate of the program to return to Notre Dame as a member of the faculty.
"We're going to leverage the Kellogg International Scholars Program," said Scott Appleby, Marilyn Keough Dean of the new Keough School of Global Affairs. In a session held in the Keough mediation room, Appleby outlined plans for the school's undergraduate program, to debut next year, calling the ISP alumni "pioneers" in what the school is envisioning for its honors program.
More photos on the Kellogg Facebook page  
More on the Kellogg ISP Reunion here. 
The Kellogg Institute for International Studies, part of the University of Notre Dame's new Keough School of Global Affairs, is an interdisciplinary community of scholars and students from across the University and around the world that promotes research, provides educational opportunities, and builds linkages related to two topics critical to our world—democracy and human development.