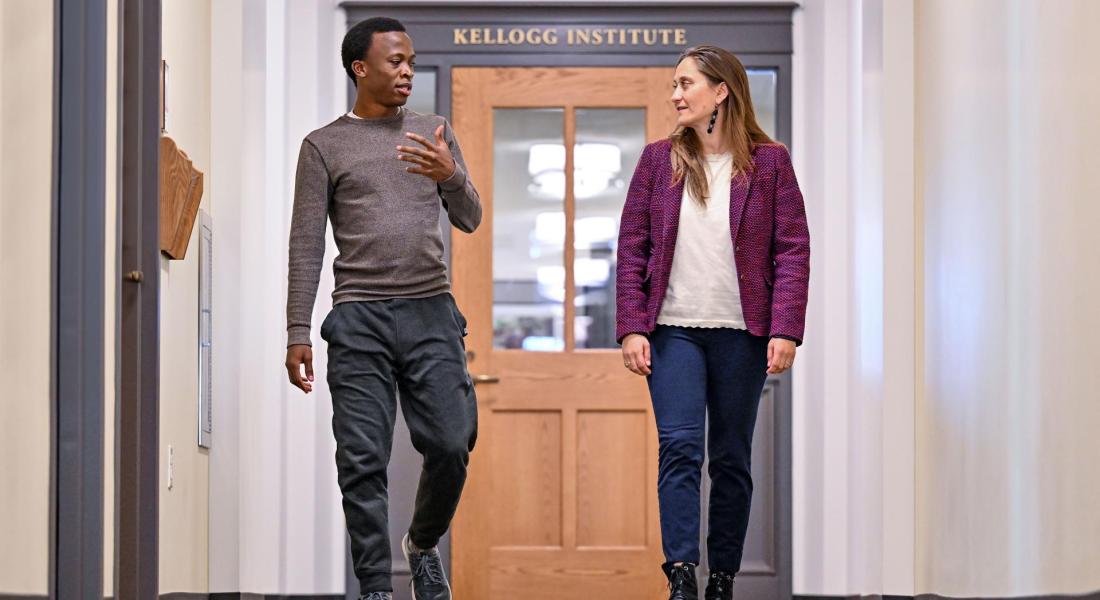 Uganda native Trevor Lwere '22 came to Notre Dame asking questions about global economic development and inequality. His academic career since has included incredible experiences that have helped him in his quest: he's conducted research in South Africa, co-authored a paper with a faculty member, and he is the first Notre Dame student selected to be a Schwarzman Scholar, a highly competitive and prestigious graduate program.
Much of his international and research experiences at Notre Dame has been facilitated by his connections to the Kellogg Institute for International Studies and its flagship International Scholars Program (ISP). 
An economics and global affairs double major, Lwere began in his first year attending Kellogg Institute lectures and research presentations on a variety of global and political issues, which he said was his initial introduction to the world of research and academia. This inspired him to apply to be a Kellogg International Scholar. 
"The question of social transformation at those times was in the front of my mind," he said. "The opportunity at Kellogg to interrogate some of these questions would allow me to get a better understanding of these issues."
He reached out to Kellogg Faculty Fellow Jaimie Bleck, associate professor of political science, with whom he had shared interests. Bleck's research surrounds citizenship, civil society, and democratization in Africa, and Lwere wanted to explore youth and political participation in the same geographical area. At his initiative, the two were paired together through ISP.
Bleck said that when Lwere came to her office hours and inquired about her scholarship, she instantly knew her work would benefit from having him as a research assistant. 
"We jumped into this conversation about African politics," Bleck said. "It was almost like he was another political science professor." 
"We've been working together over the past few years," Lwere said. "It's been very enriching, educational, and instructive."
As an International Scholar, Lwere has served as a research assistant to Bleck on a co-authored study of incentives of civil society organizations to flag corruption in Mali, conducting data manipulation and cleaning. He said he completes around seven or eight hours of work each week with Bleck.
"It has been essential to my development as an economics student," he said.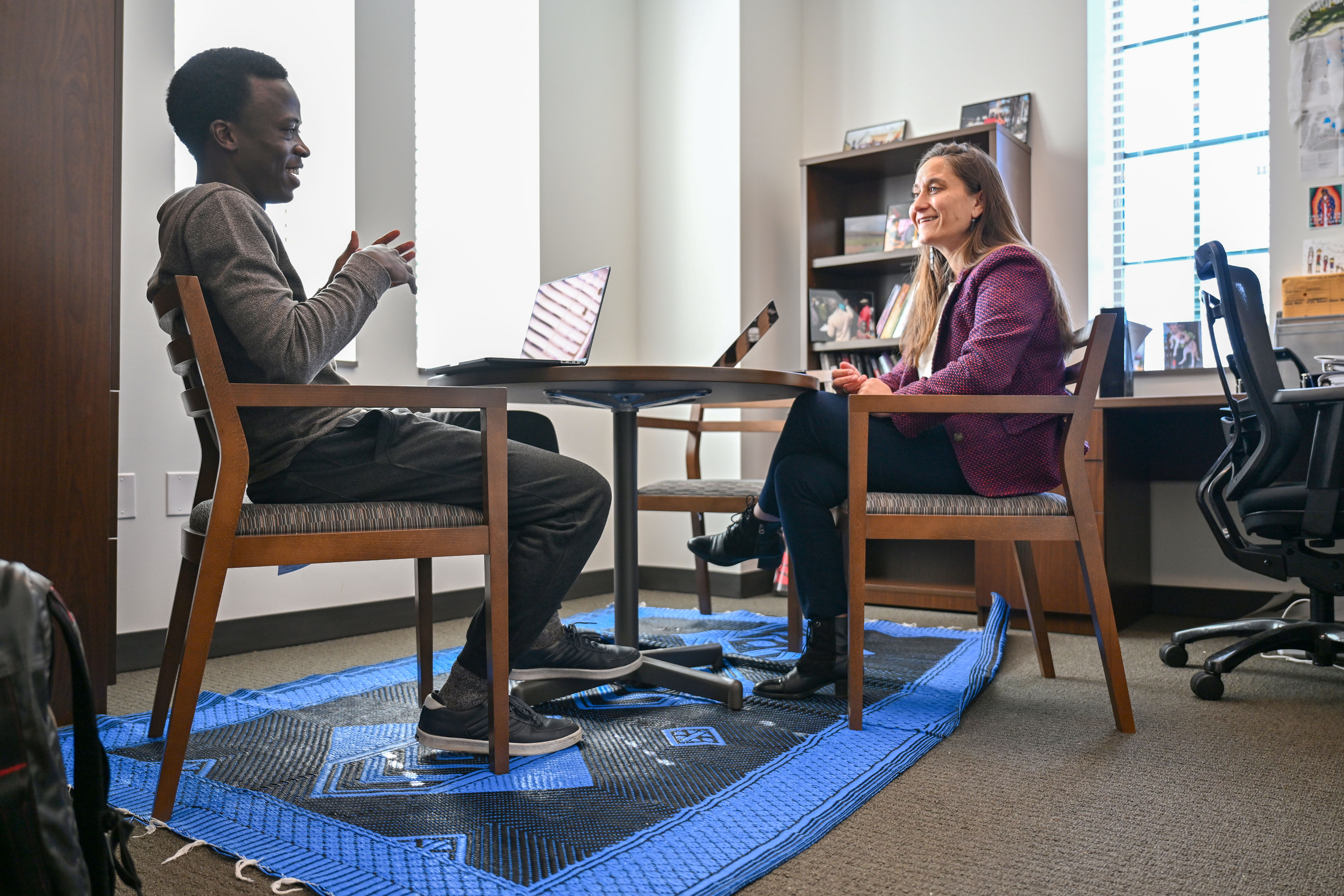 A different project within their ISP collaboration led to a unique opportunity for him to co-author with Bleck (and Boukary Sangare) an introduction article to a special issue of the Canadian Journal of African Studies entitled, "Youth in West and Central Africa: Quests for Inclusion and the Future of Governance," which is currently under review. 
He previously conducted an independent research project, advised by Bleck, investigating youth political participation in South Africa. He is currently working on a senior thesis, which he said is helping him grapple with more questions of economic development.
Through ISP, Lwere said he also has been able to expand his network of peers and faculty, and he's connected with numerous resources that would have been more difficult to access had it not been for the program, including attending and presenting research at conferences throughout the country.
"If you're admitted to ISP, you have resources at your disposal," Lwere said. "It is a dilemma to figure out how to use them all."
"He is emblematic of how cool this program is," Bleck said. 
He's also taken advantage of other opportunities at Notre Dame to complement his education: he studied abroad at SOAS University of London, spent part of his summers in France and Kenya, and conducted independent research in other areas of Africa. On campus, he is part of the African Student Association, founder and co-chair of the Pan-African Youth Conference, and formerly served as associate manager of empowerment for the Jubilee Initiative for Financial Inclusion.
Lwere will continue his global pursuits post-college as a Schwarzman Scholar, an elite graduate program located in Beijing, China, where he will pursue a Master's in Global Affairs. 
He said his experience in ISP has been primary to his education at Notre Dame and to his future endeavors. 
"It is a deliberate education," Lwere said. "This university – and Kellogg in particular – are intentional about the type of citizens it wants to produce for the world."