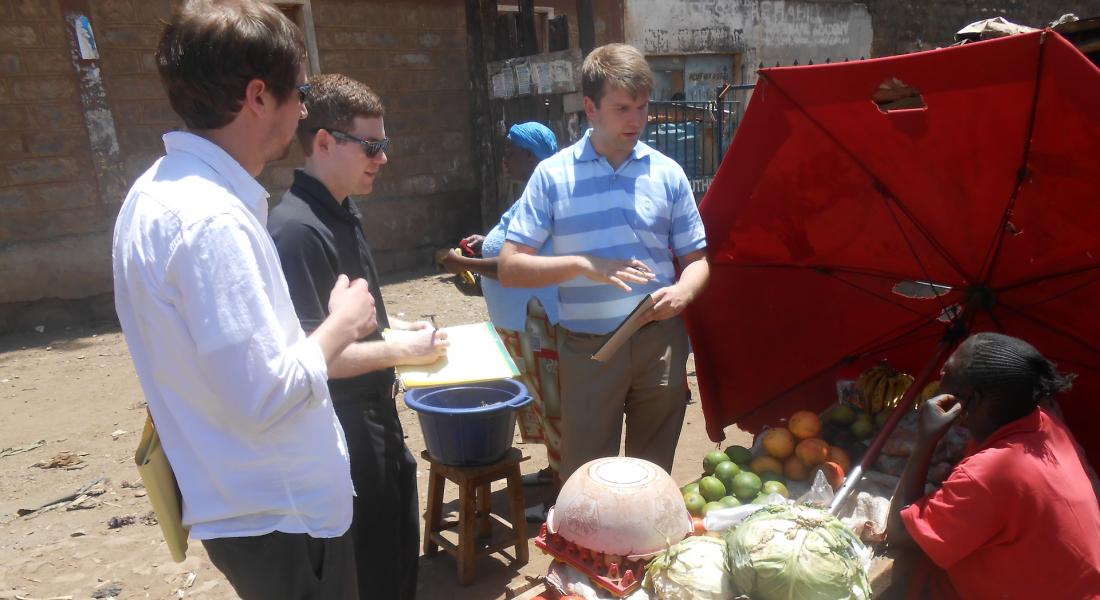 Can small grants can help vulnerable female entrepreneurs in one of Kenya's poorest slums keep their businesses afloat through the coronavirus pandemic?
A new study, sponsored by the Ford Program in Human Development Studies and Solidarity, is asking whether cash transfers can help the women weather the mandatory curfews and enforced social distancing that, in the early weeks of the pandemic, shuttered nearly half of their businesses and led to a precipitous decline in income for the others.
"These are the most at-risk people in all of Kenya," said University of Notre Dame development economist Wyatt Brooks, one of the project's principal investigators. "They live in an area that's extremely poor and extremely dense, and their livelihoods are tied to being able to sell items on the street. With a shutdown in place, they're the people who are being most adversely affected." 
Brooks is a faculty fellow at the Kellogg Institute for International Studies, the Ford Program's institutional home, and the Joe and Deborah Loughrey Collegiate Chair in Economics and Human Development. He is leading the study with Kevin Donovan, an assistant professor of economics at Yale University and a former assistant professor of economics at Notre Dame, where he was a Kellogg faculty fellow; and former Faculty Fellow Terence Johnson.
The project started in mid-May, when the 800 participants – all residents of the sprawling, often-violent Nairobi slum of Dandora – received mobile money transfers through their cell phones. The transfers are worth approximately $50 and represent one month's average income for the women, most of whom run streetside food stalls or small stores that sell groceries or other items.
The grants are critical in Dandora, where much of the population is self-employed and few households have money set aside for emergencies. That lack of savings has forced many entrepreneurs to work during the pandemic, despite the health risks to themselves and their families.
"We want to understand how the pandemic affects this economically vulnerable population as the crisis unfolds and potentially accelerates," Brooks said of the study, which is being funded in part by a $45,000 grant from the Abdul Latif Jameel Poverty Action Lab.
Among the questions it asks: Do the grants affect how much time women spend working during the crisis? Do they affect the women's spending on medication or preventative items like soap and cleaning supplies? And, how quickly are the entrepreneurs able to recover after the crisis ends?
More broadly, it looks at whether cash transfers could help avert economic disaster in future public health crises.
"What's the best response when the situation looks like this – a dense urban environment, limited public health capacity, and a highly contagious pandemic?" Brooks asked. "What are we going to do next time? That's the big question."
A trade-off: health or the economy?
At its core, the study asks a question that the United States and countries across the globe are facing: how to balance the need to protect public health while ensuring that millions of people don't lose their livelihoods.
But Brooks said there are huge differences between how wealthy countries and those in the developing world can respond. While Kenya has yet to see a large outbreak of the coronavirus, its public health care system doesn't have the access to stores of medical equipment like ventilators needed to treat an influx of COVID-19 patients. And, if an effective treatment or vaccine is found, the government's ability to roll it out would be dramatically slower than in the U.S.
Even the Kenyan government's ability to prevent the spread of the virus is limited. In the U.S., a sizable fraction of the population can work from home. But in the crowded slums of Nairobi, social distancing is impossible. Even hand-washing is difficult due to the widespread lack of running water.
While the U.S. has been able to blunt the economic devastation of the coronavirus through generous unemployment benefits and stimulus checks, developing countries like Kenya don't have that option.
"These are governments that have very small budgets and limited access to international financial markets," Brooks said. "Intuitively, cash transfers make a lot of sense but they're also very expensive. You have to ask, does it make sense in this context? It might turn out that we just need a very high stockpile of PPE (personal protective equipment), and transferring that is just as effective as sending out cash."
Rev. Robert Dowd, CSC, director of the Ford Program, said the Dandora project is significant because it is trying to find a more integrated approach to promoting public health and economic well-being in the developing world.
"People in Africa and elsewhere are struggling to provide for their families right now," he said. "In the end, this project is about finding the best ways to help people to maintain their sense of dignity during a pandemic like the one we are currently experiencing."
The study is unique because of its focus on women, who make up 70 percent of business owners in Dandora. The researchers are evaluating how much control the women have in spending the grant money, either because they are heads of household or because they – as business owners – have access to the money and their husbands don't.
"When women have more access to household finances, they typically spend more on the children and health care," Brooks said. "That might be particularly important in a healthcare crisis when families need money for things like hand sanitizer and medicine."
Brooks, Donovan, and Johnson have spent years studying the impact of mentorship among female entrepreneurs in Dandora. Their current COVID-19 project stems from a study on mentorship that was underway when the pandemic broke out; that project is now on hold.
But because they had finished a baseline survey in February, "we had these thousands of entrepreneurs we could draw on, and we were able to start doing fieldwork almost immediately," Brooks said. "The timing was almost fortuitous."
The Ford Program has a permanent research team in place in Dandora, which also enabled the project to get underway quickly, he noted.
The researchers plan to track the effect of the pandemic on the Dandora businesswomen in real time throughout the summer. In the meantime, Brooks worries about how the Kenyan government will respond if there is a serious outbreak of COVID-19 in Dandora.
"I fear that in a situation like that, the goal would be a harsh containment strategy rather than a serious attempt at treatment," he said. "People in Dandora generally feel like they do not get support from their government, and if the crisis intensifies there, that may lead to serious loss of life."