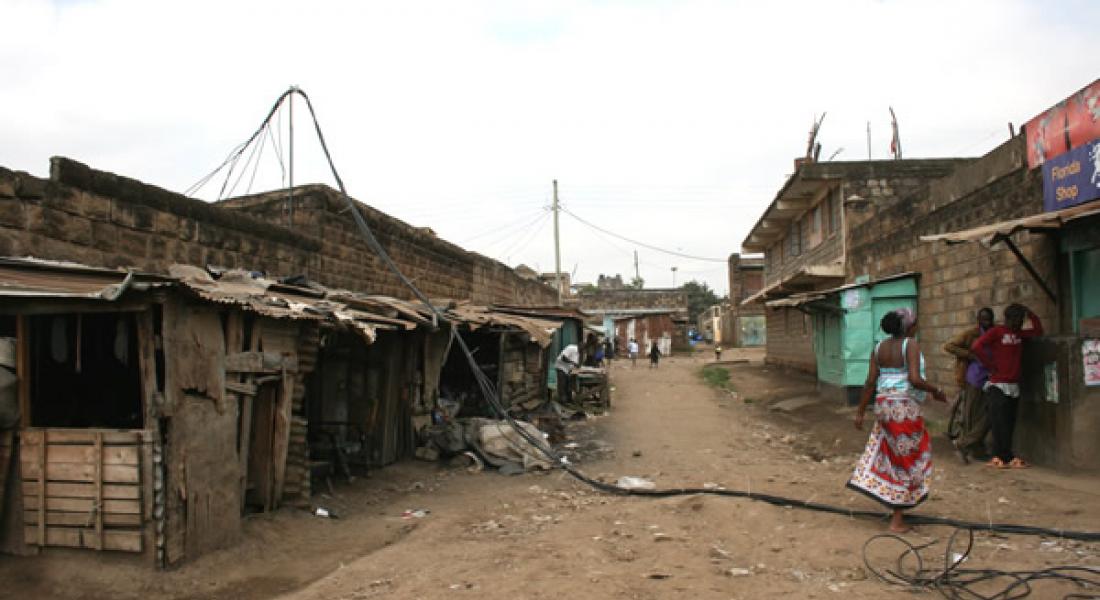 "She was a bridge to me to get to the other side…she helped me to keep hope (not to give up) …she encouraged my spirit…to go on working…" —Esther
Encouragement comes from the French "coeur," meaning "heart." In Dandora, Kenya, a Nairobi slum notorious for its poverty, violence, and immense dump site, a group of young female entrepreneurs are overcoming  factors which could threaten their emerging businesses, giving each other "heart"—the strength, resolve, and hope—to endure their shared conditions and work for a future which they could not have envisioned for themselves.
In 2011, the Kellogg Institute's Ford Family Program in Human Development Studies and Solidarity partnered with the local Holy Cross Parish in Dandora to create the Dandora Human Development Program. A dialogue between Ford faculty and staff and local residents ensued, revealing a desire for young people to learn better business practices.
Responding to this priority, three University of Notre Dame economists—Kellogg Faculty Fellows Wyatt Brooks, Kevin Donovan, and Terence Johnson—conducted a randomized control trial with three groups of new entrepreneurs.
They found that the weekly profits of the women who received mentoring from already established entrepreneurs were 20 percent greater than those who were received standard business training or were part of a control group. (A complete account of the study, which received funding from the Kellogg Institute and the Ford Program, can be found in this Kellogg working paper.)
Incredibly, 85 percent of the mentor-mentee pairs continued to meet after the official end of the trial. This begged the question: What was more sustainable about the mentorship group? Without any financial incentive to participate, why did the women continue to meet?
"That mentor—I can say she is like a midwife who always helps a mother to delivery…she helped me so much…" —Esther
Ford Program Research Assistant Professor Ilaria Schnyder von Wartensee set out to discover the answers to these questions. In her qualitative analysis of the project, which will appear in a new volume on human dignity and human development under review by the University of Notre Dame Press, she found that both encouragement and mutuality sustained these partnerships.
Mentors were imparting sound business advice, explaining how a mentee could diversify her sources of revenue and open her stall at strategic times to maximize customer traffic. Mentors even accompanied mentees to the workplaces of cheaper suppliers or helped them navigate the process of securing a business permit. Meanwhile, mentors enjoyed the pride and respect gained from sharing their knowledge.
Mentorship leads to friendship
One remarkable pair—Jane and Esther—demonstrated the potential of this mentorship to evolve into an authentic friendship.
During an interview outside her stall, Esther painfully remembers being admitted to the hospital, forcing her to abandon her small pharmacy. However, what easily could have resulted in the closure of her promising business was transformed by the intervention of her mentor, Jane.
Through tears, Esther explains how Jane traveled across the city to ensure the operation of Esther's business, even employing another woman to continue in her absence. When asked about her extraordinary kindness, Jane responded frankly:
"You know where I came from I starved a lot and I don't want to see anyone else starve like I did."
By whatever means necessary, Jane preserved Esther's way of life when she could not do it herself.
"By the way, Jane is a Luo and I am Kikuyu, and now we are one. She is like my sister now—she is more than like my sister now." —Esther
Empirically, the economists' study shows how mentorship can be instrumental for the successful exchange of localized best practices that helps to build the profits of small businesses. Significantly, however, the relationship of the mentors and mentees also demonstrates the vast potential for accompaniment, Schnyder believes.
More sustainable than any conceivable intervention, she found, the entrepreneurs developed a kinship that transcended the confines of different tribes, distant phases, varying levels of expertise, and urban violence. Steadfast encouragement, rooted in mutual care, gives the women the heart to continue.