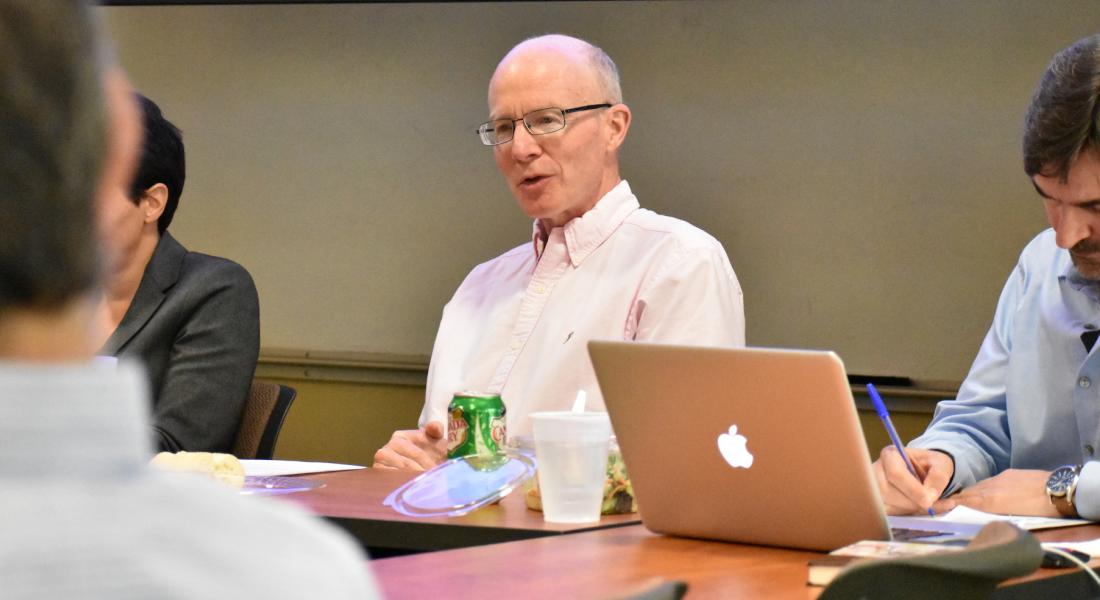 A political scientist with deep ties to the Kellogg Institute for International Studies has come home.
Faculty Fellow Scott Mainwaring left the University of Notre Dame to take a position as the Jorge Paulo Lemann Professor at Harvard University's Kennedy School in 2016. He served as Kellogg's director for 13 of his first 33 years at Notre Dame, and returned to the Institute last fall because of longstanding relationships with colleagues.
"Notre Dame is a special place; it is in my DNA, and my DNA is in Notre Dame," said Mainwaring, the Eugene P. and Helen Conley Professor of Political Science and a member of Kellogg's Advisory Board. "And for me, the Kellogg Institute has always been a very special part of Notre Dame, with a vibrant scholarly community and a rich human community."

Mainwaring, who is among the most cited scholars in the field of comparative politics, said it was a privilege to teach at Harvard and, while he was happy there, the appeal of Notre Dame led to his decision to return.
"My friends and colleagues, and more broadly Notre Dame's human community and my place in it, were the primary reasons to return," he said. "Every day since I've returned, I have immensely valued those friendships and the positive relationships I have with many colleagues across the university."
Mainwaring is known for working closely with both graduate and undergraduate students, and was awarded the Institute's Undergraduate Mentoring Award in 2016 in recognition of his efforts to help students grow as scholars.
International Scholar Kevin Angell '20 said Mainwaring took the time to act as his informal advisor, and their conversations showed him the importance of "taking a step back from the research and seeing how it fits into the broader picture of political science."
Over the years, Mainwaring has also brought together members of the extended Kellogg community, including current and former students and visiting fellows, to produce a number of collective research publications.
Mainwaring is currently working on a book with Faculty Fellow Aníbal Pérez-Liñán, a professor of political science and global affairs, on the outcomes of the third wave of democratization that began 1974 in Greece and Portugal. They've found that only a small number developed high-level liberal democracy and many countries reverted to authoritarianism.
"We want to explore why it has been so difficult to build high-level democracy and why some countries have succeeded," Mainwaring said.
He's also working on a collective project, co-organized by his former Harvard colleague Tarek Masoud, who will become a Kellogg distinguished research affiliate in the fall of 2020, entitled "Democracy in Hard Places." The project is expected to result in a book.
"Our question is what has enabled democracy to exist for a long time in conditions that social scientists have long considered inauspicious to democracy," Mainwaring said. The collaborators look to India, a desperately poor country at independence in 1947, with a mosaic of languages and religions, for one of its case studies.
Mainwaring has completed two long papers on Argentina – one on the breakdown of democracy there in 1976 and another on its survival since 1983 – that he may develop into a book.
"It would be unusual for a scholar at my career stage to write a book about a case study, but I enjoy this kind of research, and the questions are deeply interesting to me," he said.