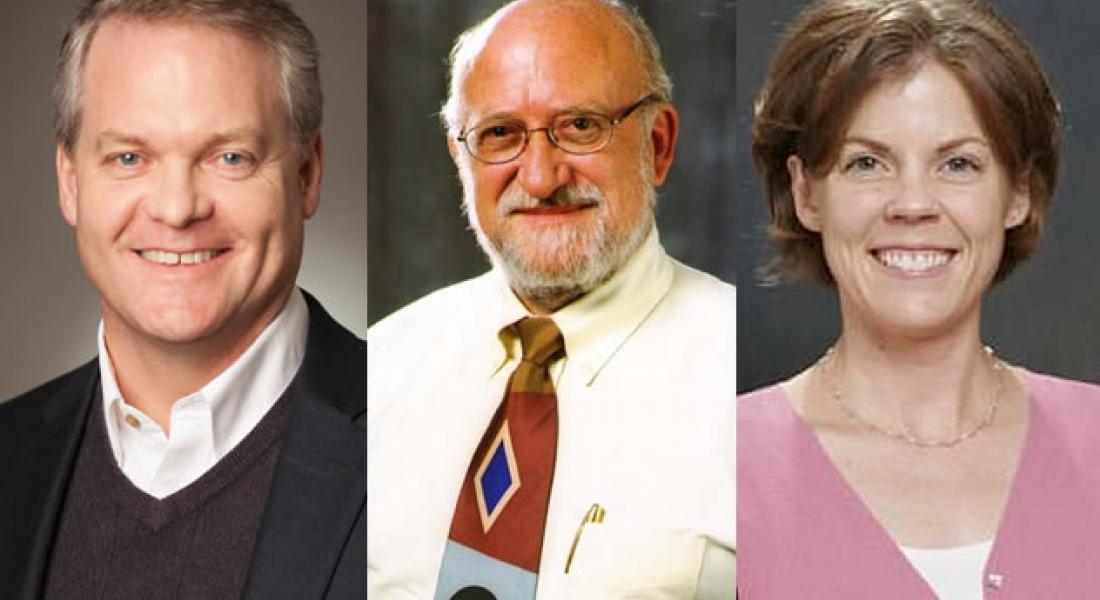 Senior scholars from Cornell, Vanderbilt, and the University of Texas, Austin, were recently named Kellogg Distinguished Research Affiliates in the second year of an initiative that provides a new way for the Institute to collaborate with outstanding researchers from other institutions.
The three, who hold two-year appointments, share a commitment to Kellogg research themes of democracy and human development. Like members of the cohort named in 2015, the new research affiliates are expected to visit the Institute several times a year to meet with collaborators, take part in academic events, mentor graduate students, and help to nurture new initiatives in their areas of expertise.
"It will be exciting this year to feel the full impact of how this new initiative can elevate our scholarly community," said Kellogg Institute Director Paolo Carozza. "With the appointment of six scholars in overlapping terms the program is now at full strength."
The new distinguished research affiliates share a commitment to Kellogg research themes of democracy and human development and to ongoing collaboration with Kellogg scholars and doctoral students.
Christopher B. Barrett, an economist at Cornell University, is a leading scholar in the field of agricultural and development economics. He conducts research in international development, environmental and resource economics, international trade, markets and price analysis, agricultural production and distribution, and applied econometrics.
Stephen Heyneman, based at Vanderbilt University after 22 years at the World Bank, is a well-known expert in the field of international education policy. His research interests include the effect of higher education on social cohesion, the international trade in education services, and the economic and social cost of corruption in higher education.
Pamela Paxton, professor of sociology and public affairs at the University of Texas at Austin, has worked closely with Faculty Fellow Michael Coppedge in her role as a project manager for the Varieties of Democracy (V-Dem) research team. Her research interests include pro-social behavior, politics, gender, social capital, and quantitative methodology.
They join political scientists Clark Gibson '83 (University of California, San Diego) and Aníbal Pérez-Liñán (University of Pittsburgh) and economist Bruce Wydick (University of San Francisco), who have been actively involved with the Institute since being named distinguished research affiliates a year ago.
Pérez-Liñán and Heyneman have already spent several days at the Institute this academic year, entering into collaborations with staff members and scholars. Barrett, Gibson, Paxton, and Wydick have visits planned later in the semester.
"The Kellogg Institute provides one of those rare instances where one can make a genuinely constructive impact," says Heyneman. He will be helping the Institute develop a research agenda related to education issues in the developing world, a new area of interest for Kellogg scholars.
Paxton looks forward to working with Coppedge, doctoral students, and other researchers on "methodologies to better measure complex concepts like democracy," she says. With other V-Dem researchers, she will take part in a Varieties of Democracy research conference to be held at Kellogg in November.
Barrett, who has been assisting the Institute and the Keough School of Global Affairs think widely about research on human development for several years, will deliver a major public lecture at Kellogg on Thursday, September 29: "Poverty, Malnutrition and Environmental Degradation: Towards Solutions-Oriented Research."
For more information on the distinguished research affiliates and the initiative, click here.
The Kellogg Institute for International Studies, part of the University of Notre Dame's new Keough School of Global Affairs, is an interdisciplinary community of scholars and students from across the University and around the world that promotes research, provides educational opportunities, and builds linkages related to two topics critical to our world—democracy and human development.