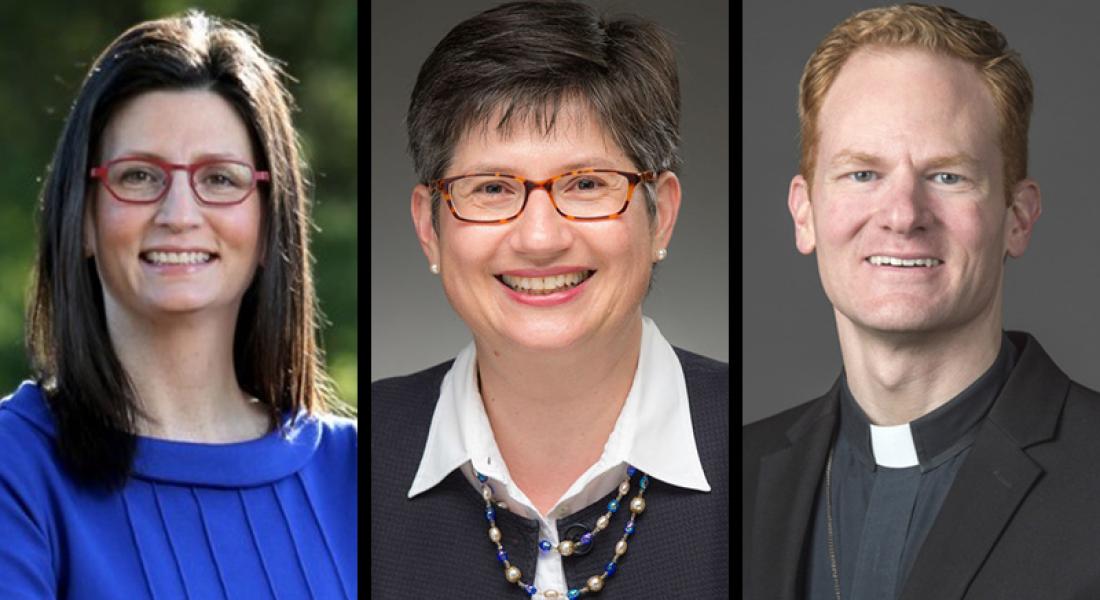 Three Kellogg Faculty Fellows are among the nine members of the Notre Dame Institute for Advanced Study (NDIAS) faculty fellowship class for 2022-2023, announced today.
Kellogg faculty fellows Karrie Koesel, associate professor of political science, and Elisabeth Köll, professor and William Payden Collegiate Chair of History, will be Teaching Lab fellows. Gregory Haake, CSC, assistant professor of French and Francophone studies, will be a residential fellow.
The NDIAS Teaching Lab provides resources for the creation of innovative, large-scale courses that will have an impact on the Notre Dame campus and the potential to influence public discourse. Koesel and Köll will spend the year developing an interdisciplinary course on Global Asia. They will also be integrated into the cohort of residential fellows and participate in research seminars, communications workshops, and other NDIAS events.
Residential fellows receive a fellowship stipend, a research allowance, subsidized housing, and research assistance from a cohort of undergraduate research fellows at the NDIAS. Additionally, they participate in weekly work-in-progress seminars and receive substantial communication skills training, such as presentation and writing workshops led by the Duarte Group and editors from The New York Times, designed to help them develop work that is accessible to broad audiences.
Each fellow will pursue a project related to "The Public," the guiding research theme of the NDIAS for 2022-2023. The fellowship class will confront the topic collaboratively from a wide variety of disciplinary perspectives, including political science, philosophy, classics, history, and French studies.
"After the experience of the past few years, so many of us find ourselves searching for insight about what public life means and what it could become," said Meghan Sullivan, director of the NDIAS and the Wilsey Family College Professor of Philosophy. "We are thrilled to support a terrific group of scholars next year and build a community that will help us think in a deeper and more integrated way about these questions. We cannot wait to draw them into our community here at Notre Dame."
Other 2022-2023 residential faculty fellows are:
Emmalon Davis, assistant professor of philosophy, University of Michigan, Ann Arbor
Brett Gadsden, associate professor of history, Northwestern University
Eliza Gettel, Albert R. Lepage Assistant Professor of History, Villanova University
Theresa Rocha Beardall, assistant professor of sociology, University of Washington (co-sponsored by the Notre Dame Initiative on Race and Resilience)
Mechtild Widrich, associate professor of art history, theory and criticism, School of the Art Institute of Chicago.
In addition, the NDIAS has selected Carlos Lozada ('93) as the Practitioner in Residence for the year. Lozada is a non-fiction book critic at The Washington Post who won a Pulitzer Prize for criticism in 2019 and was a finalist for the award in 2018. Lozada will visit the NDIAS periodically during the year and will engage with fellows, students, and the campus community.
The faculty cohort will also be joined by a group of Notre Dame graduate fellows, to be announced later in Spring 2022, who will collaborate with the faculty on research projects related to The Public and receive mentorship and research guidance from them.
The NDIAS will begin accepting applications for 2023-2024 faculty fellowships during the summer of 2022. To learn more about the faculty fellowship program and the institute, please visit the NDIAS website.
This story is an adaptation of one that originally appeared at ndias.nd.edu.