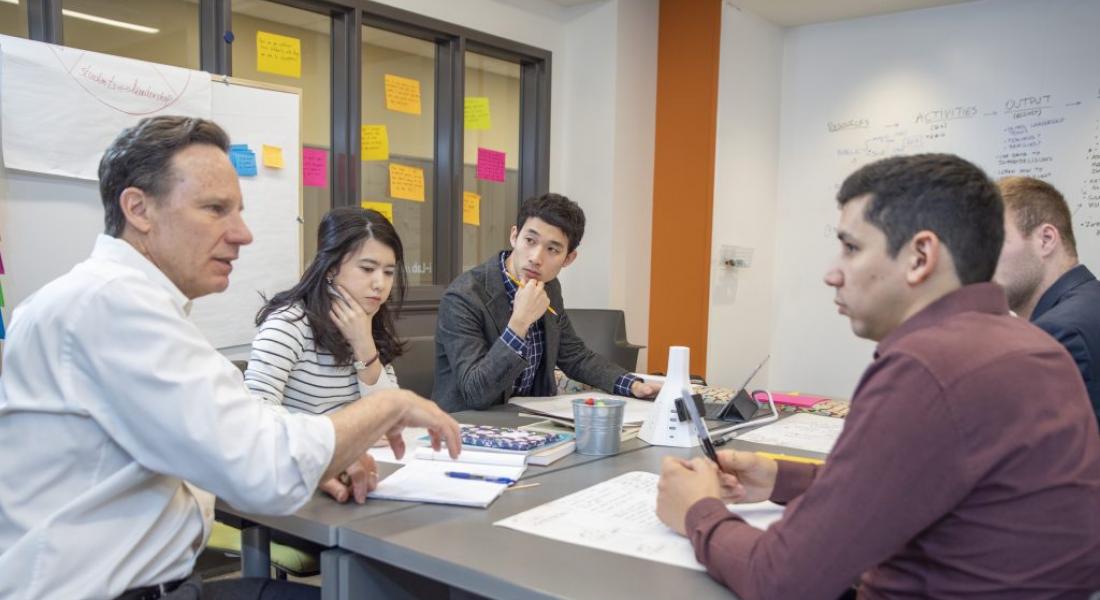 The coronavirus has forced educators around the globe to deliver familiar content in unfamiliar ways—in virtual classrooms with no students physically in front of them. As the situation evolves, some classrooms reopen, others continue online, while others morph into all kinds of mixed modalities of in-person and online learning.
While online teaching has the potential for engaging new technologies and other creative resources, it also often generates a sense of disconnectedness, "Zoom fatigue" and unease among both teachers and students.
With the world upended, standard assumptions of how—and what—to teach leave many educators unsettled. Before reorganizing the syllabus to be responsive to new realities and an uncertain future for implementation, we must address the stress we all feel and find new ways to connect with students and build community.
The language of accompaniment, deeply rooted in integral human development, is especially relevant for navigating these unsettled times.
Rev. Gustavo Gutiérrez OP, often referred to as the "father of liberation theology," finds great inspiration in the concept of accompaniment. In the Company of the Poor, a book co-authored by Dr. Paul Farmer and Rev. Gutiérrez, features a discussion of their shared sense of the power of accompaniment. "To accompany is to help the person take their own destiny in their hands and allow their voice to be heard," Gutiérrez once said during a workshop at Notre Dame.
The relevance of accompaniment
Often considered a theological concept, accompaniment has deep relevance in the secular arena as well. It reframes the idea that we're working to help people "over there," in recognition of the fact that "over there" and "here" are intertwined. The beauty of accompaniment is in the blurring of the boundaries between us and them, doctor and patient, donor and recipient, expert and novice, teacher and student. Instead, we are partners, walking together.
Most everyone has had a positive experience of being well-accompanied at some time in their life. Even though it may be difficult to put in words, we know what it feels like: when we were ill, when things were difficult in our lives, when we wondered how we were going to get out of this mess, and someone listened attentively, was present and walked with us, and helped us arrive at a different place.
When I first started teaching, I imagined that an excellent teacher was one who stood in front of the class as the expert with the answers. I've grown increasingly convinced that the best teachers have great and interesting questions and work to engage students in a journey together, accompanying one another to gain insights into those questions, expanding students' capacities to tackle challenging questions themselves.
Good teachers are good accompagnateurs. The walking together of teacher and student, the interconnected loops of teaching and learning, are paths to help get somewhere new and exciting. What good teacher has not had the amazing experience of being taught and transformed by one's students?
Accompaniment and co-creation
Accompaniment is closely associated with co-creation. So how might I explore with my students not just my goals for this class, but their goals as well—and then work to incorporate those goals into a co-created learning agenda? Co-creating a process that invites students to address and pose vital questions can be a game changer. Students learn best when they are engaged and addressing questions they care deeply about. Courses can be built around that insight. What does "success" from the perspective of my students look like at the end of the semester? I'll know only if I ask.
Maybe the semester begins not by just exploring what we're going to learn, but why. It might involve together defining learning goals, and exploring models for effective teaching where students play roles as protagonists in their own learning. As the renowned educator and author Peter Drucker wrote, "No one learns as much about a subject as one who is forced to teach it."
Students have lots of experiences to draw on. What educational experiences have been particularly successful or meaningful in these uncertain times? How might we explore ways that students do more than "give presentations," finding and testing interactive ways to advance the group's learning goals? Accompaniment might mean walking with a student who has little experience facilitating an interactive session but the hope of gaining the confidence to do so with a classroom of peers, whether in a classroom or online.
A concrete instance of accompaniment can illuminate some of these ideas.
A good physical therapist brings resources and expertise to the relationship working with you, but cannot get very far without your engagement. Experience suggests how fast or slow that process might be. There needs to be listening as well as advice, addressing and strategizing how to overcome obstacles, confronting setbacks, and at times even prodding and cajoling, with the expectation that the relationship will not be static. The physical therapist hopes you will learn to do as much as you can, accommodating, at times, a reality that everything might not be the same as it was in the past—a hip or knee or back may no longer work the same way it once did. A physical therapist uses all the skills and talents and experience she has to engage and allow the maximum realization of your potential.
There are surprises on the journey together.
Adaptation and innovation
As a result of the travel bans associated with the pandemic, we had to adjust rapidly in the Integration Lab—"the i-Lab," at the Keough School, where I teach. As partners and their field offices experienced the shock waves of the pandemic, often without the infrastructure to undertake virtual modes of work and education, the past months have been a time of considerable uncertainty for all of us. We had to conceive, jointly with our partners and our masters students, an entirely new plan for the international field work the students would have done this summer under typical conditions.
We were pleased to watch the creativity that our partners and the students brought to their relationships, accompanying one another and co-creating new ways to pivot their projects to an entirely virtual mode. For some, this meant discovering alternate ways to collect information through surrogates on the ground, for others it tested their creativity in facilitating virtual engagements with key informants around the globe, whether conducting Whatsapp interviews with people in refugee camps in Uganda or virtual focus groups of educational leaders in rural Chile.
Learning to navigate this uncertainty, and developing skills to do so, has required our students to exercise important muscles in conducting research, solving problems, accompanying others, and building community at a distance—skills that will be ever more important in the future for their own professional and personal lives.
The process of teaching and learning via accompaniment is formative. Connecting teachers to students, students to students, and students to partners via accompaniment is a powerful model for community-building—an aptitude, attitude, and capacity which can be translated to a broader scale than a classroom setting.
On power imbalance
Considering accompaniment in the educational context raises questions about tensions brought to the accompaniment relationship by inequalities of power, background, luck, resources, or expertise. How does one bridge the gap in the unequal relationship between the "teacher" and "student"? What if one is an expert, for example, the other not? Doesn't that bring an uneven quality to this partnership of walking together? These questions, not easily answered, are explored by attentiveness and proximity to the other, by listening and walking together, as well as examining and addressing broader social, political, and cultural contexts that influence, limit or oppress. These questions are relevant not only to the student-teacher relationship, but to accompanying others in the effort to build a community of purpose.
The accompaniment model is not unidirectional, say from doctor to patient, or from teacher to student. Leaders of educational institutions need to ask: "How can we support our educators to be as creative and successful as possible in delivering first-rate, engaging educational opportunities to our students in these times of great uncertainty?" Relying on the experience of educators to chart new paths, and walking with them, will enable the co-creation of new and innovative educational opportunities for all involved.
Accompaniment, like teaching, is a practice. By being more aware of what we're trying to do, engaging in it, reflecting on experiences of it—both accompanying and being accompanied—you improve. Like teaching or swimming or learning a new language, you get better by practice.
Just as there are many different ways to teach well, there are many different ways to accompany well. One of the first is having a greater awareness of one's own experiences of being well accompanied.
Drawing from those experiences and working to deepen our ability to accompany effectively is a powerful way to engage in a complicated world—to help someone else discover and tell her own story, to create new dynamics in classrooms, to walk together in the search of co-created paths, and to broaden the scope of our collective ambitions. Practicing intentional accompaniment in a time of crisis is not limited to interactions in the classroom, but rather provides a framework for fostering a larger vision of an engaged community characterized by connection, equality and justice.
---
Kellogg Faculty Fellow Steve Reifenberg is associate professor of the practice of international development and co-director of the Integration Lab at the University of Notre Dame's Keough School of Global Affairs.