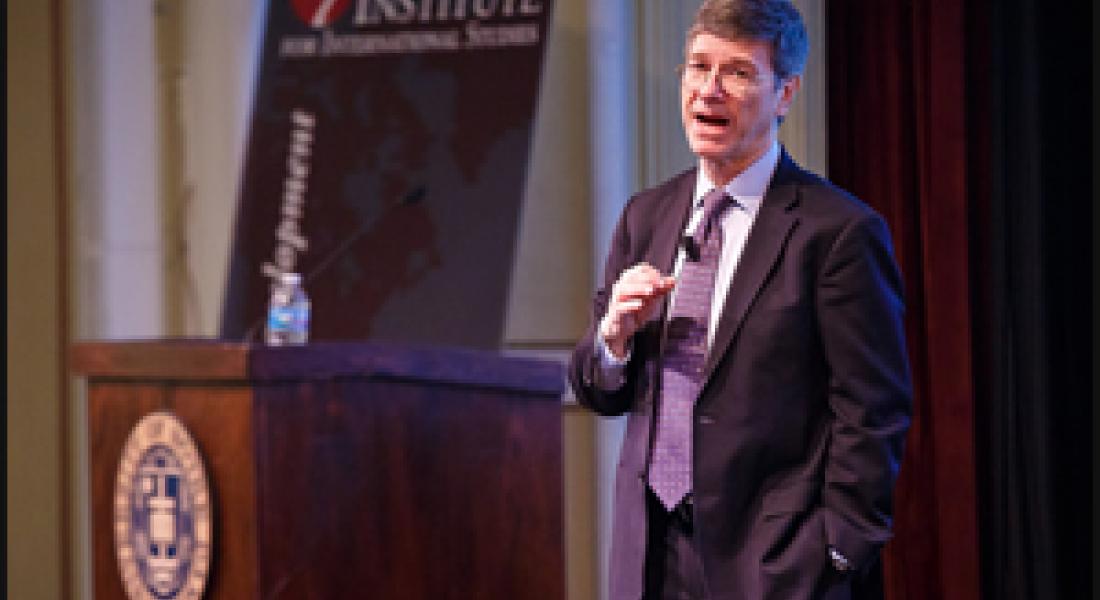 During a late February visit to Notre Dame hosted by the Kellogg Institute, renowned economist Jeffrey Sachs of Columbia Universitys Earth Institute called for "economic growth within a moral framework" and spoke to the special role of the university in rising to the challenge of implementing a new model of sustainable development.
Special advisor to United Nations Secretary General Ban Ki-moon on UN development goals and twice named amongTime magazines 100 most influential world leaders, Sachs is widely considered one of the worlds leading experts on the fight against global poverty.
"How are we going to take seriously the goals of economic development but combine them with the goals of social justice, social inclusion, and environmental sanity?" he asked in a public address that drew hundreds of people from across campus and beyond to Washington Hall. (View his speech here.)
Pope Francis has correctly identified the root cause of this challenge to humanity in his warnings against the "globalization of indifference," Sachs said, noting that finding technical solutions to climate change is easy in comparison to convincing the world of the importance of growth within a moral framework.  
Following the lecture, during a packed day and a half, Sachs presented the keynote at the annual student-led Human Development Conference (HDC) and engaged with undergraduates, graduate students, and faculty members on topics ranging from their individual research to the direction of the new Keough School of Global Affairs.
"Our conversations with Jeffrey Sachs drew invaluable insights from both his visionary leadership in global affairs as well as his deep experience in building successful academic institutions at major universities," said Kellogg Director Paolo Carozza.
"Sachs urged us to make the Keough School a distinctive and vital contributor to the field by placing a central emphasis on moral values in our education and research—a vision that aligns perfectly with the Schools thematic emphasis on integral human development."
In turn, Sachs was heartened by the drive, enthusiasm, and moral grounding of the students he met during his visit.
He promised undergraduates taking part in the HDC that he would take their "commitment, energy, and determination" back to the UN's discussion of the post-2015 Sustainable Development Goals "so that I will be able to report to ambassadors from around the world how much determination there is among young people to get the job of social justice done."
Sachs's work has taken him to more than 125 countries, where he has advised dozens of leaders and worked closely with many international organizations. Recently, he has worked closely with Pope Francis and the Pontifical Council on Justice and Peace. He is also a prolific author, with several bestselling titles including The End of Poverty (2005) and The Price of Civilization (2011). His Notre Dame lecture was based on his most recent book, The Age of Sustainable Development, with foreword by Ban Ki-moon, which came out earlier this month.