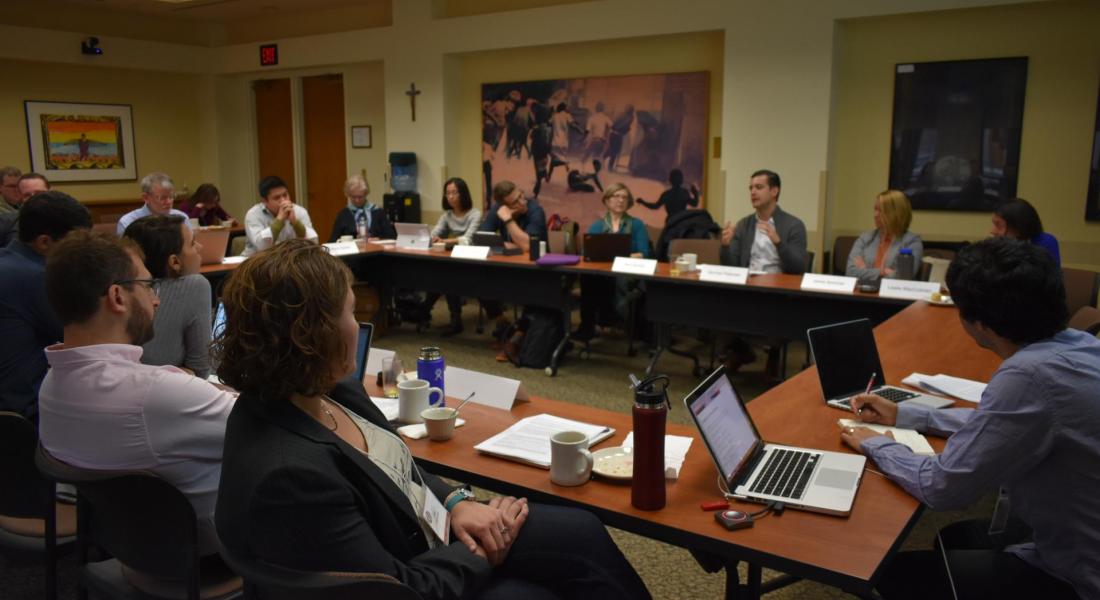 Approximately two dozen scholars from a range of disciplines – sociology, political science, and anthropology, among others – took part last week in a groundbreaking workshop on corruption planned by two Kellogg Institute for International Studies PhD Fellows.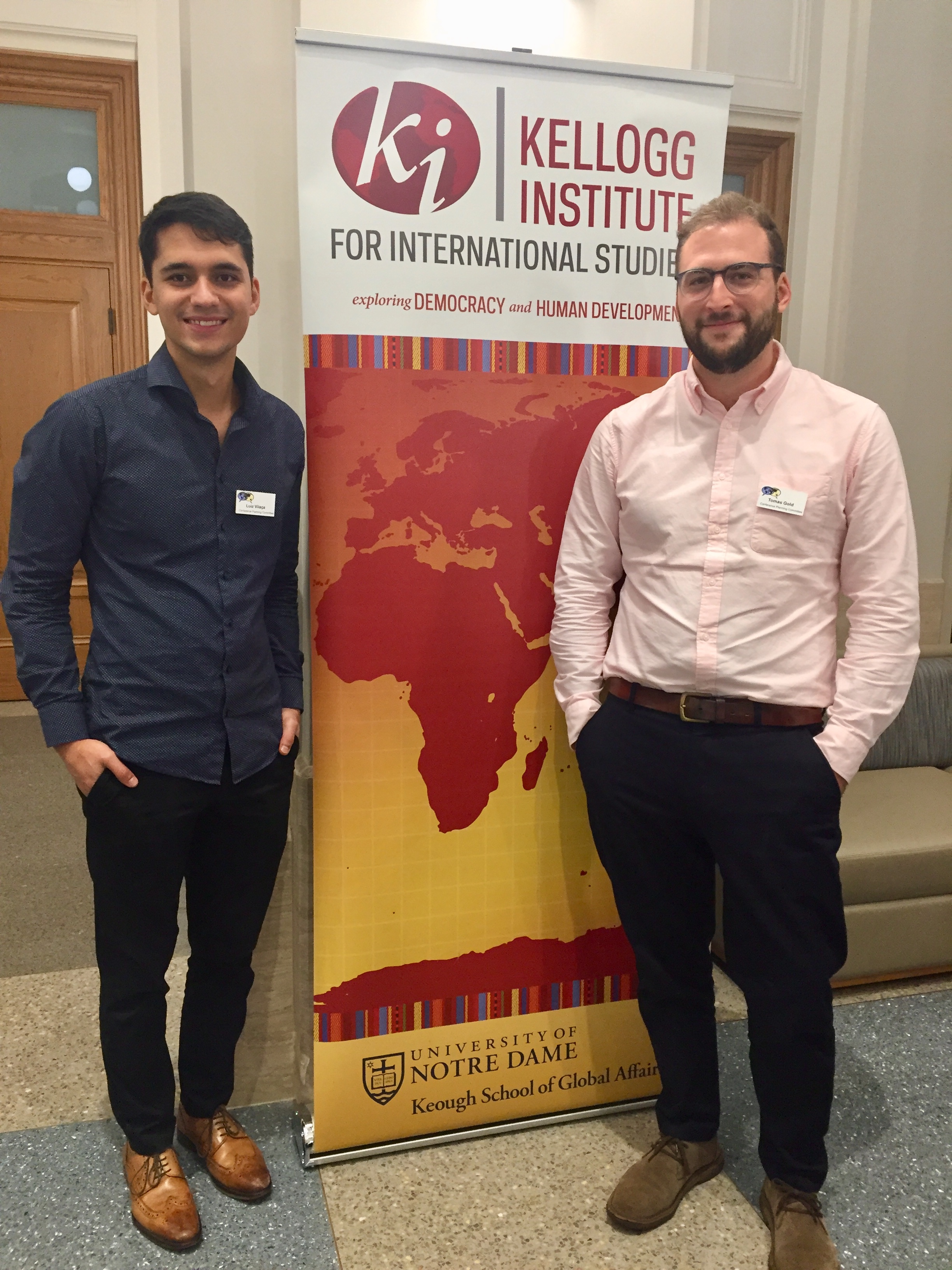 The Interdisciplinary Approaches to Corruption Workshop, held Oct. 16-17 at the University of Notre Dame's Hesburgh Center, drew participants from universities across the country. The goal of the Kellogg-sponsored event, according to organizers Tomás Gold and Luiz Vilaça, both sociologists, was to rethink the study of corruption from a multidisciplinary perspective.
"We were both interested in studying corruption, and we saw from our particular field there was so little research being done on it," Vilaça said. "We're trying to bridge that gap."
He added: "Seeing how different fields examine corruption helps us better understand this very complex phenomenon."
Gold noted that the workshop brought together a mix of graduate students and faculty who bring different methodological approaches to studying the issue, including ethnographies, statistical analysis, conversational analysis, and comparative-historical methods.
"We're having interesting conversations because of that," he said. "Changing lenses allows us to illuminate the same object in very different ways."
Workshop attendees presented and discussed papers in three panel sessions on corruption: redefining the issue, its effects on politics and development, and its interplay with institutions and populism. A number of participants were early- to mid-career scholars, and many also participated in the subsequent Sociology of Development conference at Notre Dame.
Two leading scholars in the study of corruption, Monica Prasad, a sociology professor at Northwestern University and a Faculty Fellow at the Institute for Policy Research, and Manuel Balán, an associate professor at the Institute for the Study of International Development at McGill University, gave the keynote address on "Reexamining Corruption Through an Interdisciplinary Lens."
Balán noted that corruption has been and remains a key problem in development. And while there is more research on corruption now than ever before, studying the issue is extremely difficult, in part because of a lack of information.
"The actors involved want to keep it secret," he said.
Faculty Fellow Erin McDonnell, Kellogg Assistant Professor of Sociology, said corruption is an issue central to endeavors of the Institute because of its implications for democracy and development.
While anti-corruption is sometimes seen as a strongly Western-driven narrative, she said evidence indicates that populations around the world share remarkably similar desires to reduce corruption in their own politics. Finding ways to combat corruption fits with Kellogg's approach of supporting research that seeks community-based solutions.
But it's complex problem. She noted that government officials engage in different types of corruption, from grand corruption – such as taking kickbacks to fund a major project like building a road ­– to petty corruption, or taking bribes from ordinary citizens in exchange for providing basic goods and services.
"Often, poor and disadvantaged populations have no choice but to offer bribes," said McDonnell, who, along with Faculty Fellow Ann Mische, served as faculty mentors for the workshop. "It's a strategy of survival."
A key goal of the workshop was to lay the groundwork to create a wider network of scholars interested in studying corruption.
Denise Wright , assistant director of the Kellogg Institute, said Gold and Vilaça identified an understudied topic that is uniquely relevant to the Institute's research because of corruption's potential to hamper development and slow the spread of democracy.
"They wanted to do it here," she said. "They felt it was important that the conversation start at the Kellogg Institute."
Wright added that the pair directed the planning of the workshop themselves: "It's remarkable that they were able to do this on top of their already demanding workloads as graduate students, and they gained invaluable skills in organizing and managing a conference."