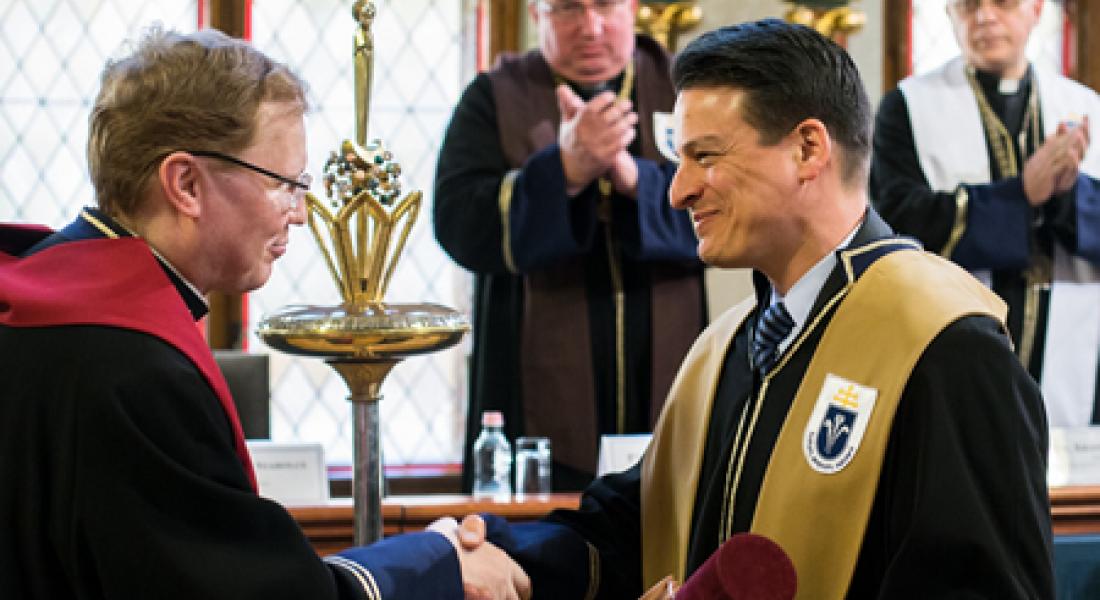 Pázmány Péter Catholic University (PPCU) has awarded an honorary doctorate to Kellogg Institute Director Paolo Carozza, professor of law at Notre Dame Law School. He received the honor on March 27 in a ceremony on the PPCU campus in Budapest, Hungary.
According to the university's official citation, the doctorate was conferred in recognition of Carozza's "excellent and tireless service to the community and the Church, especially in the area of human rights, by cultivating jurisprudence and … through many [other] works and efforts."
This was the first honorary degree for Carozza, who said the honor was "unexpected but gratifying." His trip to receive the degree was his first visit to Hungary.
"It is encouraging to see that my work can have a significant audience and recognition even in places I have never been before," Carozza said. "Pázmány Péter is a vibrant and engaging environment, and to be welcomed into their scholarly community is both very humbling and exciting."
PPCU is one of Hungary's oldest higher education institutions, founded in 1635. The University of Notre Dame and PPCU have a long history of working together, particularly through the Nanovic Institute for European Studies.
"This honorary degree is not simply an individual recognition, but is a reflection of the friendship and affinity of mission that our two universities share in the world," Carozza said.
While in Hungary, he lectured at PPCU on the theme of human rights and the challenges of social exclusion, and at the degree ceremony he spoke on the vocation of Catholic universities in the modern era. He was also featured in The Hungarian Courier, a Catholic newspaper, and on PPCU's website.
Originally published at law.nd.edu