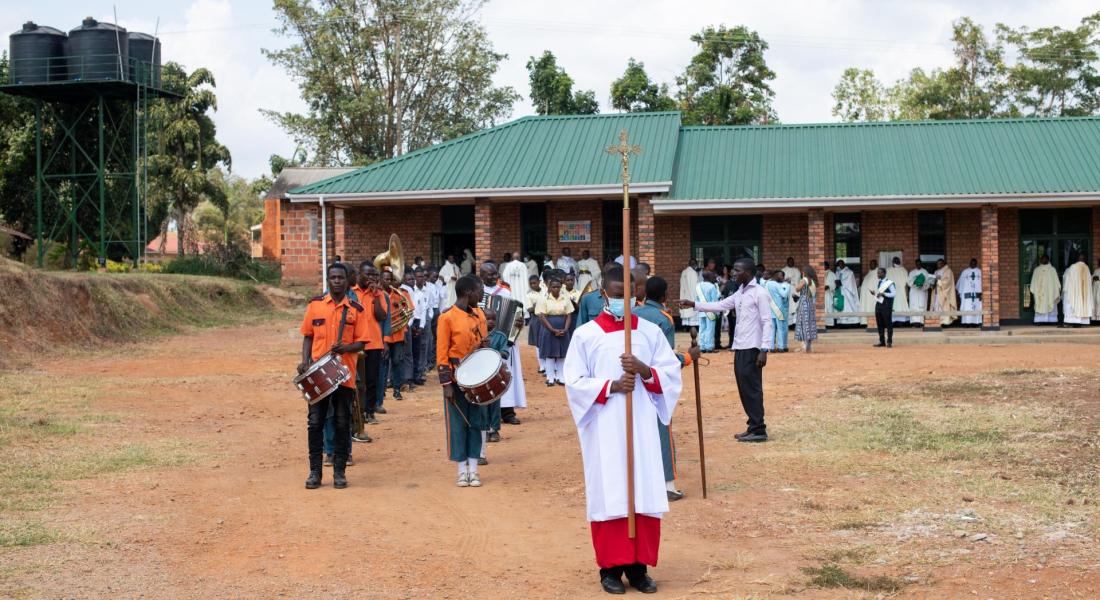 In July, I visited Uganda to attend the official inauguration of the Bethany Land Institute (BLI), an agricultural education center presided by Fr. Emmanuel Katongole, professor of theology and peace studies at the University of Notre Dame, and my colleague in the Keough School for Global Affairs. BLI trains young leaders on the principles of integral ecology and commissions them to be "caretakers of the work of God."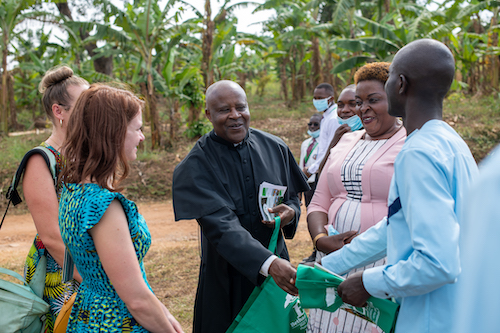 Located in a beautiful campus in the Nandere district, BLI forms young leaders to care for nature, fight poverty, and advance human dignity. The ultimate goal is to transform rural communities in Uganda. The Institute has three learning centers: a farm that trains students in conservation agriculture, a natural forest to practice reforestation and ecotourism, and an agrobusiness school.
As he reflected on this project, Scott Appleby, dean of the Keough School of Global Affairs, noted that this is a "vivid example" of the principles of integral human development (IHD) embraced by the Keough School. Even though BLI has no formal connection to Notre Dame, the two institutions are closely related through the engagement of Notre Dame faculty, students, and their family members.
After a decade in the making, BLI was formally inaugurated on July 29, in a five-hour ceremony full of colors and music, presided by the Archbishop of Kampala Paul Ssemogerere and attended by some 1,500 people. At the ceremony, Fr. Emmanuel commissioned the first cohort of 22 students: "We talk about commission and not graduation," he reminded the large audience, "because this is the beginning, not the end of the journey for our caretakers returning to their communities."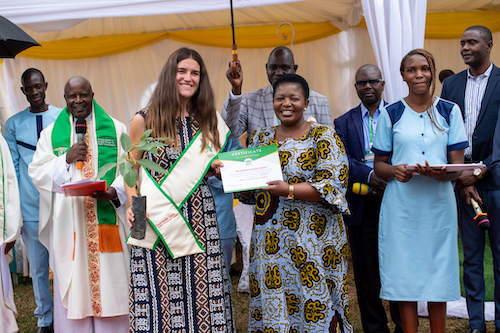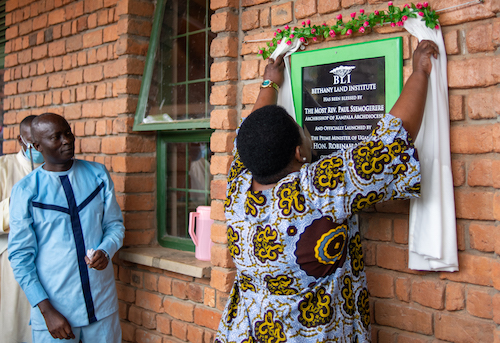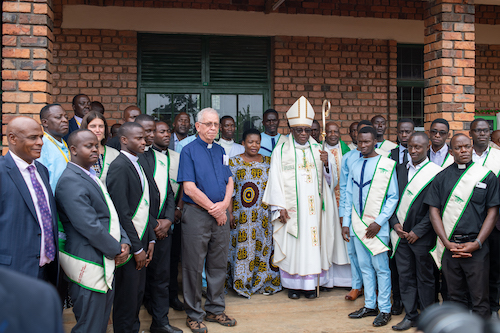 Among the students was María Riberas Orjales '21, the first woman and non-Ugandan commissioned by BLI. As she graduated from Notre Dame, María moved to BLI to learn about integral ecology. She is now using her skills as a graduate of the Mendoza School of Business and the Keough School of Global Affairs to develop ventures with young entrepreneurs in the slums of Kampala. Her family traveled from Spain to join her for the big event on July 29.
Also present at the event was Ryan Murdock '23, who is pursuing a concentration in International Development Studies. Ryan received a Kellogg/Kroc Undergraduate Research Grant to spend seven weeks at BLI conducting research on how integral ecology reinforces community education, formation, and sense of dignity. As we walked through the forest, Ryan described the motivation for his research: "I want to understand how the experience of integral ecology transforms people. For society to change, integral ecology must also touch persons."
Bethany Land Institute is a magnet not only for Notre Dame students, but also for their families, who fall in love with the land and with Fr. Emmanuel's vision. Kathleen Kennedy, a member of the Board of BLI-USA, brought her husband Marty Whalen '82 and their two children to the inauguration. While we waited for breakfast one morning, she described her first encounter with Fr. Emmanuel's infectious enthusiasm. "Within minutes I knew we were going to become good friends."
Soon after Kenton Murray, at the time a PhD candidate in Computer Science and Engineering at Notre Dame, visited the BLI campus in 2017, his parents Bill and Theresa became involved with the project. Theresa is now the Director of Development for BLI-USA, which supports the institute through funds raised in the US. She anticipates new demands after the public inauguration: more students will apply to join the caretaker program, and infrastructure needs will increase. BLI is already working on a new classroom building and a project to improve the water supply to campus.
"The progress made at BLI since breaking ground in 2019 has been phenomenal, including campus construction, a well-developed curriculum, and strong staff and leaders," Theresa told me as we left Uganda. "There is still much work to be done, but the transformation of caretakers implementing practices of integral ecology and Laudato Si' will be realized in rural Uganda for generations to come."