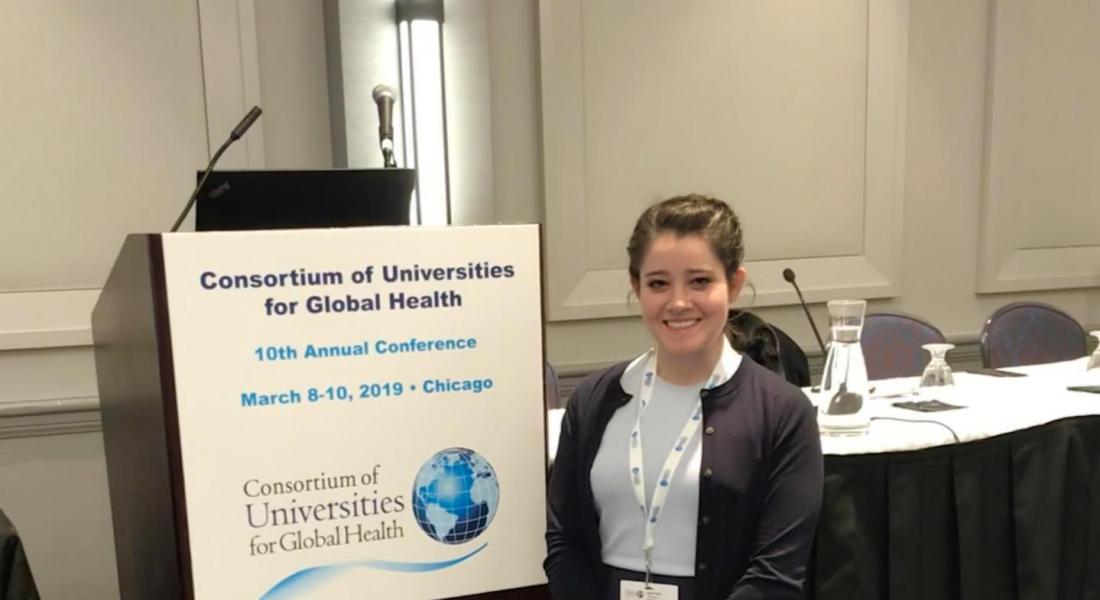 Kaitlyn Cox is a sophomore in the Kellogg International Scholars Program.
From the moment I registered for the Consortium of Universities for Global Health conference in Chicago, March 8th-10th, I was incredibly excited and grateful for the opportunity to attend a conference hosting speakers from institutions around the world engaged in global health. My personal research interests lie in migrant and refugee health care, and I was initially most excited to attend a panel discussing this topic. However, I was pleasantly surprised at my interest in a panel discussing innovative health care models in low and middle-income countries. I was fascinated to learn how organizations are using web-based platforms to offer training courses educating physicians on how to ethically complete research in conflict zones. This panel also discussed the importance of creating databases that promote data sharing amongst organizations conducting global health research. These discussions allowed me to understand the necessity for collaboration between researchers in diverse academic disciplines. Global health is a multidisciplinary field. This panel urged me to begin thinking about how pre-medicine students can engage with students from other academic fields, such as computer science and engineering, in research at Notre Dame.
In addition to learning how collaboration between various academic disciplines can address global health issues, I gained a new perspective on how two of my personal passions are interrelated. At the conference, attendees had the privilege to listen to a speaker who was a refugee himself. As he described the trials and tribulations he faced traveling to a refugee camp, I sat on the edge of my chair, holding my breath. It was not until I stood to clap that I finally exhaled. Amongst all the clapping conference attendees, one could feel the intense motivation within global health advocates to expand health care for migrants and refugees. Hearing about advancements to improve care for refugees and migrants during this panel left me more inspired than ever to truly make an impact. But the question remained, how do I best do this?
It was not until I listened to speakers presenting on migrant healthcare and the gap in global mental health treatment that I understood how my passion for migrant and refugee health care is connected with my psychology major. Learning about the lack of global mental health resources, especially among marginalized populations, allowed me to see how I can merge my two interests in research to benefit others. Looking into the future, I am excited to contribute to research and other efforts improving mental health services among migrant and refugee populations.