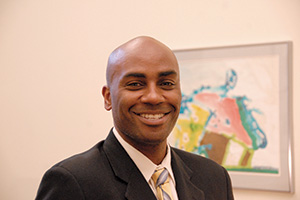 Starting January 2021, Kellogg Faculty Fellow Ernest Morrell joins the Board of Trustee of the Center for Applied Linguistics (CAL) for a three-year term. A well-respected leader in the field of English education, the African diaspora, and media and popular culture,  Morrell brings more than a decade of research and writing experience to the board of 12.
"We are extremely grateful and excited to announce Dr. Ernest Morrell's appointment to the CAL Board of Trustees," said President and CEO of CAL Joel Gómez.
"Ernest's experience as a teacher, researcher, and tireless advocate for students goes hand in hand with the mission and vision CAL has been striving towards since 1959. In 2021, part of that mission is to shine a brighter light on digital equity – and inequity – in our schools, the importance of literacy and multiliteracy for our youngest learners, and the need for increased diversity in our field and areas of research.
"Ernest is a welcome addition to our leadership team, and I look forward to working with him over the next several years to grow our mission."   
Morrell is the Coyle Professor in Literacy Education and Director of the Center for Literacy Education at the University of Notre Dame. He was recently named director of the National Council of Teachers of English (NCTE) James R. Squire Office for Policy Research in the English Language Arts. He is an elected fellow of the American Educational Research Association, a past president of NCTE, and a co-convener of the African Diaspora International Research Network.
From 2015 to 2019, Morrell was ranked among the top 200 university-based education scholars in the RHSU Edu-Scholar Public Influence Rankings published by EdWeek. He also is the recipient of the NCTE Distinguished Service Award, the Kent Williamson Leadership Award from the Conference on English Leadership, and the Divergent Award for Excellence in 21st Century Literacies. His scholarly interests include literacy studies, the teaching of English, literature for children, critical media pedagogy, youth popular culture, and postcolonial literatures of the African Diaspora. 
Morrell has authored more than 90 articles, research briefs, and book chapters, as well as ten books. He received his PhD in language, literacy, and culture from the University of California, Berkeley. He is chair of the Planning and Advisory Committee for the African Diaspora Consortium and also sits on the executive boards of LitWorld and the Education for Democracy Institute.
Recent books and articles include:
(2018). Educating Harlem: Schooling and Resistance in an American Community. New York: Columbia University Press.
(2016). Doing Youth Participatory Action Research: Transforming Inquiry for Researchers, Educators, and Students. New York: Routledge.
(2015). New Directions in Teaching English: Reimagining Teaching, Teacher Education and Research. Lanham, MD: Rowman and Littlefield.
(2017). "Towards Equity and Diversity in Literacy Research, Policy, and Practice: A Critical, Global Approach." Journal of Literacy Research, 49 (3)
(2017). "Confronting the Digital Divide: Debunking Brave New World Discourses." The Reading Teacher.