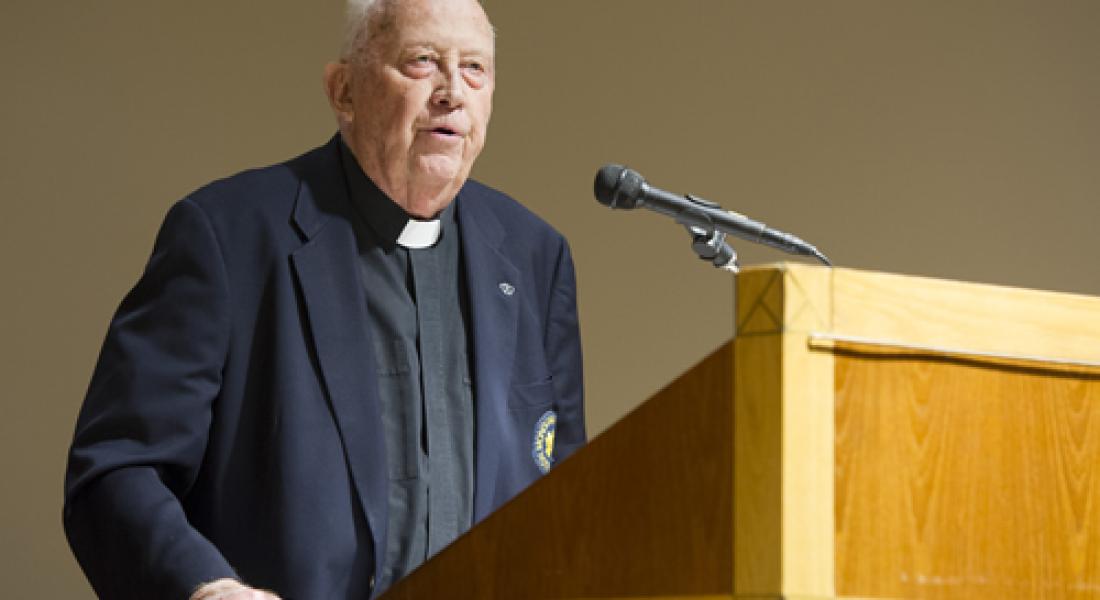 A new book examining the life and work of recently beatified Archbishop Óscar Romero of El Salvador will be launched with a panel discussion and reception on Thursday, September 17 at 4 pm in the Hesburgh Center for International Studies Auditorium. Hosted by Latin American/North American Church Concerns (LANACC), the event is free and open to the public.
Archbishop Romero and Spiritual Leadership in the Modern World (Lexington Books, 2015), edited by LANACC founder and director emeritus Rev. Robert Pelton, CSC, offers a fresh look at the remarkable pastoral leader long known as "San Romero de America," who promised just weeks before he was assassinated in 1980 that he would rise again in the Salvadoran people.
Panelists at the book launch will include Pelton and four other theologians who contributed to the volume: Rev. Michael Connors, CSC, Rev. Gustavo Gutiérrez, OP, and Margaret Pfeil of Notre Dame's Department of Theology, and Thomas Kelly of Creighton University. 
"With this book launch, LANACC is renewing its commitment to the multifaceted and richly meaningful witness of Robert Pelton, CSC," says LANACC Interim Director Peter Casarella. "Moreover, we are sharing the fruits of one of the 27 consecutive 'Romero Days' that have marked LANACC's 30-year legacy."
The collection of essays on Romero originated in an international conference organized by Pelton and held in 2014 at the Kellogg Institute for International Studies, where he, Gutiérrez, and Casarella are faculty fellows.
Casarella, also a Notre Dame theologian, is excited about taking the reins at LANACC.  
"The mission of LANACC remains promoting what Pope Francis calls the 'culture of encounter' and what John Paul II named Ecclesia in America," he says. "LANACC serves the Church and the academy by promoting the bilateral exchange of ideas, practices, and gifts between North America and Latin America.
"We are committed to exploring new paths for dialogue and the promotion of lay leadership, ecclesial communion, and social justice."
For more on the book, click here.