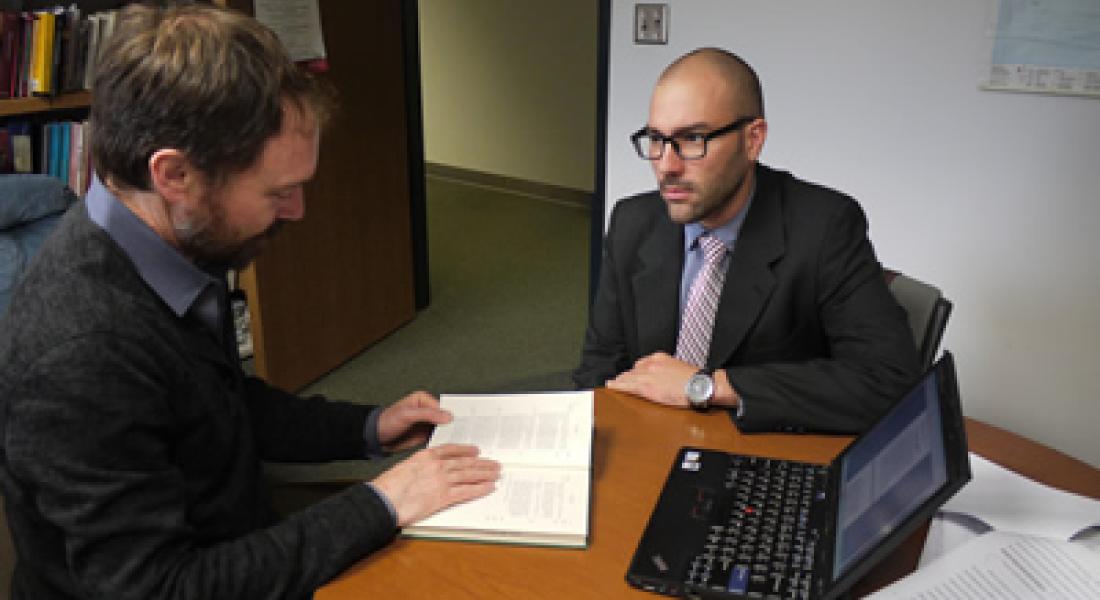 María Oviedo '16 • Spring 2014
Two graduate students who have just completed their first year as Kellogg PhD fellows have found in the Institute a supportive, enriching community of scholars who have helped them expand their academic passions.
Exploring Politics in Brazil in New Ways
PhD Fellow Fernando Bizzarro Neto (political science) first came to the Institute in 2012 as a guest scholar with a passionate interest in party systems and elections in his native Brazil. After studying São Paulo's Brazilian Democratic Movement Party (PMDB) for his master's dissertation, he used his time at Kellogg to explore politics more broadly.
"It was a completely new experience that changed the way I perceive the world," says Bizzarro."I came here to do research on one party in Brazil, but I saw how people do comparative politics and analyze the world at large. It broadened my perception of what we can do as researchers."
The experience made him eager to apply to Notre Dame's PhD program, Bizzarro says.
Now, with a Kellogg PhD Fellowship, Bizzarro has been working with Faculty Fellow Guillermo Trejo to explore how the religious landscape of Brazil affects Brazilian parties. The work grows out of Trejo's study of the effects of religious networks on armed conflict in Mexico.
"My original interest in parties and elections is connected to new actors I hadn't even considered," says Bizzarro. The pair cowrote a paper that they presented at the Religion and Politics Colloquium hosted by Yale University in April.
Expanding Research on Innovation in Colombia
PhD Fellow Jairo Campuzano Hoyos (history) has also broadened his field of view since arriving at Kellogg. With an MS in administration and over six years of research experience, Campuzano studies business history in Latin America, focusing on the relationship between technological change, entrepreneurship, and economic growth in his home country of Colombia.
Awarded a Fulbright Colombia scholarship, he chose the University of Notre Dame for doctoral studies after discovering the work of Faculty Fellow Ted Beatty, a historian of Latin America who focuses on economic history and technological innovation in Mexico.
Campuzano had always perceived connections between Mexican and Colombian business history, but it was not until he met Beatty that the idea of connecting the two in a research project began to take shape. Beatty has been a source of support and advice throughout his first year of research, says Campuzano, who hopes to conduct fieldwork in Mexico in the future.
Currently, after working under Beatty's guidance to analyze the historical evolution of patent laws in Colombia between 1848 and 1930, he is in Colombia on a Graduate Research Grant, exploring additional archival sources for the study of innovation in initial work for his PhD dissertation.
"We cannot understand long-term patterns of economic growth without understanding the dynamics of technological change—and entrepreneurialism—and patent laws have long been the primary policy instrument to promote investment in technological change," he says.
A Supportive, Stimulating Community
The Kellogg Institute's historical strength in Latin American studies was a big factor in Campuzano's decision to attend Notre Dame, but he was also drawn to its stimulating academic atmosphere.
"There are always activities you can attend, networks to form, and the platforms to build relationships that foster your intellectual development," he says.
A regular participant in Kellogg working groups, he has noticed a spirit of solidarity among members, who offer constructive feedback on papers in progress.
"When you hear other people's voices, you identify things you may not have even noticed about your own work. It's a complete enrichment to what the solitary academic has been doing," he says.
Bizzarro agrees, recalling the time he brought his own paper to the Working Group on Public Opinions and Elections.
"The paper is one hundred times better now than it was at first," he says. Bizzarro also regularly attends the Kellogg Tuesday lecture series, which he describes as a "friendly space" in which to interact with other scholars, especially those outside his own field.
Looking Towards the Future
Both students look forward to taking their PhDs back home.
Bizarro plans to work as a professor and researcher in political science. He says his greatest contribution to Brazil will be to encourage others in the intellectual community to explore other areas and topics.
"I can't teach them much," he says, "but if I can convince young, aspiring Brazilian scholars of how much this education has helped me to understand the world, then more and more scholars will want to do the same thing."
For his part, Campuzano hopes fulfill his promise to help build a better Colombia in his work at Universidad EAFIT, where he has been a lecturer since 2006.
"It sounds like an ambitious plan, but I believe in the power of small changes," he says.