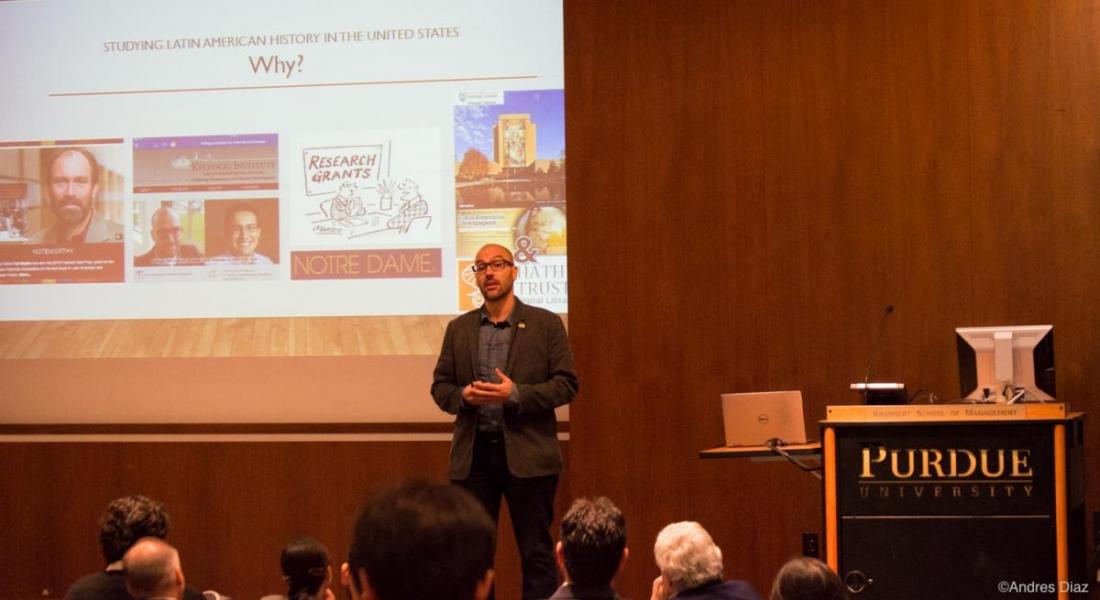 Kellogg PhD Fellow Jairo Campuzano-Hoyos (history) has been awarded a visiting fellowship to Germany's Bielefeld Graduate School in History and Sociology (BGHS). The four-month fellowship, which will begin October 29, is awarded to select doctoral researchers to promote international scientific and cultural exchange. 
At BGHS, Campuzano will work intensively on his dissertation, which focuses on the intellectual and economic history of his native Colombia. He will also take part in academic activities offered by Bielefeld University and its Center for InterAmerican Studies. 
"I am extremely excited about becoming a BGHS fellow," he says. "By developing a broader academic network with international students and faculty members at Bielefeld, I will be better prepared to contribute to the field of business and economic history from an enriched, global perspective."
In his dissertation, "The Quest for Material Progress in Global Perspective: Colombia, 1848–1909," Campuzano examines a group of Colombians looking for ideals and models of progress within Latin America during the second half of the 19th century. His dissertation challenges Eurocentric frameworks and teleological assumptions about failure that are commonly applied to 19th century Colombia and Latin America.
"For too long during the 19th century, Colombian governments had been fixated on European and North American models while overlooking more pragmatic lessons among their neighbors," he says.
"By 1909, some Colombian politicians and intellectuals were working diligently to incorporate lessons and models from their Latin American neighbors, especially Mexico, Argentina, and Chile, with apparently positive consequences for subsequent patterns of development and growth."
Campuzano's dissertation committee includes Faculty Fellows Ted Beatty (chair), Karen Graubart and Jaime Pensado as well as Associate Professor of History John Deak. The preliminary research for Campuzano's dissertation, supported by two Kellogg graduate research grants, resulted in the article "Hemispheric models of material progress in New Granada and Colombia (1810–1930)," Revista Co-herencia 13, 25 (2016).
He is confident that his project aligns well with many areas of BGHS research.
"I will greatly benefit from building relationships with professors who have developed important research on issues related to the history of capitalism, modern economic developments, and globalization of the economy, which are key to my current interests," he says.
A Colciencias-Fulbright Scholar as well as a Kellogg PhD Fellow, Campuzano is a "profesor en formación" (professor in training) at Universidad Eafit in Medellín, Colombia, where he is involved with Eafit's Business History Research Group. He is also an active member of the Notre Dame community as the cofounder and first president of the Fulbright Students Association at the University of Notre Dame (FSAND). 
The Kellogg Institute for International Studies, part of the University of Notre Dame's new Keough School of Global Affairs, is an interdisciplinary community of scholars and students from across the University and around the world that promotes research, provides educational opportunities, and builds linkages related to two topics critical to our world—democracy and human development.