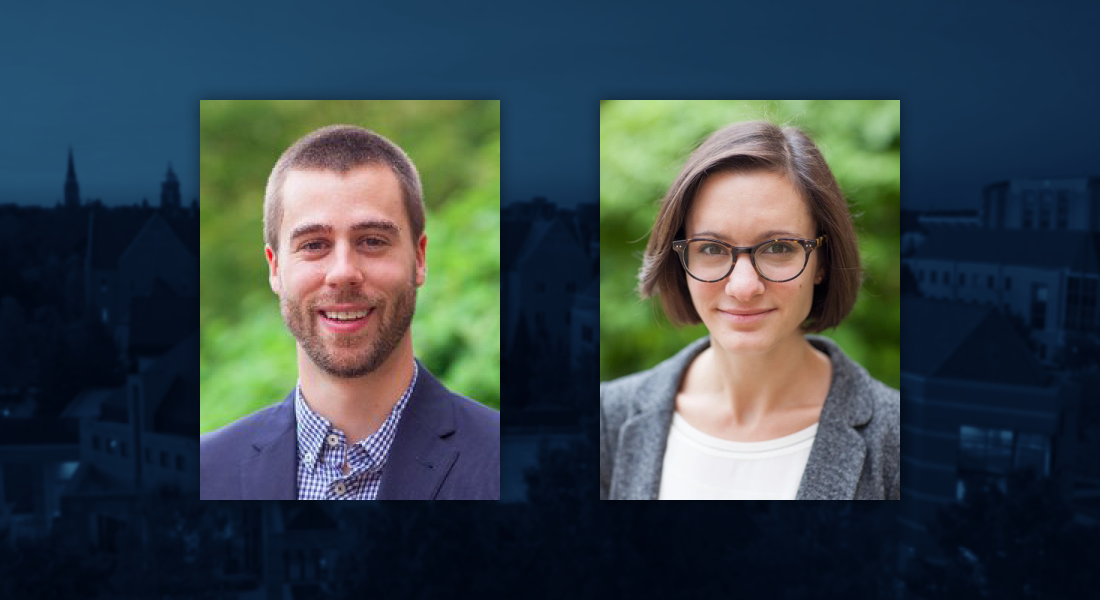 For the first time, the Kellogg Institute has named two winners of the annual Award for Distinguished Dissertation on Democracy and Human Development: Paul Friesen (PhD '22, political science) and Ilana Rothkopf (PhD '22, political science).
A former Kellogg PhD fellow and dissertation year fellow, Friesen earned his PhD in political science last summer. Directed by Kellogg Faculty Fellows Jaimie Bleck and Michael Coppedge with Scott Mainwaring and Rev. Robert Dowd, CSC, also serving on the committee, his dissertation is titled "Democratic Enculturation: Explaining Inaugural Party Resilience in Sub-Saharan Africa." It looks at long-ruling parties in Zimbabwe and Botswana, examining why they remain in power despite factors that would suggest otherwise to the Western eye. Friesen demonstrates how cultural values and traditional modes of living seep into the perceptions and expectations that citizens have for their leaders, parties, and systems of governance.
"He is making us reevaluate party identification and political behavior in Africa," says Coppedge. "He argues that too many observers perceive voting in Africa through a distorted Western lens that make it appear "merely" ethnic rather than ideological – even at a time when identity politics are clearly extremely important in the US and other Western societies." 
Citing Friesen's research as "very significant" in its contributions, Coppedge adds that it "shows us how to understand African behavior as being motivated not only by communal identities but also by locally meaningful ideologies built around nationalism, democracy, and traditional spirituality."
An excerpt from Friesen's dissertation has been published in the refereed journal Party Politics.
A Kellogg Doctoral Affiliate, Rothkopf completed her Phd in political science, successfully defended her dissertation in March 2022. Titled "Constituting Peace: Foreign Actors, Constitution-Making, and Armed Conflict," her dissertation studies conflict-related constitutions that were instigated as part of a conflict resolution process with active support from international actors. It addresses three questions in particular: (1) Why do international actors get involved with some constitution-making processes and not others? (2) How does international support for conflict-related constitution-making impact constitutional substance? And (3) Do constitution-making and international involvement contribute to the reduction of civil war recurrence?
Characterizing Rothkopf's dissertation as "exceptional," Kellogg faculty fellow Emilia Justyna Powell, who chaired her committee, says it "provides a pathbreaking take on international involvement in constitution-making" based on extensive data collection, including creating a novel dataset of 75 variables that measure international actors' involvement in constitution-making. 
"The empirical analyses in Ilana's dissertation shed much light on the dynamics of constitution-making," Powell says. "In fact, research presented in this dissertation provides unprecedented insights into the study of global dynamics of constitutional making, international conflict, peace-making, and international institutions."
"There is no doubt that her dissertation will become a book published by a major press and will attract a lot of attention from both constitutional as well as conflict scholars," predicts Faculty Fellow Gary Goertz, who served on Rothkopf's committee along with Powell, Laurie Nathan, and Zachary Elkins.
The Kellogg Institute for International Studies annually gives the Award for Distinguished Dissertation on Democracy and Human Development to a former doctoral student affiliate for excellence in research consistent with the mission and research themes of the Institute. Recipients are nominated by faculty fellows, and the award includes a plaque and a $1,000 prize.