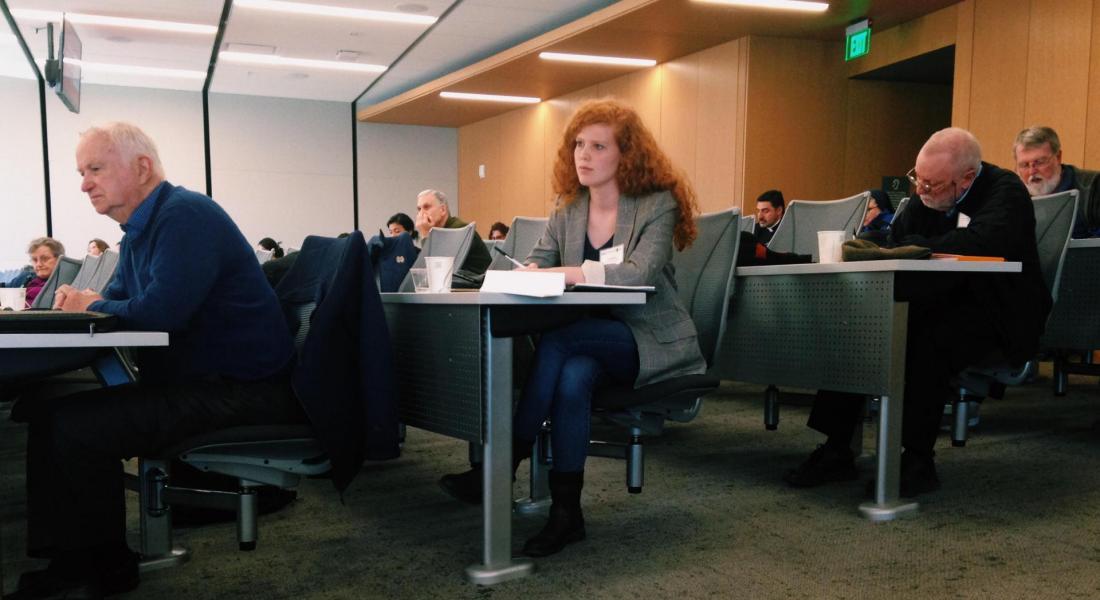 Elsa Barron is a sophomore in the Kellogg International Scholars Program.  
The Center for Migration Studies, in collaboration with Santa Clara University Law School, organized the Catholic Immigration Integration Initiative Conference with the purpose of bringing together Catholic institutions and leaders who are working with immigrants, and equip them with connections, inspiration, and tools to continue and expand their work. As a student, I was awed by the wealth of experience present at the conference, as many attendees had professional careers providing services to immigrant communities. There was much to learn from such a diversity of expertise, especially since there were over 70 different speakers during the two-day main conference, and even more to learn on site visits to local organizations. 
In the opening speeches of the conference, leaders from the University and the city of San Jose began by setting the context of the area we were in: Silicon Valley. The area is booming with tech companies and young professionals. In tandem with this reality, it has one of the highest immigrant populations in the country. In Santa Clara County, nearly 40% of the population are immigrants. Many of these immigrants are involved in the entrepreneurship that the region is so famous for, and they certainly add to the rich cultural landscape. After understanding the community we were in, we thought about how to best serve immigrant communities from a diversity of perspectives: initial welcome, education, parish models, global models, and responses to the current U.S. administration. 
On the second day, the conference went deeper into specific ways we can mobilize communities to support immigrants, and utilize programs for their support. One of the sessions I found most relevant to my current research and study on migrants and refugees with Rev. Robert Dowd, C.S.C.was entitled "Re-imaging the Role of Catholic Institutions in the Midst of a Changing US Refugee Program." The panel discussed the realities of US refugee resettlement programs in the wake of restrictions on refugees entering the United States. These programs have received and resettled 200-300 refugees each year and now are projecting that they will not even receive 80 refugees for services this year. There is a large untapped potential of case managers, legal experts, and willing volunteers within these organizations. In light of this reality, these programs are pivoting their focus towards providing support and accompaniment for immigrants in addition to refugees. I thought this was a powerful display of adaptability and the desire to use people's passion and resources to their highest capacity. The models of accompaniment included both technical aspects of integrating into a new country, such as legal hearings and citizenship, and social aspects, such as language, children's programming, and a faith community. Organizations in the United States, Europe, and across the globe wanting to support immigrants could learn much from these accompaniment approaches.
Throughout the conference and during the various site visits, I was constantly reminded of my current research. I have been mapping programs (mostly faith-based) that engage with and support migrants and refugees in Europe and the United States. I have also been conducting a review of the policy reports of many organizations, faith-based and secular, that describe their strategies for working with migrants and refugees. At this conference, I was able to talk to the actual leaders of some of these programs and understand their strategies at an even more sophisticated level.