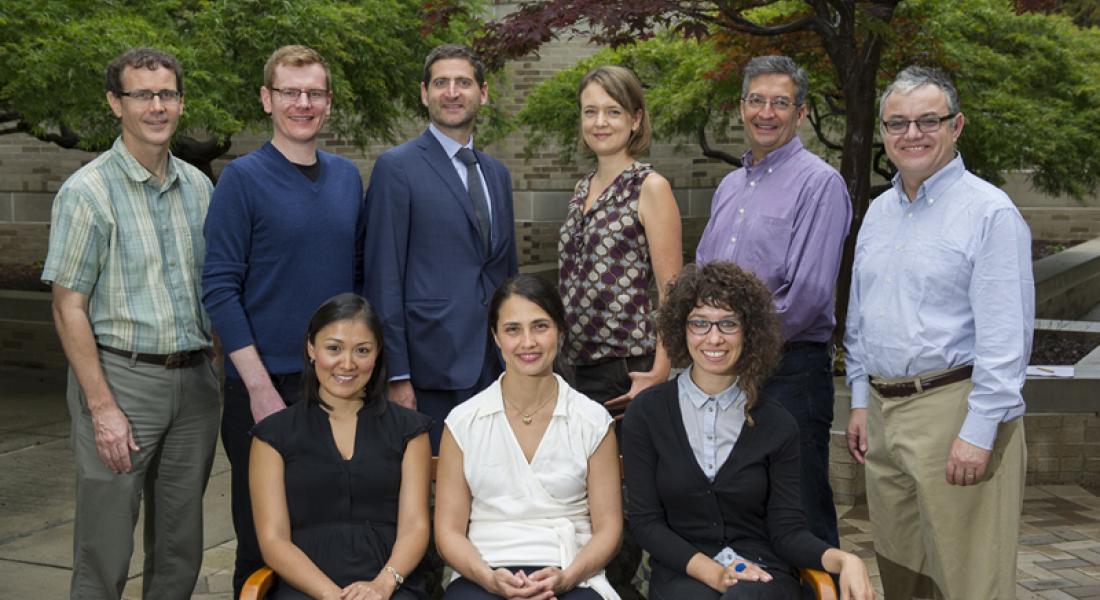 The Kellogg Institute for International Studies is full of new energy as nine new visiting fellows settle into their offices after arriving from home institutions across the US, Latin America, and Europe.
With fellowships for the fall semester and the academic year, the visiting fellows will conduct independent and collaborative research related to core Kellogg themes of democracy and human development. Regions of study include Africa, Latin America, Europe, and the Middle East.
"It is always so exciting for Kellogg to welcome a new cohort of visiting fellows," said Institute Director Paolo Carozza. "We look forward to the relationships we know will develop in our intellectual community, to the new projects that form, to the human encounters that change how we think about things."
Internationally recognized for research excellence, the Kellogg Visiting Fellows Program boasts a long list of distinguished former fellows. The new fellows represent a range of academic disciplines, areas of study, and research methodologies employed.
Jorge Cañizares-Esguerra, an award-winning historian from the University of Texas at Austin, is exploring how the Old Testament shaped the culture of the global Spanish monarchy, impacting understandings of empire, gender, race, and religion.

Lina del Castillo, also a historian at the University of Texas at Austin, will examine early republican Colombia and its development as a nation-state through a study of cartographic imagery—maps, mapping, and map production.

Fausto Hernández Trillo, an economist with significant public policy experience who is based at Centro de Investigación y Docencia Económicas (CIDE) in Mexico, will study how the fiscal decentralization process in Mexico has impacted poverty at the municipal level.

Sandra Ley Gutiérrez, a political scientist, is developing a book project on the impact of criminal violence on the exercise of democratic citizenship in Mexico. In addition, she will collaborate with Faculty Fellow Guillermo Trejo on a series of papers on the institutional foundations of criminal violence.

James Loxton, a political scientist, will work on the book project "Authoritarian Inheritance and Conservative Party-Building in Latin America," and, with Faculty Fellow Scott Mainwaring, co-organize a spring conference on authoritarian successor parties.

Andrea Pin, a legal scholar from the University of Padua, is investigating legal ideas about personhood, society, political power, and human development that appear in new Middle Eastern constitutions. He will also be visiting professor of European Union law at the Notre Dame Law School.

Thea Riofrancos, a political scientist, is working on a book that explores contestation around resource extraction in Ecuador, with a particular focus on the democratic and developmental politics of oil and mineral dependency.

Antina von Schnitzler, an anthropologist from the Graduate Program of International Affairs at the New School, is undertaking a historical and ethnographic investigation of democracy and the politics of infrastructure in post-apartheid South Africa.

Robert D. Woodberry, a political scientist from the National University of Singapore, will work on a book about the global impact of Christian missions on mass education, printing, civil society, and colonial reform movements, expanding on an earlier article that has garnered eight academic awards.
In September, the distinguished jurist Diego García-Sayán, a justice of the Inter-American Court of Human Rights, will arrive to spend a month at the Institute as Hewlett Visiting Fellow for Public Policy. In his Kellogg project, he will analyze the Inter-American Courts impact on human rights and democracy in Latin America and assess key challenges to the Inter-American system.
The group will be joined in the spring by two additional fellows.
The Institute also welcomes several guest scholars who have received outside funding to support their research at Notre Dame. For a complete list of the 2014 –15 visiting fellows and guest scholars, click here.
Contact: Denise Wright, program coordinator, Visiting Fellow Program, 574/631-8523 or dwright1@nd.edu.