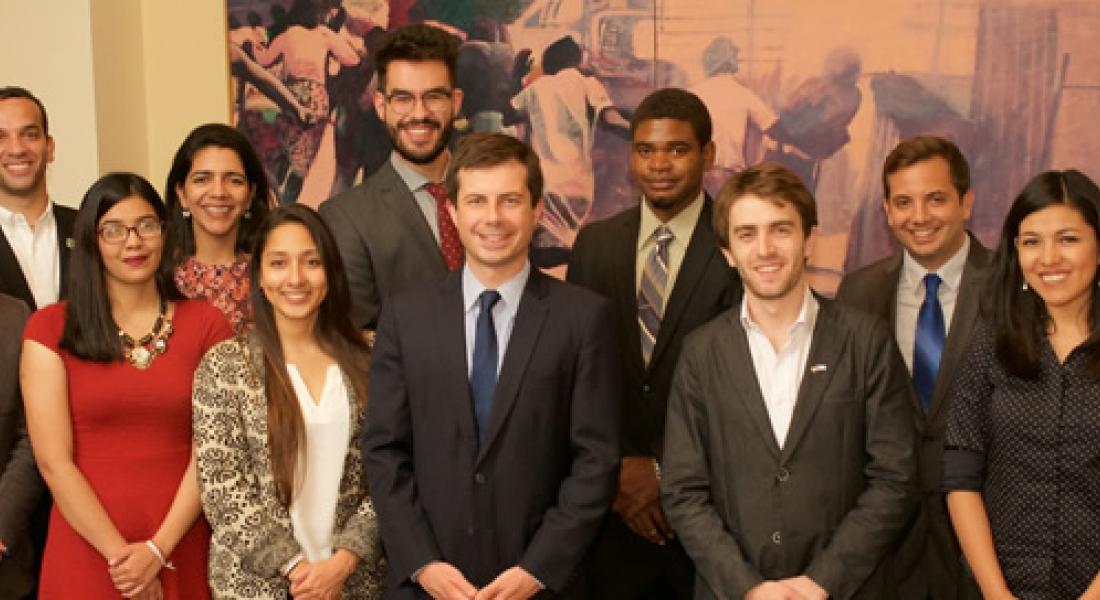 Fourteen young professionals from Latin America and the Caribbean interacted with the Kellogg community in a variety of ways this fall as part of a four-week leadership development program that took advantage of multiple opportunities on campus and in the City of South Bend.
Based at Notre Dame as part of the US Department of State's Young Leaders of the Americas Initiative (YLAI) Professional Fellows Program, the YLAI fellows—including both social and business entrepreneurs—expanded their leadership and entrepreneurial skills at placements in start-ups, small businesses, and NGOs in the area.
"We live everywhere in our world in a crisis of leadership," Kellogg Director Paolo Carozza told the fellows and their many hosts. "Kellogg is eager to help build leadership for the common good around the world—and build bridges to the local community here at home."
At Notre Dame, the program was led by the Notre Dame Initiative for Global Development and supported by the Kellogg Institute and the Master's Program in Entrepreneurship, Technology, and Innovation (ESTEEM).
In addition to financial support, Kellogg contributions to the program included:
An introductory seminar by Executive Director Steve Reifenberg that focused on negotiation skills and was followed by one-on-one advising;
Two networking events, that matched the young entrepreneurs with Kellogg doctoral student affiliates who are from Latin America and/or studying contemporary issues in the region;
Home visits with members of the Kellogg community; and  
A closing ceremony and reception to celebrate the YLAI fellows and their host organizations featuring another young leader—South Bend Mayor Pete Buttigieg, who spoke on the public-private partnerships that have enabled the city's revitalization.
YLAI"Kellogg is enthusiastic about collaborating with this dynamic group of young Latin American leaders," said Reifenberg. "Their vision, energy, and entrepreneurial spirit inspire our commitment to expand our own work in global leadership training."
Hailing from from Argentina, Brazil, Bolivia, Chile, Colombia, Cuba, Dominica, El Salvador, Honduras, Mexico, Nicaragua, and Venezuela, the YLAI fellows job-shadowed and participated in day-to-day operations at their host organizations; developed business or social venture plans to be implemented in their home countries; and built networks, links, and partnerships to attract investments and support for their entrepreneurial ventures.
South Bend area businesses and organizations hosting 2016 YLAI Fellows included The Avenue Bicycle Station, enFocus, F Cubed, La Casa de Amistad, Inovateus Solar, New Group Media, Pathfinders, Pinter Consulting, Piser Designs, South Bend Code School, South Bend Heritage, Union Station Technology Center, Visit South Bend/Mishawaka and VSS Security.
The YLAI Professional Fellows Program is sponsored by the US Department of State and implemented by Meridian International Center. The program provides entrepreneurs and civil society leaders with training, tools, networks, and resources to transform their societies and contribute to economic development and prosperity, security, human rights and good governance in the hemisphere.
The Notre Dame YLAI fellows are part of a larger group of 250 young leaders from Latin America and the Caribbean who dispersed to 21 different city hubs in the US in early October. This week they are gathering together in Washington, DC to share their experiences and develop their networks further before returning home to implement what they have learned.
The Kellogg Institute for International Studies, part of the University of Notre Dame's new Keough School of Global Affairs, is an interdisciplinary community of scholars and students from across the University and around the world that promotes research, provides educational opportunities, and builds linkages related to two topics critical to our world—democracy and human development.