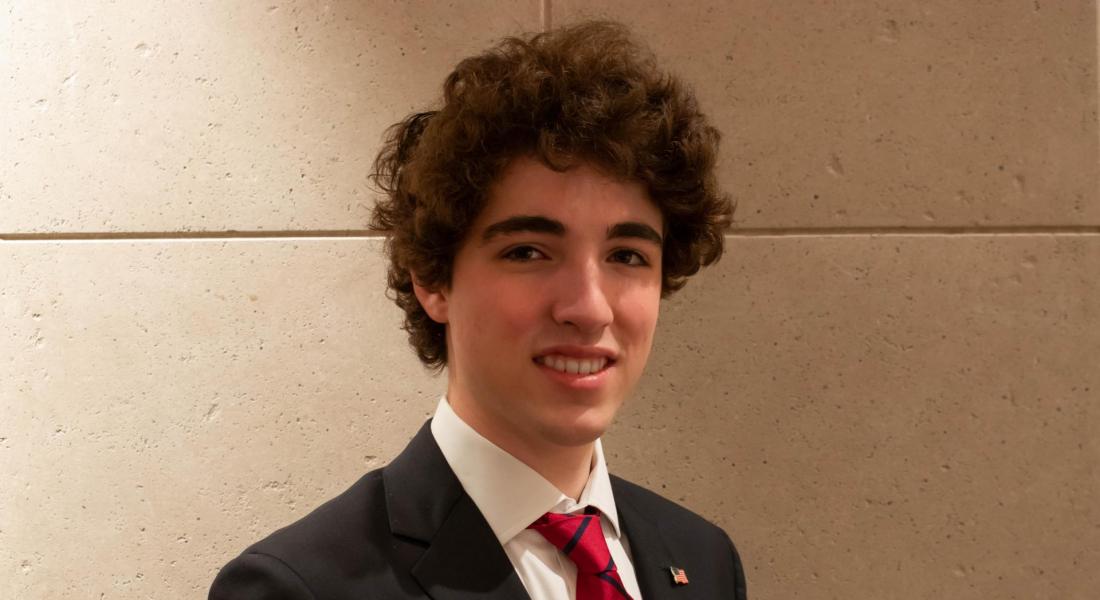 Kellogg Developing Researcher Liam Gibson '25 is one of four University of Notre Dame students that will study abroad this summer as part of the Critical Language Scholarship (CLS) Program, a language-based scholarship program sponsored by the US Department of State.
Gibson, a history, Russian (supplementary) and global affairs (supplementary) major from Allentown, Pennsylvania, will study Russian in Kyrgyzstan.
"I trust that this opportunity will lead to rapid advancement in my Russian language skills and my global perspective, both qualities that will be essential as I pursue an international career in the US Foreign Service," Gibson said.
The other Notre Dame students who will be part of the CLS Program cohort this year are Ashley Cammiso, Tim Du, and Grace Straughn. Francesca Freeman, a doctoral candidate in peace studies and history, is an alternate for the award and will study Arabic if selected.
In applying for the award, Gibson and the other undergraduate winners worked closely with the Flatley Center for Undergraduate Scholarly Engagement (CUSE), which promotes the intellectual development of Notre Dame undergraduates through scholarly engagement, research, creative endeavors and the pursuit of fellowships.
Mathilda Nassar is the newly appointed national fellowships program manager for CUSE.
"Since this was my first year managing the CLS advising process, I am incredibly pleased with the outcome," Nassar said. "The four winners from Notre Dame, representing four out of the 14 critical languages identified by the U.S. Department of State, are exceptional in terms of their skills and experience. Each will undoubtedly be an asset in their respective program and bring back a diverse and global perspective to the Notre Dame community."
The Critical Language Scholarship Program is an intensive overseas language and cultural immersion program for American students enrolled at US colleges and universities. Students spend eight to 10 weeks abroad studying one of 14 critical languages. The program includes intensive language instruction and structured cultural enrichment experiences designed to promote rapid language gains.
This year's cohort of approximately 500 scholars was selected from a diverse pool of more than 5,000 applicants. Of the winners, more than half identify as racial or ethnic minorities; 27 percent study STEM; 35 percent are Pell Grant recipients; 24 percent are first-generation college students; and 8 percent are military veterans.
For more on this and other scholarship opportunities, visit cuse.nd.edu.
This article is adapted from one by Erin Blasko that appeared at news.nd.edu.