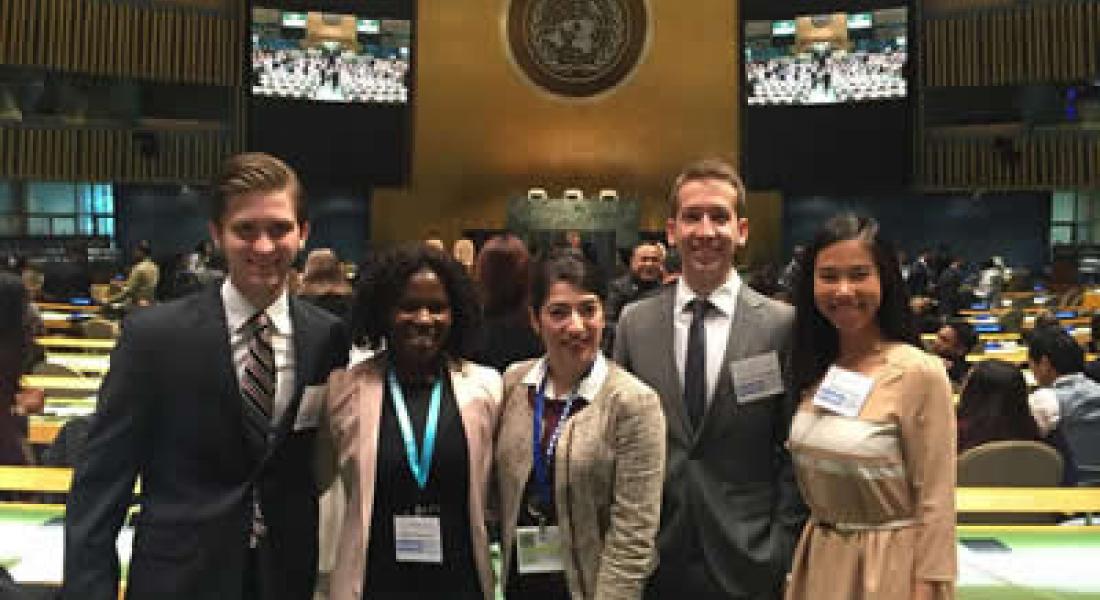 As an International Scholar, science-business major and an international development studies minor, Daniel Olivieri eventually thought that he would make it to the United Nations, but he didn't think that would occur during his sophomore year at Notre Dame. Thanks to the support of the International Scholars Program, however, Daniel Olivieri and Lily Kang, a sociology and IT management major, had the opportunity to attend the 2016 Winter Youth Assembly at the United Nations from February 17th to February 18th at the United Nations Headquarters in New York.
The theme of the conference, Transforming Our World: The Role of Youth in the Implementation of the Sustainable Development Goals, allowed both Dan and Lily to attend various panels with experts in international development, as well as with diplomats, ambassadors and leaders in their respective development fields.
On top of participating in panels, workshops, and forums, Dan participated in the Resolution Project's Social Venture Challenge. In this competition, Dan proposed his social venture, which was aimed at integrating social services into the hospital sector by creating a patient-provider platform and phone application, and was named a finalist out of thirty venture participants. This social venture idea originated from Dan's Experiencing the World Fellowship (ETW) in the summer of 2015 in the favelas of Rio de Janeiro, Brazil, and is something that he will be pursuing in the future. In all, the conference gave Dan and Lily a truly phenomenal opportunity to discuss, learn, and engage in their future through connecting with individuals from all over the world.   
Learn more about the International Scholars Program and its benefits or contact Assistant Director Holly Rivers at hrivers@nd.edu
For more information about ISP, the conference or Dan's ETW Fellowship in Rio de Janeiro, Brazil, feel free to contact Dan at dolivier@nd.edu.