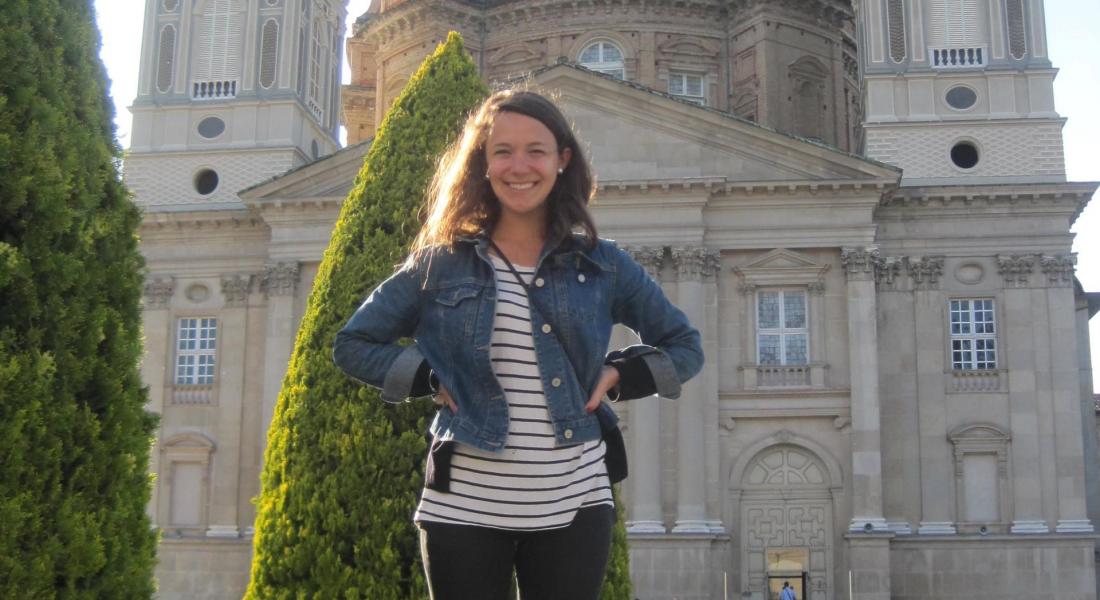 Christina Gutierrez, a French, Italian, and Political Science major, has spent most of her life speaking several languages and living in a number of different countries. As a current senior in the International Scholars Program, Gutierrez joined the program because she was interested in combining a diverse set of interests. "I spent most of my time growing up outside of the U.S., and I knew I wanted to conduct international research to tie all of my experiences together," she explained.
Within the International Scholars Program, Gutierrez works with Susan Blum. Blum is an anthropologist interested in alternative forms of education and food systems. In her first project with Blum, Gutierrez helped investigate a series of questions: "We looked at several different aspects of students' experiences in education: How are they motivated to learn? What drives them, what is important? Why do they want to go to school?" she said.  Gutierrez interviewed students at Notre Dame and transcribed Blum's interviews from other locations, including Costa Rica's Earth University, New York University, Massachusetts Institute of Technology, and Indiana University in South Bend.  
After completing and publishing this research, Blum has moved on to a project on food systems, which in part inspired Gutierrez's senior thesis. "We're trying to assess why people choose certain foods and we especially want to understand the significance of local food to people," Gutierrez said, "I didn't think I would become interested in domestic issues, but integrating my international experiences has been useful."
Now, Gutierrez is writing her thesis on the U.S. policies around sugar consumption. She is focusing on the combination between local food policy and overarching federal legislation to evaluate the links between non-communicable diseases and sugar consumption. "Why do we consume more sugar? It tastes good and it's addicting, but also, the government heavily subsidizes sugar," she said. Her thesis will involve several policy recommendations, drawing from the case studies she has experienced while studying abroad in France and Italy and research she has done on Mexico.
In addition to providing tangible research skills for her thesis, Gutierrez said the International Scholars Program has allowed her to complement her studies with a new discipline. "I can't fit anthropology classes into my schedule, but I get to work with an anthropologist on a weekly basis, which has been incredibly valuable. It has brought a new perspective to my work." Gutierrez also mentioned that the opportunity to learn about other people's projects has been an unexpected benefit of the program. "I haven't found any other group of people that has had such fascinating experiences. This program has been a significant benefit not only because it has broadened my interests, but also because it has taught me how to synthesize information."