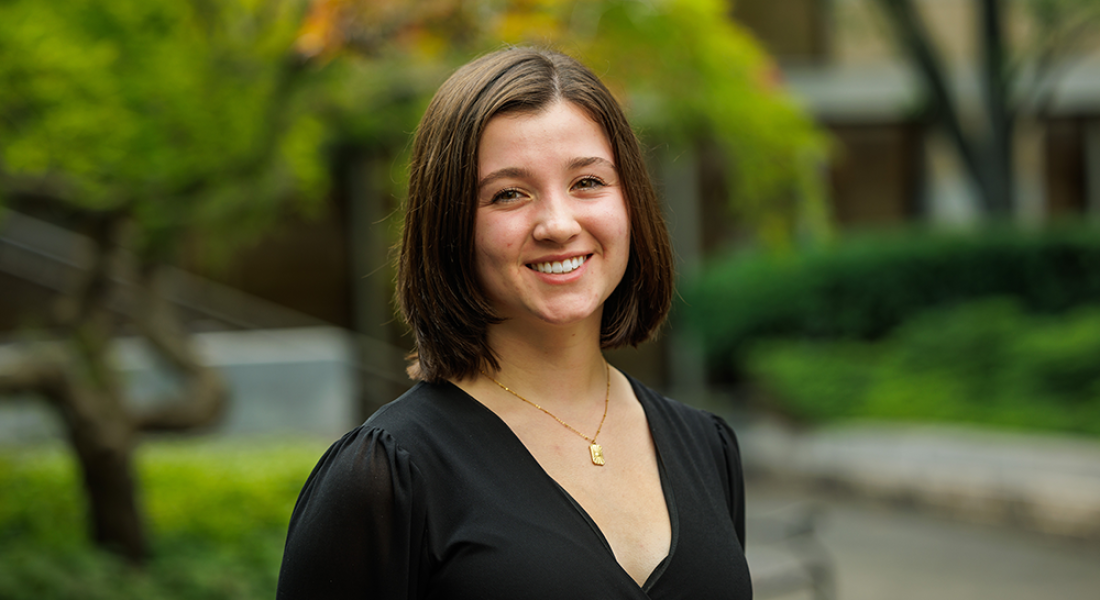 University of Notre Dame junior Raleigh Kuipers has been awarded an Obama-Chesky Voyager Scholarship by the Obama Foundation, the nonprofit charitable organization of former President Barack Obama. A former Gateway student who started her college career at Holy Cross College, Kuipers is Notre Dame's first Voyager Scholarship recipient since the award was established in 2022.
"This program will give me the financial security to be able to conduct my own research, travel and make a difference during the school year, in the summer and beyond," said Kuipers, who worked closely with the Flatley Center for Undergraduate Scholarly Engagement (CUSE) in applying for the award.
A resident of Grand Rapids, Michigan, Kuipers is a global affairs and Spanish double major with minors in civil and human rights and European studies. She is a Kellogg International Scholar and intern with the Pulte Institute for Global Development. She previously served as a contributing writer to Shared Future News and as a research and communications intern with Analyzing and Researching Ireland, North and South.
As a Kellogg International Scholar, she assists faculty fellow Clemens Sedmak, professor of social ethics, with research related to the nature of human dignity, drawing from organizations and individuals within the disability community as well as the characteristics of resilient institutions in war-torn Ukraine. Sedmak is director of the Nanovic Institute for European Studies, part of the Keough School of Global Affairs.
She previously assisted Kellogg faculty fellow Vanesa Miseres, associate professor and director of graduate studies of Spanish, with research related to Latin American female writers and other topics.
As a member of the Notre Dame Student Policy Network, she worked with fellow members to submit a sanctions request to Congress in response to extrajudicial killings in the Dominican Republic and within the framework of the Global Magnitsky Act.
Kuipers transferred to Notre Dame as a sophomore. She did so as part of the Gateway Program, which invites select students to enroll at Holy Cross and transfer to Notre Dame after their first year of studies. Gateway students must maintain certain grades and remain in good standing with both institutions.
As a Voyager recipient, Kuipers plans to more fully explore her interests in human rights, migration, women's rights, decoloniality and female health and beauty in Latin America, among other topics.
Her work-travel experience will take her to Latin America, where she plans to research the efficacy and impact of feminist foreign policy in Chile, Colombia and Mexico, drawing on her fluency in Spanish.
"Feminist foreign policies aim to increase women's representation in decision-making positions and center the quest for gender equality in foreign policy," Kuipers said. "This research will contribute to my senior global affairs capstone."
Otherwise, she said she is looking forward to "getting to know and collaborate with other Voyagers and the Obama Foundation's global community."
Administered by the Obama Foundation with support from a $100 million gift from Brian Chesky, co-founder and CEO of Airbnb, the Voyager Scholarship offers rising juniors who qualify for need-based financial aid the opportunity to pursue careers in public service through access to travel and education.
Scholars receive as much as $50,000 in "last dollar" financial aid plus a $10,000 stipend and free Airbnb housing to pursue a summer work-travel experience. They also participate in an annual summit and have access to a network of mentors and leaders to help define and inspire their public service journey.
Students who wish to apply for the scholarship can email Elise Rudt-Moorthy, CUSE's national fellowships senior program manager, at erudt@nd.edu.
This story originally appeared at news.nd.edu.