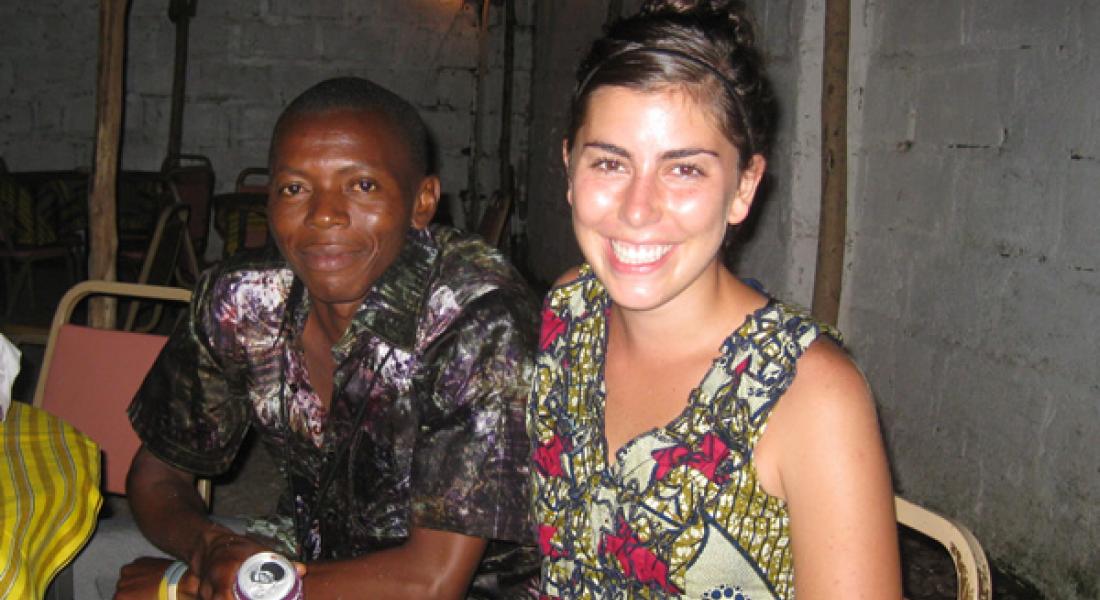 What impact does living through a civil war have on a young person's sense of the future? Kellogg International Scholar Catherine Reidy '13 spent two summers talking to young people in Sierra Leone about how violence and life in a post-conflict society affects how they think about their hopes and dreams.
Reidy arrived at Notre Dame four years ago with her own hope for the future, not needing to be coaxed or cajoled into research.  From the start, she knew that some combination of both research and international experiences would be critical to her undergraduate education.
An intellectual entrepreneur
"I think I was born with a passion for research and academics," she says.  "If you've always loved school, why not get creative with it and take 'school' outside of the classroom?  Research allows me the opportunity to create my own syllabus, my own assignments."
Reidy displayed that initiative in her very first assignment as an International Scholar research assistant.  Paired as a sophomore with Kellogg Executive Director Steve Reifenberg, her task was to examine donor agencies' role in emergency relief efforts.
"I posed some introductory questions," Reifenberg recalls. "In a week, Catherine returned not only with very good data but with a sophisticated analysis of how to think about it and insightful ways to frame additional questions.  It was the kind of intellectual entrepreneurship I would expect from a graduate student."
Reidy applied the same probing to her psychology major. With a growing interest in adolescent psychology, a research trip to Italy to explore the growing phenomenon of young Italians living at home with their parents jumpstarted a new fascination with transitions to adulthood.
To pursue these themes at Kellogg, she sought out Faculty Fellow Paul Ocobock, who studies youth trends in Africa, including transitions to adulthood. Taken by her passion for the topic, he connected her to Faculty Fellow Catherine Bolten, who was working on youth struggles for adulthood and respect in Sierra Leone.
Reidy assisted Bolten in her research—and then branched out on her own.
"Catherine is working at the interface of psychology and her minor, anthropology. Originally a part of my project, her work is now very much her own," says Bolten.
"She has taken the systematic tools of psychological experiments and applied them to dense, richly ethnographic work within the community that allows her to fully juxtapose the hopes that students articulate on one hand, and the realities that constrain their lives on the other.
"Her work displays a maturity unusual in undergraduates, and will provide an important contribution to the burgeoning field of culture and cognition."
In Sierra Leone—a country still recovering from a brutal civil war (1991–2002)—Reidy undertook more than 16 weeks of fieldwork over two summers to document the hopes and dreams of students at the University of Makeni. (Her research was made possible by a Kellogg Experiencing the World Fellowship and a Kellogg/Kroc Research Grant.)
In focus groups and one-on-one interviews, more than 120 young men and women were eager to share their aspirations for themselves and their country. Aware that their families had made sacrifices to send them to university, and with few role models in middle-management positions, many aspire to be nothing less than CEOs and foreign ministers, entrepreneurs and business managers.
"I hope to be the president of Sierra Leone," several students told her.  Others said, "I hope to be the managing director of Sierra Leone's central bank," or, "I hope Sierra Leone will become the Athens of Africa again."
Ordinarily, such positive beliefs about their futures—in the language of psychology, "future orientations"—would lead students to involvement as citizens in peacebuilding or community development efforts, whatever their eventual professions.
What Reidy fears, though, is that the hopes of the university-educated youth of Sierra Leone—now living in what she calls the "Neverland" world of campus—will suffer a harsh collision with reality.
"A culture is created at the university," she says, "in which the pressures of society and the responsibilities of adulthood are traded in for aspirations of political office and international employment, a world in which rapid national development is both possible and likely.
"Youth embrace this construct—yet, at the same time, they are also aware that the aspirations of so many are impossible to realize in their country's current economy."
"While exploring youth hopes and fears for the future is something that could be done in any country," Reidy says, "given Sierra Leone's history, it is my own hope that pursuing these questions there will help to inform policy that will promote the future stability of the nation."
She has presented her research at three professional conferences and plans to further refine her findings for a journal article.
"Extraordinary mentoring"
Reidy is using the skills she acquired as an International Scholar on her senior honors thesis, which focuses on the impact of sectarian and ethnic tension on children and families in Croatia.
A 2012 Rhodes Scholar finalist, she was recently awarded a Clarendon Scholarship for graduate study at the University of Oxford. Reidy will use the highly selective award—covering full tuition, fees, and living expenses—to study for a master's degree in African studies.
She credits the "extraordinary mentoring" she received from University faculty members, particularly at the Kellogg Institute, with making her the scholar she is today—and the one she hopes to become.
"My research assistantships enabled me to shadow the work of professional scholars with vast experience in international fieldwork," Reidy explains.
"My advisors, through modeling, also taught me the meaning of research integrity.  They inspired me to care more about the world outside of my own interests—to do research and work that matters and that will make a contribution."
—Mary Hendriksen, Spring 2013