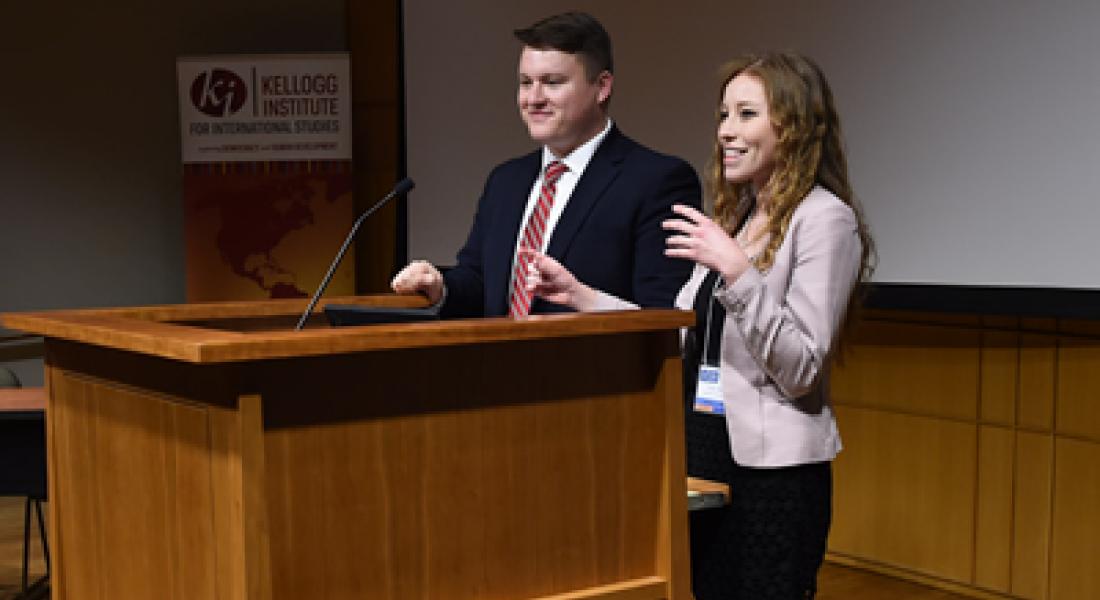 The 9th Annual Human Development Conference (HDC) was the culmination of nine months of hard work and collaboration by cochairs Eryan Gwin '17 and Daniel Kendall '17. What brought together students from two vastly different academic fields—Gwin is an architecture major and Kendall a neuroscience major—to work together on a major undergraduate conference?
According to Gwin and Kendall, it was their shared experience as students within the Kellogg Institute's minor in International Development Studies (IDS).
"Something that the IDS minor does really well is bring together students with different academic backgrounds. We study neuroscience and architecture, but there are also economics and political science majors and a lot of other different majors that come together to make up the minor. It's truly interdisciplinary," says Kendall.
"That's what the Human Development Conference is all about too—bringing together people to talk about issues we are passionate about and to realize that we all have a role to play in international development."
Neither Kendall nor Gwin are unfamiliar with the nuts and bolts of international development. Both students recently completed their senior capstone projects based on field research conducted last summer.
Supported by a Kellogg/Kroc Undergraduate Research Grant, Kendall spent last summer studying the social determinants of medical brain drain in Kampala, Uganda. His interest and background in global health have shaped his approach to development in a unique way.
"My approach to many problems in development is systematic and scientific," says Kendall.
"When looking at development projects and interventions, I focus on data-driven solutions and try to solve complex problems in the most strategic and efficient manner. My approach is goal oriented and focused on outcomes that make the most impact."
It was this interest in global health that brought Kendall to the IDS minor. Today, over two years after taking his first IDS class, he says the Kellogg Institute has become his "home within Notre Dame."
Now a fifth year architecture student, Gwin was introduced to the IDS minor her freshman year by a fellow architecture student who was enrolled in the minor. To Gwin, the minor was something exciting and different from her architecture curriculum.
"As an architecture student, I spend a lot of my time seeking creative solutions to physical challenges, and I've learned the importance of culture and context in work that impacts society," she says.
"Because each design must be unique to its situation, I have found that the most effective way to understand and internalize a culture and a society's needs is to go to the source."
Last summer, she did just that.
With funding from the Institute for Scholarship in the Liberal Arts, Gwin conducted research in Lima, Peru on the effects of industrial zoning on real and perceived economic opportunities. 
These diverse perspectives on development—data-driven versus creative solutions—came together under this year's conference theme "Development with Dignity: A Human-Centered Approach to Progress."
"We wanted to bring it back to the individual, because it is the human development conference," said Kendall.
"A lot of our focus was on trying connect the individual to ideas in development, and we thought that fit perfectly with ideas such as human dignity, accompaniment, democracy, and human development, all areas that Kellogg is involved in."
Both Kendall and Gwin say their IDS minors have informed their plans for life after Notre Dame. Kendall, who will be working as a strategy analyst at a health care consulting firm next year, credits the minor with enabling him to connect with different types of people.
Gwin says the IDS minor has opened her eyes to unique opportunities to get involved with urban planning in different contexts, and she looks forward to continuing to explore the world of international development.
Hosted by the Kellogg Institute and its Ford Family Program in Human Development Studies and Solidarity, the annual Human Development Conference is cosponsored by the Center for Social Concerns and SIT Study Abroad, a program of World Learning.
The Kellogg Institute for International Studies, part of the University of Notre Dame's new Keough School of Global Affairs, is an interdisciplinary community of scholars and students from across the University and around the world that promotes research, provides educational opportunities, and builds linkages related to two topics critical to our world—democracy and human development.