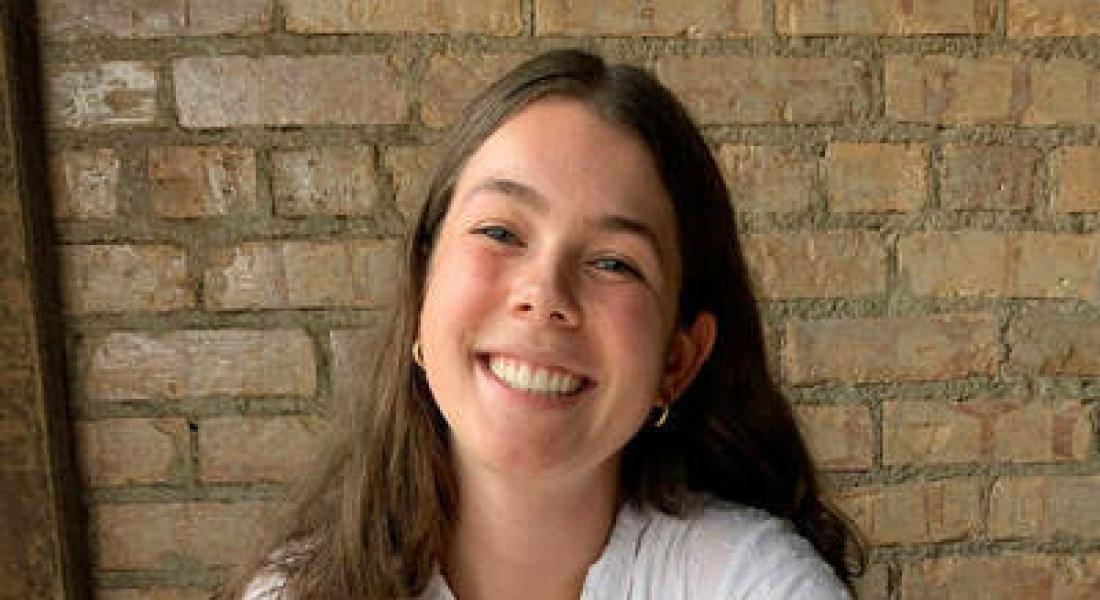 International Development Studies minor Maria Teel '22 was featured in a recent Q&A by the School of Arts & Letters about her major in French with the Department of Romance Languages and Literature. Teel co-chaired the 2022 Human Development Conference and received a Kellogg/Kroc Research Grant for her capstone project on Senegal, "How does current multilingual education policy and practice in Senegal measure against identified best practices?" in 2020-21.
Why did you choose to major in a romance language/literature? 
I chose the French major because it allows me to apply my other areas of study (political science and international development studies) to a broader international scale.
Since I want to work in international development after graduation, speaking another language is a true asset.
My language skills have already supplemented my work on international development projects through the Pulte Institute for Global Development, where my role as a research assistant includes translation and interpretation for our partners in Senegal (a Francophone West African country).
Were you always interested in topics related to this major? 
I started taking French classes as a first-year student since it was required for the College of Arts and Letters. After taking a few classes, I first decided to declare the supplemental major and later scaled up to a full major.
I also was convinced to declare the French major once I saw the applications of my French knowledge; I interned for the Mandela Washington Fellowship for Young African Leaders the summer after my first year at Notre Dame and was able to communicate with Fellows from Francophone African countries like the Democratic Republic of Congo, Mauritius, and Côte d'Ivoire. I loved seeing how my language skills could bridge gaps between people internationally. 
What has been your favorite class in the program and why? 
My favorite class has been Francophone Peace Studies: Worldwide Activism in Literature and Film, with professor Alison Rice. In this class, we engaged with literature and film from around the Francophone world, from countries like Rwanda and Haiti. My previous courses had focused almost entirely on France, so this broader scope of French language materials was very enlightening. I found it really valuable to learn about the international French-speaking world, especially as my interests lie in international development. 
Have you conducted any related research or independent study?
I completed a capstone for the International Development Studies minor titled, "A Benchmark Analysis of Multilingual Education Policy and Practice in Senegal." This project sought to evaluate the status of multilingual education in Senegal.
I created a conceptual framework that identifies three contributing factors to multilingual education success: 1) teacher qualifications and training; 2) accessible supply of first language teaching and learning materials; and 3) language environment. I then used an in-depth literature review and interviews with stakeholders to measure Senegal's status in these three factors. My French knowledge allowed me to communicate with interviewees, to read sources in French from Senegalese scholars, and to generally integrate myself into the topic. 
What makes the French program at Notre Dame stand out among programs like it at other schools? 
The opportunity for qualified undergraduate students to take courses at the graduate level makes Notre Dame's French program stand out. I have taken two graduate-level courses during my time at Notre Dame and really enjoyed the challenge of both. I've also felt really welcomed by both the professors and my graduate student classmates. I'm grateful to the professors of these classes, who are eager to open their classroom to undergraduate students who want to learn at a higher level. 
Do you have any advice for prospective students who are considering a major in a romance language/literature? 
I would encourage students to push themselves to take more internationally focused French courses. There is so much more to the Francophone world beyond France, and classes that engage with content drawn from the wider Francophone world have been so eye-opening. As a French major, I really feel it's important to engage with Francophone literature and culture worldwide, not just in the West. 
What are your career plans/post-graduation plans? 
I'm still waiting on decisions from most programs, but one option I'm excited about for next year is the Fulbright English Teaching Assistant program in Senegal. I hope to use my French skills to work in a Senegalese education setting teaching English.
Two other great opportunities I applied to are the Boren Scholarship, where I would study French in Senegal, and the Teaching Assistant Program in France (TAPIF), where I would teach English in France. With these options in mind, I think it's clear that my language skills are really central to my career path.