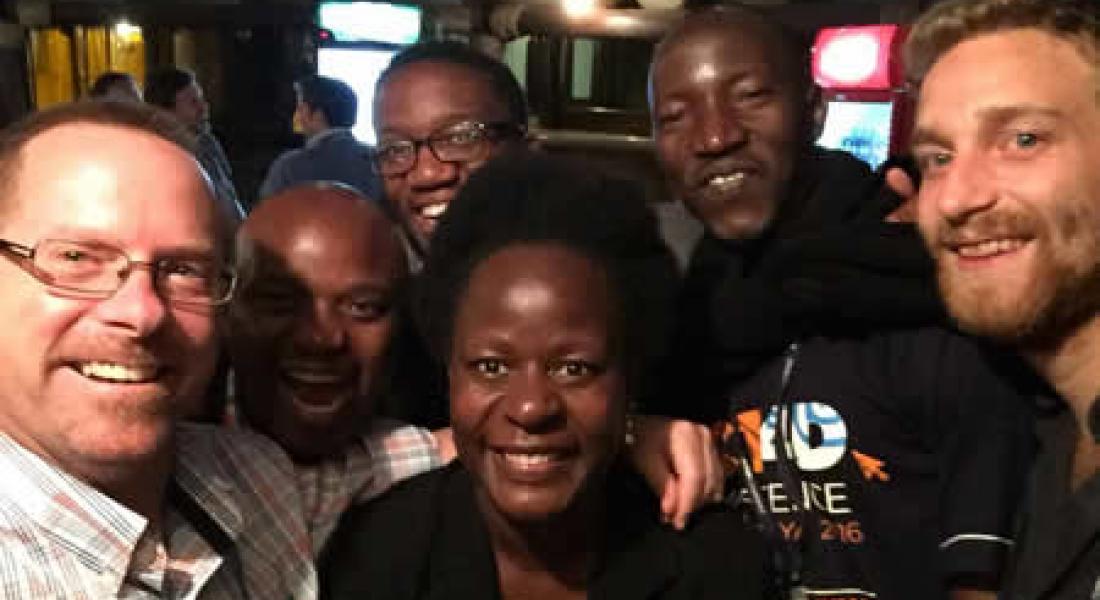 When the 8th annual ICT4D, "From Innovation to Impact," opened this spring in Nairobi, the Ford Program was there, along with a lively contingent of others affiliated with Notre Dame. The international conference, which brings together information and communications technology (ICT) professionals active in international development, focused this year on using technology to achieve the UN's new sustainable development goals.
The Notre Dame exhibit featured the work of the Kellogg Institute's Ford Family Program in Human Development Studies and Solidarity and the Notre Dame Initiative for Global Development(NDIGD) under the umbrella of the new Keough School of Global Affairs.
"The main objective of the stall was to sensitize global development players on the need for partnerships with universities that understand the value of the use of technology in conducting research and creating of knowledge," said Ford Program East Africa Regional Program Coordinator Jackie Aridi, who hosted the exhibit.
"I learned so much about how technology can be leveraged to facilitate efficient, data-driven decisionmaking in research and development projects," she said. "Research should not only encourage monitoring and evaluation but periodic feedback loops that allow for adaptive learning."
Such a process, similar to one used in the Ford Program's social enterprise study in Uganda, allows for fine-tuning research in progress. Moving forward, the Ford Program will look for additional opportunities to use ICT in its research and community engagement, Aridi said.
Kellogg International Scholar Brian Mukhaya '17, an accounting major and International Development Studies minor who is in Nairobi conducting research this summer, found the conference invaluable.
"It was an amazing experience to be part of ICT4D," he said. "As an undergraduate studying international development, I saw a paradigm shift in how services are provided in the development sphere and the emphasis on measurement and evaluation of systems in order to come up with the best practices."
Mukhaya received a Kellogg/Kroc Undergraduate Research Grantto follow up on "Empowering Entrepreneurs," a Ford-supported study by three Kellogg Institute faculty fellows that is investigating how microfinance can best benefit young entrepreneurs in Dandora, a sprawling, poor section of Nairobi where unemployment is high. Mentorship makes a big difference to new entrepreneurs, the study has found, and Mukhaya's research, advised by Ford Director Rev. Robert Dowd, CSC, aims to determine why some mentor relationships are more fruitful than others.
Also part of Notre Dame's informal ICT4D contingent were Brandon Payne '10, currently working with Catholic Relief Services in the Central African Republic, and three men working in various capacities with NDIGD's Connectivity, Electricity, and Education for Entrepreneurship (CE3) project: Joey Rich '12, based in Gulu, Uganda, Shezi Ntuthuko, working in South Africa, and Tonny Okwonga,the COO of BOSCO, which promotes education and computer literacy in northern Uganda. CE3 catalyzes the creation of local businesses and jobs in rural, off-grid African communities through collaborative partnerships with organizations like BOSCO.
Tom Marentette, who has worked over the years with the Ford Program in Uganda, was also part of the group. The digital ND lead architect with the University's Office of Information Technologies, he discussed the role research institutions play in developing evidence-based solutions and ICT policy recommendations on the plenary panel "Converging Technologies and Sustainable Digital Development for All." In closing the digital divide, education and digital literacy are essential prerequisites to development enabled by information and communication technologies, he said.
The Ford Family Program in Human Development Studies and Solidarity is a program of the Kellogg Institute for International Studies. Part of the University of Notre Dame's Keough School of Global Affairs, the Kellogg Institute is an interdisciplinary community of scholars and students from across the University and around the world that promotes research, provides educational opportunities, and builds linkages related to two topics critical to our world—democracy and human development.