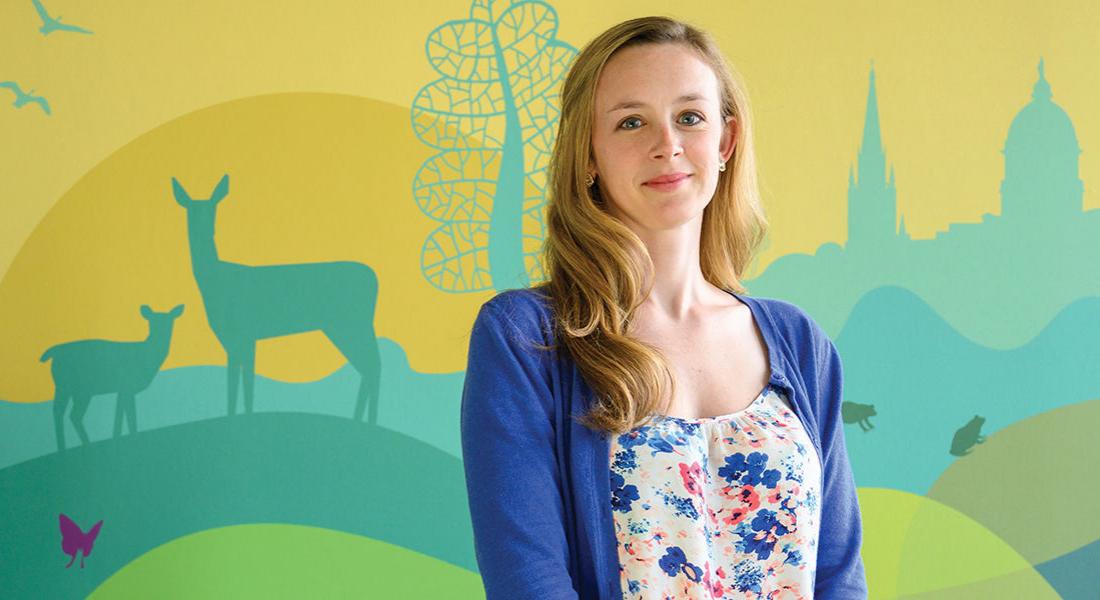 How do you represent resilience? Is it Rosie the Riveter, her bicep flexed? Is it a diamond, one of the hardest substances on Earth? Or does resilience resemble hope, which Emily Dickinson described as "the thing with feathers"?
Faculty Fellow Laura Miller-Graff takes her inspiration from a butterfly. Its wings form the initial letter in the name of her BRAVE Research Lab — the acronym stands for Building Resilience After Violence Exposure. "You can measure resilience in a lot of ways that sound scientific and dry," says the Notre Dame assistant professor of psychology and peace studies, who is also a researcher with the Ford Program in Human Development Studies and Solidarity. "But when you see resilience in action in people, it is amazing to observe. We in the lab wanted our logo to be a representation of that. For us, the butterfly is a hopeful symbol — one that represents a positive future for women and children who are resilient in the face of very significant challenges."
In abusive, low-income households in South Bend and the strife-torn streets of the West Bank and Gaza Strip, Miller-Graff studies the developmental effects of repeated exposure to violence in childhood. The well-documented combination of cognitive, emotional and behavioral impacts starts in the womb and can reverberate throughout a child's lifetime. By identifying often-overlooked strengths, acknowledging cultural influences and recognizing the resource limitations that these families face, Miller-Graff designs treatments to foster resilience — an individual's capacity to adapt to serious adversity — and to mitigate, if not prevent, these harmful effects.
The concept of resilience in the guise of "grit" has enjoyed its 15 minutes of fame in recent years. Bestselling books and top-viewed TED Talks have trumpeted grit as the key ingredient to success in school, life, and the workplace. Miller-Graff, along with some of her peers in psychology, takes issue with that pop-culture perception.
"Grit is far from the only thing, far from the most important thing, that matters, especially in conflict settings," she says. "It places the onus of responsibility on the individual person, rather than on the system that is causing them harm or failing them completely in providing the resources they need. A lot of people, given all the right resources, will access those and do well. . . . But those segments of the population that are most exposed to adversity and trauma are also those that have the least access to any of the resources that can provide the needed support and relief."
Miller-Graff has focused much of her research on a particularly vulnerable segment of the population: the children of women suffering from what researchers call "intimate partner violence" (IPV). According to the Centers for Disease Control and Prevention, one in four women in the United States will experience this particular form of domestic violence in their lifetime. That risk increases during pregnancy.
During her graduate work at the University of Michigan, Miller-Graff studied preschoolers exposed to IPV. "As I worked through my dissertation, I had two realizations that were particularly sobering," she says. "One was that these kids who were witnessing violence between their parents were also experiencing other kinds of violence and adversity as well.
"The other one was that these preschoolers were already experiencing psychological distress associated with their exposure. We were already too late to the game. When I started at Notre Dame in 2013, I decided to back things up and do research on pregnancy, to think about how we can work to prevent children's exposure to violence in the first place and arrest that cascade from the earliest moments in a child's life."
The layout of the BRAVE lab in Corbett Family Hall reflects Miller-Graff's goal of shielding children from the blows of intimate partner violence. In one of the lab's two interview rooms, mothers lay bare the details of their physical, psychological or sexual abuse. In the other, their children pass the time — up to three hours — in the company of graduate students by playing games, reading books and watching movies. Between these two rooms is a wall with a double layer of soundproofing. The extra padding is there not to suppress the sounds of laughter and play, but to prevent the children from overhearing the horrors being divulged next door.
For some mothers, just coming in for the interview is an act of bravery. "They might have never left their children with another care provider before," Miller-Graff says. "The idea of having an undergraduate play with their kids while they're interviewed feels like a new and potentially scary thing. So we as a team work to make that process feel comfortable for women."
"Laura is a very thoughtful and engaged researcher," says Kathryn Howell, a grad-school colleague and now, as an associate professor at the University of Memphis, a frequent collaborator. "She is always looking for feedback from community partners and participants about what is working and what is not. She takes that feedback and applies it to make her programs and services even stronger."
One of Miller-Graff's cornerstone programs is the Pregnant Moms' Empowerment Program (PMEP), a pilot intervention she developed with Howell and adapted from the Moms' Empowerment Program created by Sandra Graham-Bermann, their graduate advisor at Michigan. In contrast to interventions that may span months or years, the program lasts just five weeks, making it more likely to be adaptable and sustainable for resource-strapped social-services agencies.
Once each week, participants gather for a two-hour group counseling session at Notre Dame's William J. Shaw Center for Children and Families, and in a similar setting in Memphis. "We chose the group format, in part, because one feature of IPV is that partners seek to isolate women from resources and relationships," Miller-Graff says. "The group provides the women the opportunity to speak with others and recognize that they are not alone in their situation. They can learn different steps that other women have taken. That feedback is often as powerful as the content we are delivering."
The discussions also help participants recognize their own strengths. "There's a temptation among service providers to focus on the deficits," she says. "Sometimes that's to the exclusion of being able to see what women are doing really well and helping them build on that."
The program packs a lot of instruction into 10 hours. It aims to decrease revictimization by linking participants with local agencies and resources that can help them make lasting changes in their situations. Such connections can boost the women's "ecological resilience," their ability to engage with and benefit from support networks. The program addresses mental health issues the mothers may be facing, such as depression and post-traumatic stress, or physical struggles such as their withdrawal from prescription or illicit drugs during pregnancy. The sessions also equip the women with parenting and infant-care skills, such as responsive communication techniques and breastfeeding instruction.
In one of her most heralded studies, Miller-Graff discovered that breastfeeding through the first six weeks of a baby's life can serve as a protective factor, effectively eliminating an infant's risk of developing a difficult temperament as a result of violence the mother experienced during pregnancy. However, she has also found that IPV victims are more likely to have difficulties breastfeeding, and to stop breastfeeding earlier than other moms. "Breastfeeding is a naturally occurring process," she says. "There are things that can get in the way of a woman being able to breastfeed. But with the right support, it can be an easily leveraged protective factor that women can provide their child."
The right support: Miller-Graff gained an even greater appreciation for how crucial that is after becoming a parent herself. "Being a parent hasn't changed my perspective on the science," she says. "But it has definitely changed how I think about resources and parenting. When my daughter was born, I had a very difficult time breastfeeding. My husband was trying to help me, comfort me, find a way to make it work. I thought about how much harder it is when you don't have all the things around you to make it easy, to be successful."
The pregnant mothers program has been a success. Follow-up interviews with participants at three months and again at one year after a child's birth have shown that the program makes lasting positive impacts. "We are seeing improvements in women's mental health and a trickle-down effect among their children, who show improved development and functioning even very early in life," Howell says. "We are also seeing a reduction in violence exposure and revictimization, which is crucial to ending the cycle of violence."
Intimate partner violence is a worldwide problem. Its manifestations and treatment are shaped by cultural mores. Miller-Graff is developing a PMEP pilot in Lima, Peru, where the bonds of multigenerational households are a factor that isn't prevalent in South Bend. The project is being funded by the Ford Program."The family cohesion in Peru is helpful in the sense that women potentially have broader family networks they can tap into," she says. "But for younger women in these households, it is potentially more difficult for them to voice their concerns in a context where they feel safe."
Safety is elusive for so many people, especially children. According to a recent United Nations report, more than one billion children worldwide are exposed to armed conflict and political violence. Yet few research-based interventions exist to address the needs of children and families in these high-risk settings.
The subject seemed a natural fit for Miller-Graff and Professor E. Mark Cummings, who both hold dual appointments at the Shaw Center and the Kroc Institute for International Peace Studies. With support from Notre Dame International and the University's Institute for Scholarship in the Liberal Arts, the two started analyzing existing research on one of the world's most enduring conflict zones: the Palestinian territories.
Miller-Graff and Cummings cultivated local partnerships in the West Bank to develop a pilot intervention that would help meet a desperate need for family services. "In conflict settings, mental health is often politicized," Miller-Graff says. "We had to think through, 'How do we support the mental health of children and families while also recognizing that they have a right to be distressed because of what is happening in their environment? How do we recognize the injustice of their situation while also providing support?' The fear is that by providing mental health care services while violence is still ongoing, you are somehow communicating that stopping the violence is not the most important thing. That couldn't be farther from the truth."
Miller-Graff had visited the Palestinian territories while working on her Middle Eastern Studies minor during a study-abroad term at The American University in Cairo. As grim as circumstances were then, they were even worse when she arrived to prepare the pilot program.
The occupation undermines daily life for Palestinians in ways that don't overtly seem violent, but which still have a violent impact, Miller-Graff says. "For instance, Israel controls the water resources for Palestine. There are tons of issues in Palestine related to not having enough water, including kidney problems. These measures have very real, significant consequences for the people who live in Palestine."
After two years of preparation, Miller-Graff and Cummings launched an eight-session support group for families titled Promoting Positive Family Futures (PPFF). The program focused on improving communication among family members. "Research consistently demonstrates that positive, close relationships with parents or other supportive adults are critical to enabling children to thrive after exposure to violence," Miller-Graff says.
From a clinical perspective, the program coaches family members in how to identify and regulate their emotions and how to break pervasive negative thought patterns that can fuel anxiety and depression. "We can't change the broader context of violence," Cummings says. "But we can improve the well-being in families by helping them better relate to each other and . . . better cope with the conflict around them." 
From a cultural perspective, the intervention incorporates the concept of sumud, or steadfastness, into the programming. Miller-Graff notes that one of their local partner's goals is not simply to help people feel better, but to push back against their adverse conditions. Sumud, she says, "means resilience through activities in daily life. It's resilience in the context of an occupation that seeks to undermine aspects of daily life. And so the preparation of meals, the participation in activities related to one's culture and heritage can take on a lot of significance in terms of, 'I'm challenging a structure that is actively trying to degrade those things.'"
Collecting data from the pilot required some extraordinary measures. To safeguard participants' confidentiality, the local partners kept track of all information on paper, rather than on computers. Even then, they didn't know how to ensure the data's safe delivery to the U.S. "Laura is remarkable in how she solves problems with a positive perspective," Cummings says. "She worked out a way for another Notre Dame group working in the area to pick up the papers and bring them back to us in the States."
The data showed that the pilot was a success. Families reported reductions in anxiety and depression as well as in children's aggression toward their parents. "Our local partners were shocked by the results," Miller-Graff says. "During the implementation, there was a peak in violence and security threats in the local area. They thought surely that would have an overwhelming effect and overshadow anything positive the families got out of the group. They were surprised and pleased that the group had such positive feedback."
That feedback is shaping a second pilot program taking place in the Gaza Strip this summer. There, fathers will meet in a separate group from the mothers and children. "The fathers felt it was very difficult for them to feel comfortable expressing emotional discomfort in front of their wives and children," Miller-Graff says. "They felt that they needed to be strong for their families in the context of the ongoing violence. This time around, we will still have the same content for the fathers but in a format that feels more comfortable."
Cummings, who has conducted extensive research in Northern Ireland, sees tremendous potential to extend the program to conflict areas beyond the Palestinian territories. One National Institutes of Health reviewer called the work heroic. "It has the potential to make a huge impact," Cummings says. 
Meanwhile, Miller-Graff is spearheading other interventions across borders. She has partnered with a researcher in Cairo to translate an online PTSD support program into Arabic. Originally designed for U.S. combat veterans, the program is being updated for use by young adults in Egypt. She is also in the early stages of adapting the pregnant mothers program for a pilot in Mexico. Back in the U.S., she's developing version 2.0 of that program, with one-on-one counseling in place of the group format. "I'm convinced there are at least three of her running around," Howell says.
This spring, one of her could be found every week at the Kroc Institute, teaching Conceptualizing Resilience in Contexts of Chronic Conflict, an interdisciplinary graduate course she designed. "We had this awesome moment, an interdisciplinary cataclysm, a couple of weeks ago," Miller-Graff says with a chuckle. The week's assigned reading focused on actions that have symbolic value versus functional value relative to resilience. A theology student raised his hand. "He said, 'I want to challenge the idea that symbols don't do anything.' Because from his theological perspective, prayer, for example, is not just a symbolic action — it does something, it's functional," she says. "There was a big divergence of perspectives on those actions and what they mean for people's functional resilience."
The interdisciplinary course and her international work have broadened Miller-Graff's perspective on resilience far beyond the theoretical models she learned at the start of her psychology career. "A lot of the early resilience research came out of settings in the global north," she says. "The theoretical models were emerging from places that were relatively resourced and stable."
"When you take those models and try to play them out in settings where conflict is ongoing, they don't always fit. So we work to interpret resilience in light of that setting. . . . Resilience really looks quite different in practice there." 
Resilience in such settings may look less like a butterfly and more like a diamond — its rough, uncut form concealing the brilliance within. "My underlying motivation for the work that I do, across contexts," Miller-Graff says, "is thinking about ways in which mental health care can be compatible and can push forward change in the context in which people actually live."
Original story posted in the Notre Dame Magazine.