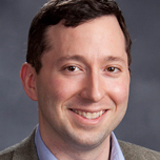 Faculty Fellow Kirk Doran was part of a panel of Catholic scholars who took part in a June 2 webinar, organized by the Lumen Christi Institute at the University of Chicago, on how to manage the COVID-19 pandemic.
A number of panelists said the country needs to move past the debate over whether to prioritize health or the economy in its response to the crisis.
Doran, an associate professor of economics, said there is no dichotomy between the two, which he described as being "intimately related."
"What we're trying to do is to understand a very subtle set of responses that are rippling through our economy, rippling through people's emotional lives, rippling through everything, and they're all affecting each other at the same time, and that's what makes this super complicated," he said. "If it was simple tradeoffs between health and wealth, it would be easier."
Read more of Doran's comments in "Scholars: Health, wealth both integral to society's managing of pandemic" in America magazine.