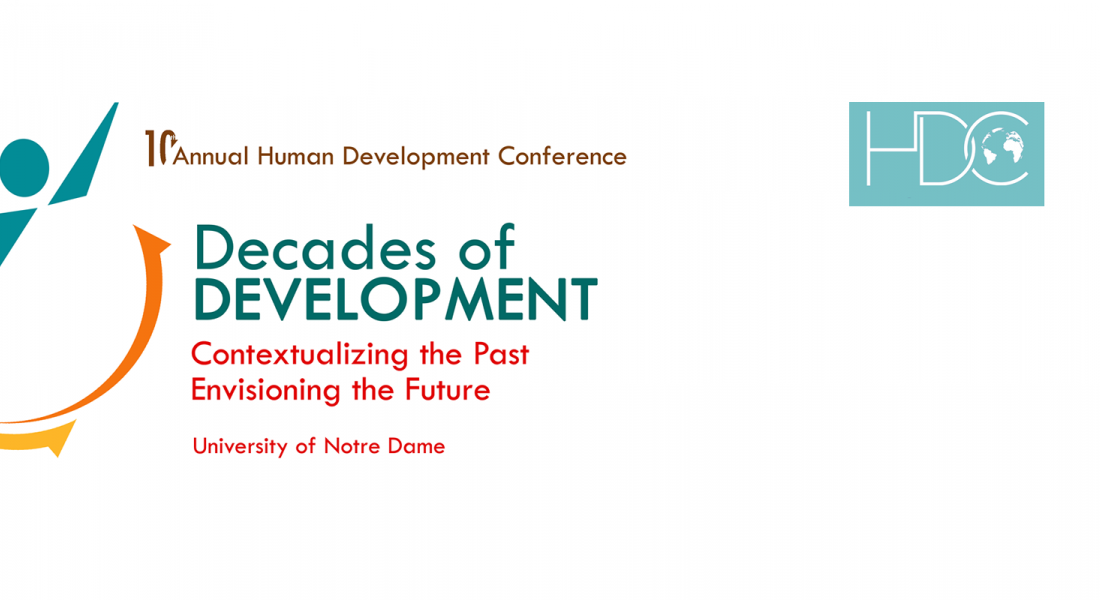 This year marks the tenth annual student-led Human Development Conference (HDC) at the University of Notre Dame. With the theme "Decades of Development: Contextualizing the Past, Envisioning the Future," the conference's keynote event will be a conversation with Ray Offenheiser, who also presented the keynote address at the first HDC in 2007. 
The University of Notre Dame's Human Development Conference is an annual, student-led conference that provides a platform for dialogue in which students from around the world can engage in conversations regarding past trends in development, current best practices, and the future of development. The 2018 conference, February 23-24, will examine both the past and future of development in celebration of the tenth anniversary. 
"Development has changed in profound ways over the past ten years. As students, professors and practitioners, we are in an exciting time of discourse on what is to come in the next ten years and how the past will continue to shape the future of development," explains 2018 co-chair Abigail Midlige. "Themes in development have evolved over time, but the common thread of upholding the dignity of individuals and working towards human flourishing propels us to work together to enact positive change in the world today and throughout time.
"We hope that these events will foster a dialogue that will spark greater insight and nuance in examining our theme," shares fellow co-chair Tommy Emmet. "As we celebrate ten years of striving for human development through research, collaboration, and innovation, the 2018 HDC is an opportunity to learn from those who have joined us over the years and look toward the future to enact sustainable and meaningful change."
Since the conference's inception, more than 600 students have been selected through a competitve process to be HDC presenters, including 47 presenters from 26 different universities scheduled this year. The 2018 program includes panels and poster presentations on topics such as sustainability, global health, development policy, human resilience, global finance, politics and religion, and much more.
Rounding off the 2018 Human Development Conference will be a Saturday evening performance by the Chicago Afrobeat Project, a renowned world music ensemble with influences ranging from afrobeat, Afro-Cuban, funk and jazz to jùjú music and rock. Free and open to the public, the show will take place on Saturday, February 24, from 8:00 to 9:30 in the Jenkins-Nanovic Hall Forum.
Hosted by the Kellogg Institute's Ford Program in Human Development Studies and Solidarity, the annual Human Development Conference is cosponsored by the Center for Social Concerns and SIT Study Abroad, a program of World Learning.
Join the conversation by registering for the 2018 Human Development Conference here.