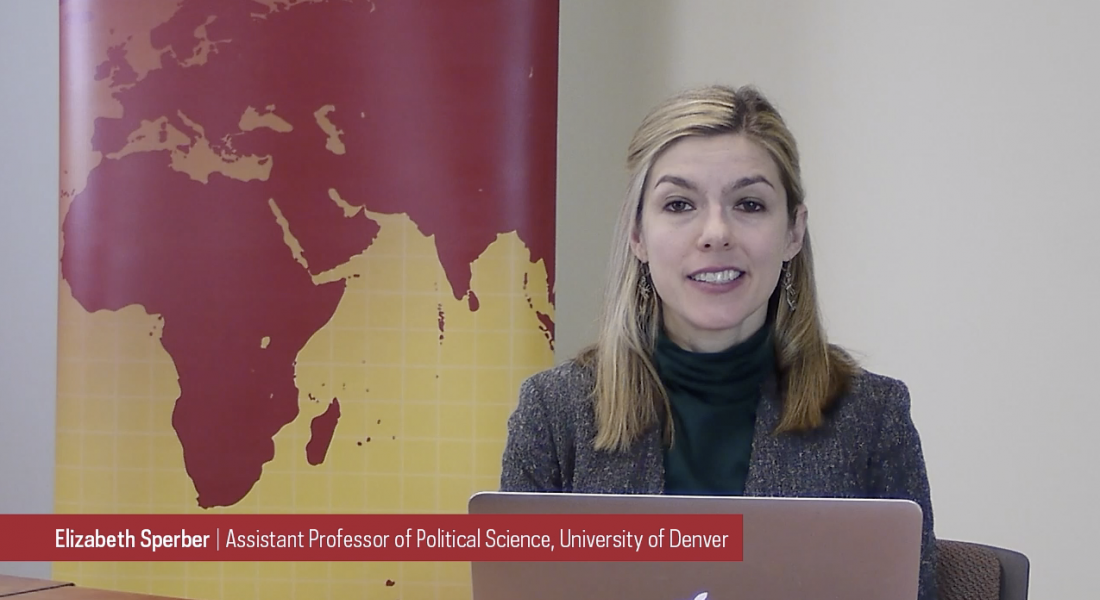 Can religion – and particularly the influence of charismatic Christian groups that emphasize being "born again" –  help keep vulnerable democracies from eroding? 
It's a question at the heart of Elizabeth Sperber's work, and one that brought the University of Denver assistant professor of political science to the Kellogg Institute for International Studies for a spring 2020 visiting fellowship. 
Sperber studies new Christian movements in African politics, centering on the rise of Pentecostalism in sub-Saharan Africa and the interplay of religion, identity, and political behavior in the region. Much of her research focuses on Zambia, a young but struggling democracy where she has conducted years of fieldwork and built ties with key religious and civic leaders.
Her work asks questions including: Is Pentecostalism, which boomed in popularity in sub-Saharan Africa in recent decades, a force for good or a hindrance to democracy? And, can Christian groups, which are widely respected and play critical roles in civic education, help citizens understand their political rights at a time when their democracy is at risk? 
"When you talk to people in many African countries, religion is a central part of their lives. It's how they understand their day-to-day existence and past, and how they understand their government and country's trajectory," she said. "But we know surprisingly little about how Christianity and civic engagement influence one another in developing and democratizing contexts." 
During her Kellogg fellowship, Sperber is leading a pilot study in Zambia that asks whether religious messaging can increase civic engagement. She and her co-principal investigators, Gwyneth McClendon of New York University and O'Brien Kaaba of the University of Zambia, have partnered with local religious groups that run workshops that teach poverty-impacted Zambians about their basic political and civil rights. 
Their project uses rigorous experimental techniques to assess how religious ideas and identities interact with civic education workshops to affect participants' future political attitudes and behavior.  The goal, Sperber said, is to understand how religious messages affect the uptake of civic engagement programming and how civic organizations can best promote peaceful political participation, especially among youth. 
"Given that we're in a moment globally –  and certainly in sub-Saharan Africa – of democratic backsliding, the wide grassroots networks that religious leaders have are a unique resource," she said. "It is essential to have locally trusted domestic organizations doing the hard work of educating and organizing around core features of democratic politics and elections. I want to help them figure out the most effective ways to do that."
The key partner organizations in the study include all major religious umbrella bodies in Zambia, which is upwards of 90 percent Christian.  This involves particularly close partnerships with the Zambian Catholic Church and its NGO, Caritas, the Protestant Council of Churches in Zambia, and Innovations for Poverty Action Zambia.  
The study is unique because it combines a community-collaborative design that relies on engagement with community partners with a more traditional experimental approach. Both methodological approaches to research on religion and civic engagement "have gained popularity over the last decade, but the benefits of pairing them together remain, to the best of my knowledge, unexplored," Sperber said.
Challenging the Concept of Identity
Sperber's research is significant in the field of political science, where most studies of identity and African politics focus on how inherited features like ethnicity impact political behavior. 
Her work, however, examines how religion – and specifically, conversionary born-again religions like Pentecostalism – affect identity and civic engagement. 
"The vast majority of scholarship in political science on sub-Saharan Africa has completely ignored religion in general and Christianity in particular," she said. "But the idea of being 'born again' is literally contradictory to the idea that you're locked into your inherited ethnic identity."  
"My work challenges the way political scientists conceptualize and study identity in sub-Saharan Africa," she added.
That focus on identity is the subject of her ongoing book project, which examines why Pentecostal Christianity has emerged as a politically salient identity in some sub-Saharan African countries in recent decades but not others. 
It's a question with real-world implications for the region. Many Pentecostal leaders have ignored or even supported anti-democratic reforms, such as placing restrictions on opposition parties and freedom of assembly. This is particularly likely, Sperber's book argues, where ruling parties faced incentives to politicize local Pentecostal pastors for their own ends. She finds that this kind of cooptation has been especially likely in countries where the older mission churches, such as the Catholic and mainline Protestant churches, have most actively opposed authoritarian tendencies and corruption. 
At the same time, she noted that "from a grassroots perspective, Pentecostalism may be an empowering force, particularly for women, youth and entrepreneurs" because it emphasizes a personal relationship with a God who wants His followers to succeed economically.
Sperber said Kellogg's unique expertise in religion and democracy, and being able to exchange ideas with the Institute's interdisciplinary community of scholars, has added perspective to her work. So has the Institute's historically strong emphasis on Latin America, the other world region where Pentecostalism is the most rapidly growing religious group. 
She noted that Kellogg is one of the few places with academics, like Rev. Robert Dowd, CSC, director of the Ford Program in Human Development Studies and Solidarity, who specialize in the small but emerging field of study within political science of African Christianity and democracy. 
 "I'm extremely grateful to Kellogg," she said. "There aren't a lot of fellowships like this in the US, and certainly not at universities that are as committed to researching religion and politics."
'This strange COVID time'
Sperber may hold the distinction of being Kellogg's shortest in-residence visiting fellow, with the coronavirus pandemic cutting her time in South Bend short by several months. But she was one of the first scholars connected to Notre Dame to hold a virtual work-in-progress session. 
The Zoom meeting took place shortly after the closure of campus in March and went surprisingly well, she said, with approximately 20 participants giving feedback that will contribute to the future expansion of the Zambia study. 
She and other visiting fellows have since maintained contact through virtual workshop sessions that she described as "intellectually stimulating." 
"It was great being in the office and meeting other faculty and I definitely miss that, but some of the relationships I formed have continued," she said. "We're still in touch over email and most of the fundamental aspects of working together are there."
She said her visiting fellowship is giving her a unique scholarly community of support "during this strange COVID time." 
"During this time of tremendous stress for faculty and universities where most purely intellectual exercises are on hold or even being defunded, being a part of this program – where there's already a clear dedication to and preparation for sustained intellectual cross-disciplinary exploration and innovation – is unique and has been a real privilege," she said.