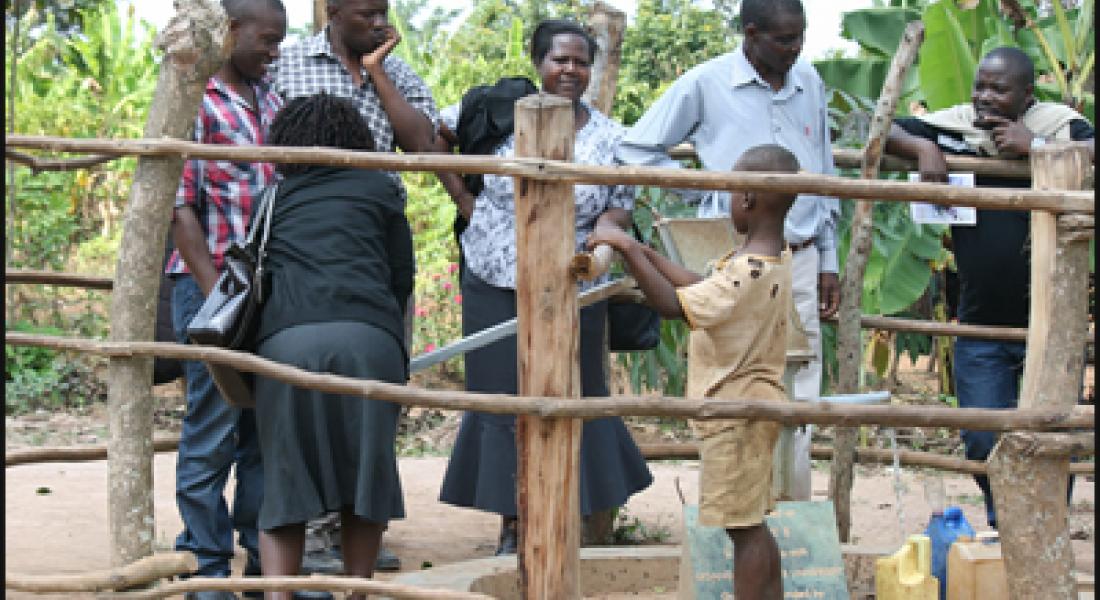 A cooperative effort of Uganda Martyrs University, the Ford Program, and community members to promote transformation in Nnindye Parish, UPFORD—the University Partnership For Outreach, Research and Development—seeks to empower community members by giving them voice and leadership roles. That way, the program can learn with residents as they achieve the human development goals that they themselves have designed and prioritized.
Getting started
Before Nakitende began her outreach work with UPFORD, she was already working in the community. Raised there, she personally understood how best to engage her neighbors.
She also recognized the need for an effective village-level organizational structure so efforts could be coordinated among residents to achieve their goals in healthcare, education, sanitation, and agriculture. At UPFORDs outset, she was able to use her common experiences as a local resident as an entry point for conversations in the community.
We needed to have a separate structure to manage our various projects, Nakitende notes. It didnt make sense for UPFORD staff to personally report on the development activities of each of Nnindyes 12 villages by examining each farm, clinic, or civic education workshop. Their challenge was to implement a stable local structure to effectively coordinate development projects.
A new organizational model
What would such an organizational structure look like? UPFORD staff and local residents worked together to develop a leadership model that would foster favorable and sustainable community development.
The resulting Parish Development Council (PDC) seeks to achieve accountability and transparency at the community level. The multi-village leadership board oversees the individual village communities and the overall management of the UPFORD program in Nnindye.
Each local village council, comprised of local government leaders and committee experts in the sectors of agriculture, education, sanitation, and healthcare, selects one member to represent them on the PDC, which meets monthly. The village councils meet regularly, often weekly, to discuss the projects in their own communities, how they might be improved, and how they might be prioritized.
Enhancing grassroots community engagement
We used to push, Nakitende says of UPFORDs initial mobilization efforts within the community. But the outreach team found that approach did not work.
Development projects conceived, implemented, and managed by wholly external actors were simply ineffective. Because the people did not have high levels of investment in the projects, they were set up to fail, says Nakitende. People did not see the benefit of committing to and participating in the projects activities, since decisions were realized elsewhere.
It is empowering for community members to come to the PDC with their challenges and potential solutions, Nakitende believes. The new system has led people to embrace leadership responsibilities in local government, seek leadership roles within the local council, and ensure the needs and goals of their specific villages are incorporated into local development plans. 
In addition, agriculture, sanitation, education, and healthcare goals are described and monitored more efficiently. Before, many of the villages' enterprises were short term, and based primarily on agriculture since it was difficult for UPFORD to monitor and communicate with each village. Now, the accountable leadership structures within the villages monitor projects more closely and report back to the PDC.
These sustainable, self-governing structures now form the backbone of the communitys human development initiatives—and allow UPFORD to ensure community input and monitor projects without pushing.
—Emily Strickland 15 • January 2015