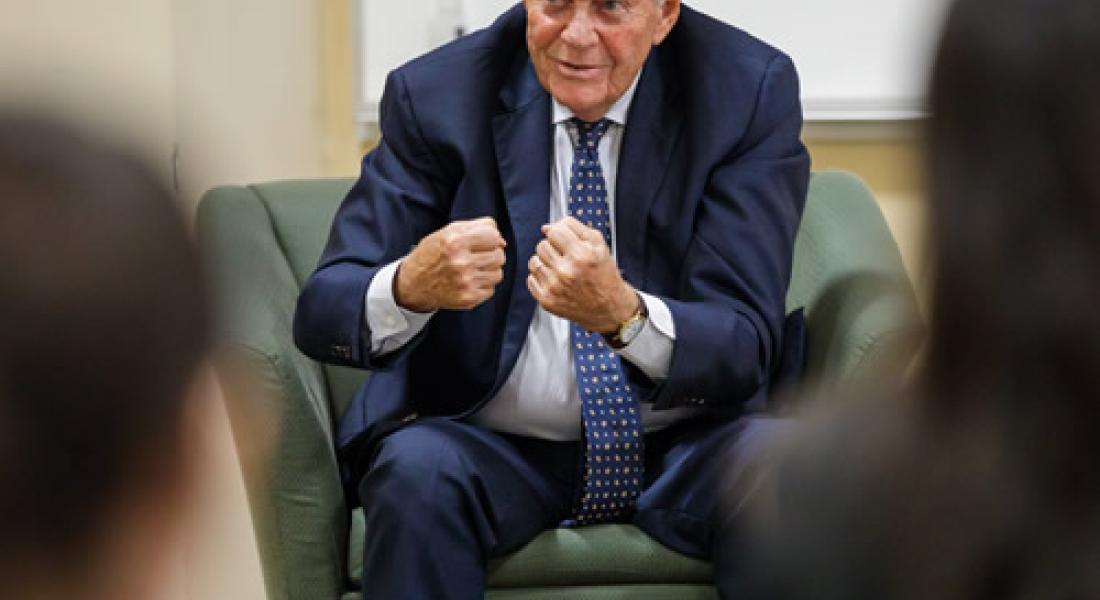 A major lecture by Al Stepan '58 at the Kellogg Institute in late September was an opportunity for the Kellogg community to celebrate a distinguished scholar and dynamic institution builder who has had close ties to the Institute since its inception.
One of the most renowned comparative political scientists of the last four decades, Stepan is known for his path-breaking work on the study of military regimes, state institutions, democratic transitions, and most recently, the intersection of religion and democracy. Having taught at Yale, Oxford, and Columbia Universities, he has the rare distinction of being a fellow of both the British Academy and the American Academy of Arts and Sciences.
Known too as an institution builder—the first president of the Central European University and the founder of the Center for the Study of Democracy, Toleration, and Religion at Columbia University—Stepan played a critical role in the creation of an institution much closer to home.
"No Al Stepan, no Kellogg Institute," said Faculty Fellow Rev. Timothy Scully, CSC, at a dinner celebrating Stepan. Scully explained how Notre Dame President Rev. Theodore Hesburgh, CSC, consulted with his friend on the best use of the bequest of Helen Kellogg.
Stepan, who would soon after follow in his father's footsteps as a University Trustee, advised Fr. Ted to form a research institute for the study of democracy and democratization, with an initial focus on the possibility of democratic transition in Latin America.
Shortly thereafter, Stepan partnered with the fledgling Institute's Executive Director Rev. Ernest Bartell, CSC, to bring Latin American luminaries Guillermo O'Donnell and Alejandro Foxley into the Kellogg fold. And he suggested inviting a former student from Yale, a new Stanford PhD, to the new Institute as a visiting fellow.
Former Kellogg Director Scott Mainwaring, who was that visiting fellow, lauded Stepan as an extraordinary scholar, institution builder, and teacher who has always taken on important, "often paradigm-shifting" questions.
"There are few scholars in the world of his stature," said Mainwaring, who coedited Problems Confronting Contemporary Democracies: Essays in Honor of Alfred Stepan (2012), published in the Kellogg Institute book series with the University of Notre Dame Press. "There is no comparativist who has done really serious fieldwork in as many regions of the world."
Stepan has stayed connected to the Kellogg Institute since its early days, and his work has influenced that of Kellogg scholars around the world.
"Twin Tolerations"
On September 22, Stepan spent an hour engaging undergraduates in the Kellogg International Scholars Program and the Hesburgh-Yusko Scholars Program. He then delivered a tour-de-force lecture on the compatibility of Islam and democracy before a rapt audience in the Hesburgh Center Auditorium.
In the time of ISIS, "people increasingly assume that the fundamental principles of democracy and Islam are in inevitable conflict," he said, but instead, religious leaders are arguing from within Islam for democracy and against intolerance.
Drawing upon extensive research he has conducted in four democracies with large Muslim populations—Indonesia, Senegal, Tunisia, and India—Stepan dissected five contemporary arguments about the relationship between Islam and democracy: 1) The Koran calls for believers to institute Sharia law, which is not compatible with democracy; 2) Liberal principles require that religion be taken off the public agenda—and not doing so hurts both liberalism and democracy; 3) French-style laïcité—secularism in public affairs—is particularly appropriate for majority Muslim countries because it keeps religion out of the public sphere; 4) Western traditions of democracy prohibit "the active cooperation of state and religion in policymaking because such cooperation violates the democratic necessity of the separation of religion and state"; and 5) Islamic political parties cannot commit credibly to democracy because Islam is too decentralized.
All five of these theses are "profoundly important and profoundly misleading," Stepan asserted. "The evidence shows Islam is associated with several robust democracies."
Al StepanIn fact, he said, his findings in India, later replicated in Indonesia by another scholar, show "the greater the intensity of religious practice, the greater the support for democracy."
Numerous interviews conducted in all four countries show that prominent Muslim leaders "spend much of their intellectual and political efforts arguing from within Islam for democracy and against authoritarian interpretations of the Koran." 
Leaders in several countries quoted him the same verse from the Koran—"in matters of religion there can be no compulsion"—to explain that there was no doctrinal basis for state religion. Open, competitive elections are "absolutely compatible" with Islam, he was told.
The lecture was a masterful summation of some of the key ideas in his ongoing book project, "Democracy, the World's Religion, and the Twin Tolerations." He has used "twin tolerations" to refer to a clear distinction and mutual respect between civil and religious leaders and institutions.
It is unreasonable and undemocratic to take religion off the public agenda, particularly when it is already part of the discourse, Stepan said. "Positive policy cooperation" that may entail more interaction between religious institutions and the state than is typical in the West makes sense and does not violate core democratic values.
The Kellogg Institute for International Studies, part of the University of Notre Dame's new Keough School of Global Affairs, is an interdisciplinary community of scholars and students from across the University and around the world that promotes research, provides educational opportunities, and builds linkages related to two topics critical to our world—democracy and human development.
Read "Around the World and Home Again, a Scholar Celebrates the Possible" in Notre Dame magazine
View FaceBook album